Tower of Fantasy is a multiplayer gacha game where you can explore an open world, solve puzzles, and challenge difficult game modes. Part of the gameplay includes building weapons and Simulacra, which can cost a ton of resources that take time to collect. Luckily, you can redeem codes from the developer for free rewards. Here's how to do so.
How to claim Tower of Fantasy codes
Start by heading to the Rewards menu by clicking on the gift icon on the upper right of the screen, located to the left of the shop menu. Once you're in the Rewards menu, select Rewards on the bottom of the page, then select Exchange on the lefthand corner. This will bring you to Tower of Fantasy's codes redeem page.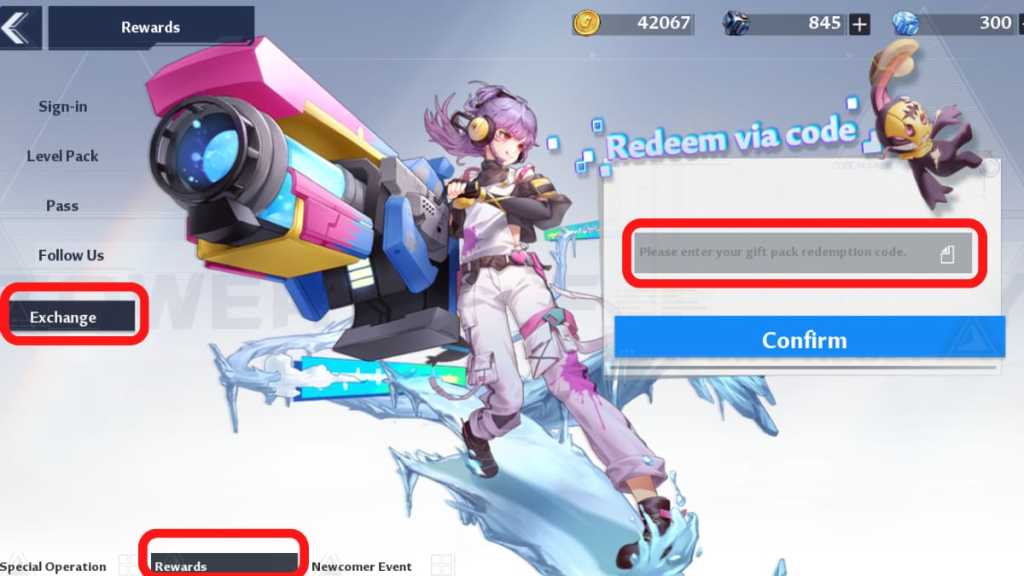 Copy paste or input the code onto the field on the right side of the screen. You must input codes as-is, as they're case-sensitive and will not work if you include unnecessary spaces and characters. A red 'x' mark will appear on the right of the code if it's invalid, but we recommend clicking Confirm to try it out anyway, as this feature is not reliable. You'll get a pop-up informing you whether the code is valid or not.
Rewards from any valid codes will be sent to your in-game mail, which will pop up under the mini-map whenever you have unclaimed mail. Keep in mind that codes are only redeemable for a limited period, so when you find one, make sure to claim it right away!
Check out our compilation of Tower of Fantasy Codes to get a ton of free rewards.