Twitch is a live-streaming platform that not only allows users to broadcast videos but also upload and delete clips. Viewers can also create clips from various channels on both Mobile and PC. While creating clips can be relatively straightforward, deleting clips, past broadcasts, and VODs require a little extra work. Here's how you can delete an entire stream VOD, as well as clips on Twitch.
How to delete an entire stream VOD on Twitch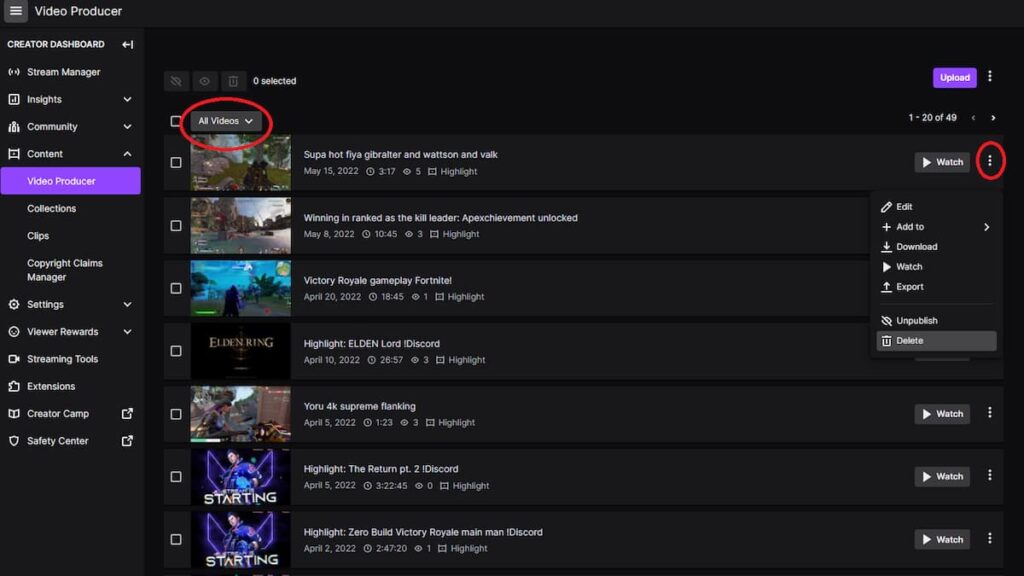 To delete an entire stream VOD, users will need to visit their Creator Dashboard on Twitch. Click on the profile picture and scroll down to Creator Dashboard. Scroll down to the Content tab, and select the Video Production section. On top of the videos, you will be able to toggle between All Videos, Uploads, Past Broadcasts, Highlights, Expiring, and Channel Trailer.
Select Past Broadcast, and click on the three vertical dots on the right-hand side of the video to delete that specific VOD. Check the red circles on the image above to see which buttons are essential for deleting VODs on Twitch.
Related: How much are Twitch Bits worth?
How to delete clips on Twitch
PC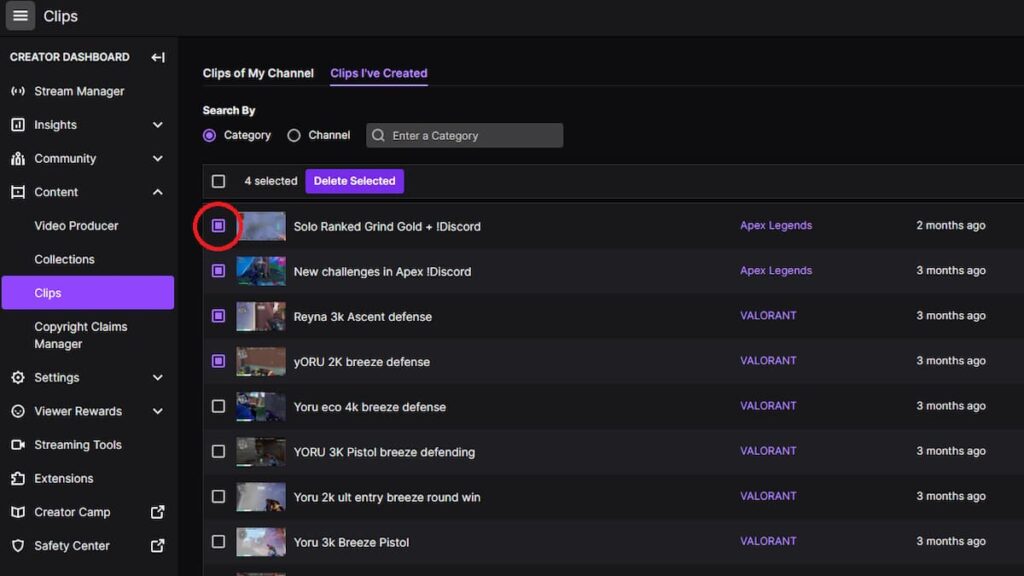 Users will have to follow a similar process to delete Twitch clips of their channel from PC. Visit the Content section, and scroll down to the Clips tab. Here users will find all the clips they have created, as well as clips created by followers. To delete any of the clips, simply click on the check box on the left-hand side of the video thumbnail, and click on the Delete Selected option. The check box is marked in red on the image above, and you can select multiple clips to delete them simultaneously.
Mobile
Twitch mobile app users can delete clips and VODs directly from the app or by following the same process through the desktop screen. To delete clips from the app, visit My Channel, select the specific clip from the Dashboard, and click on Delete.
Similarly, you can also delete clips by opening Twitch's desktop version from Chrome or Safari. Visit the Creator Dashboard, scroll down to Content, and select clips. Manually select the check boxes for each of the clips you want to erase before pressing the Delete Selected option.
For more about Twitch, check out Best USB microphones for streaming on Twitch & YouTube only on Pro Game Guides.