If you are wondering if you can play V Rising Offline, the answer is no. Although V Rising currently provides a private game mode where players can play on a server by themselves, a Private game still requires an internet connection. Because of this, if you want to play V Rising, you will need an internet connection always on. However, this won't always be the case, as the developers recently announced that an Offline game mode would be coming to the game.
When will an offline mode get added to V Rising?
The developers announced on their official Discord that they prioritized making a Solo Offline mode available as soon as possible. At the time of writing, there is currently no exact date for when the Offline mode will be added to V Rising. We recommend bookmarking this page and checking back later when we have more information.
How to play on a Private Server in V Rising
At the moment, if you want to play a single-player game, you will need to play on a Private Server in V Rising. To play on a Private Server, click the Play button on the Main Menu. After clicking Play, click the Private Game option on the next menu. Doing so will allow you to create a Private game. You can also edit settings by visiting the Advanced Game Settings tab. The Advance Game Settings tab is at the bottom of the Private Game menu.
Inside the Advance Game Settings tab, you will be able to edit various settings, including Loot Multipliers, Sunlight, and how much Blood Essence you earn. We recommend editing all of these options and then pressing Save. After pressing Save, you will be able to launch your Private Server by pressing the Start Game option.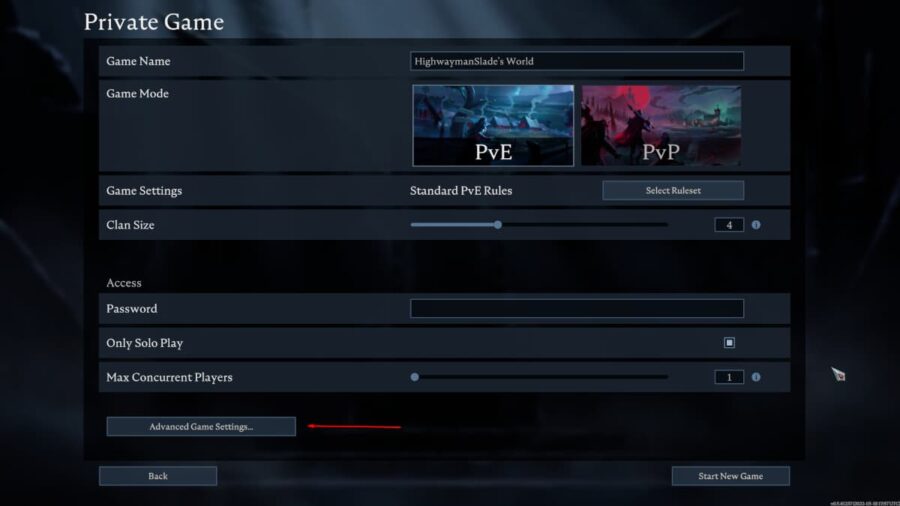 For more on V Rising, we at Pro Game Guides have you covered with guides like Where to find Paper in V Rising and V Rising Multiplayer – How to Play with friends