The brand new free-to-play Battle Royale, Vampire: The Masquerade – Bloodhunt, features a fully-fledged ranked mode. While you can play the casual game modes, the ranked playlist allows you to experience the game in a competitive environment. Here's a guide on how the mode works.
All Rank Tiers in Bloodhunt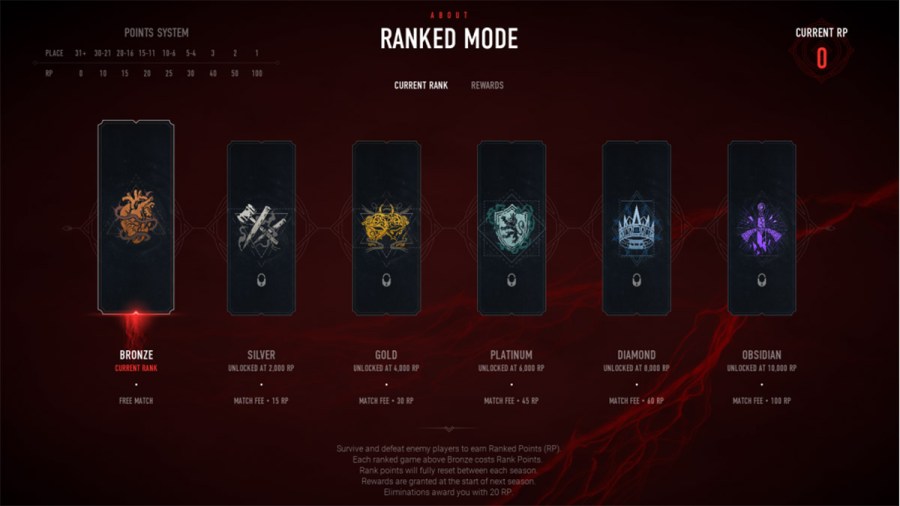 There are six ranks in Bloodhunt that you can achieve by earning ranked points (RP). New players above level 10 are automatically allotted the lowest rank tier, Bronze, from where they can progress to reach higher ranks. Here's a list of all the ranks and RP required to unlock them:
Bronze - 0 RP
Silver - 2,000 RP
Gold - 4,000 RP
Platinum - 6,000 RP
Diamond - 8,000 RP
Obsidian - 10,000 RP
Once you reach the RP threshold for a given rank tier, you are promoted to that specific rank and are matched with players with similar rank levels and skills.
Related: All Consumable Items in Vampire The Masquerade – Bloodhunt
How Ranked Points (RP) are awarded in Bloodhunt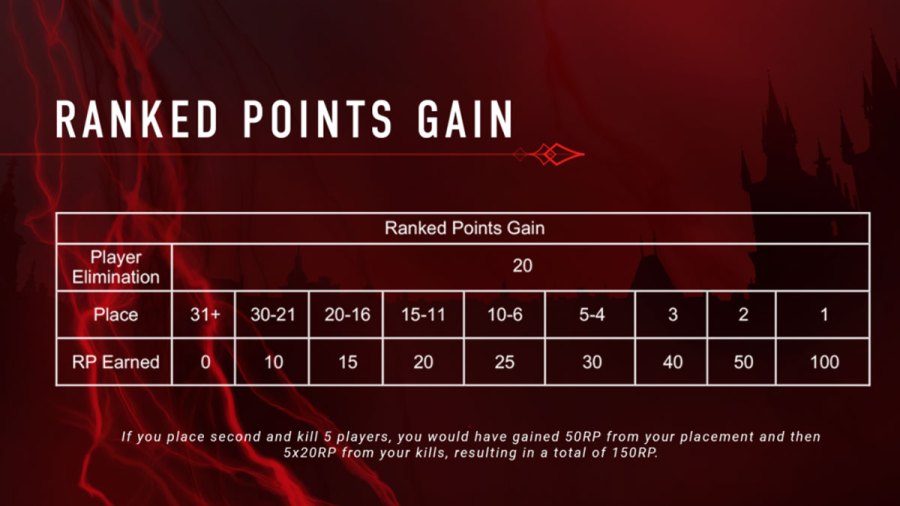 RP is gained by getting kills and earning placement points. While RP given for each kill is 20, the points vary based on match placement. The image above shows how RP is awarded in Bloodhunt. Although there are no RP multipliers in Bloodhunt currently, this may change in the future if the developers want to create a more complex ranked system like Apex Legends.
Moreover, depending on your rank level, you will have to sacrifice a fixed amount of RP to enter a ranked match. The following list mentions the RP deduction per match, or match fee, for each rank in Bloodhunt:
Bronze - 0 RP
Silver - 15 RP
Gold - 30 RP
Platinum - 45 RP
Diamond - 60 RP
Obsidian - 100 RP
Stay tuned to Pro Game Guides for more Vampire: The Masquerade – Bloodhunt content. In the meantime, check out our article on VTM Bloodhunt Season 1 Retribution Battle Pass – Rewards & Tiers.