Here you will find everything you need to know about the newly announced Warhammer 40k Darktide.
What is the release date for Warhammer 40,000: Darktide?
Warhammer 40,000: Darktide was originally going to be available on PC and Xbox Series X/S on September 13, 2022. However, the game has been delayed again until November 30 for PC. The Xbox version of the game will launch shortly after the PC launch.
What is Warhammer 40,000 Darktide?
Warhammer 40k Darktide is a brand new game from the creators of the Warhammer Fantasy game Vermintide 1&2 and is set in the distant grim dark future of Warhammer 40k.
The game is a four-person coop title reminiscent of the beforementioned Vermintide and titles such as Left for Dead. Players also will choose one of several classes and fight for survival in a hive city through a series of missions, teaming with cultists and other monstrosities.
There will also be a hub system similar to that of Vermintide, where players can choose missions that they can complete to earn favor with the Inquisition. Doing so will unlock more weapons and equipment and progress them through the game.
What is the story behind Warhammer 40,000 Darktide?
The game takes place on the hive world of Tertium, which has become infected with chaos. To help purge chaos from Teritum, the Inquisition has conscripted the four playable characters as agents, and they will have to work to earn favor with the Inquisition to complete their task.
What are the enemy types in Warhammer 40,000 Darktide?
Overall, from what we have seen so far, the enemies will make up various chaos creatures of the chaos god Nurgle such as, poxwalkers, deathguard, and various other cultists.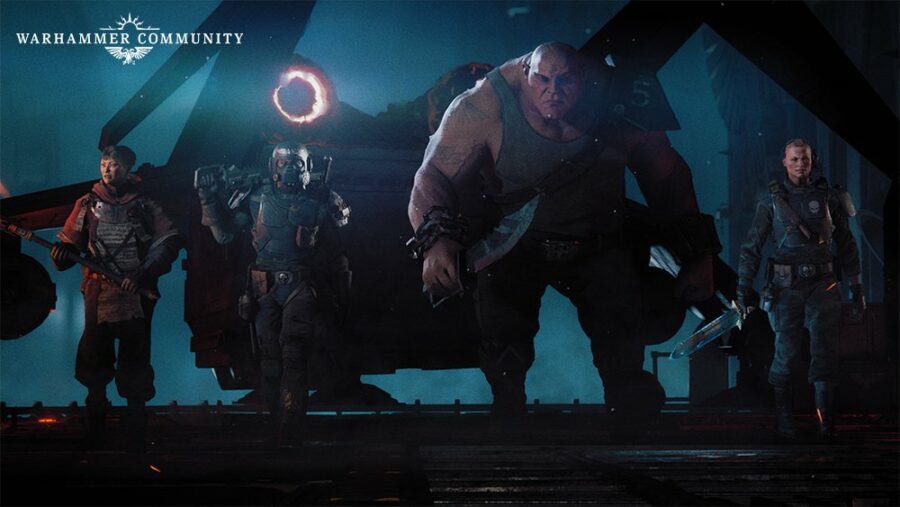 Dan Abnett Announced as Writer for Warhammer 40,000 Darktide
Author of numerous Warhammer black library books Dan Abnett, just announced that he would be joining Warhammer 40,000: Darktide team as a writer. The announcement just arrived recently during the skulls event, where the man himself explained his reasoning behind joining and some other information regarding the game.
What weapons can you use in Warhammer 40,000 Darktide?
Players will be able to use a ton of classic and iconic weapons of the series such as lasguns, autoguns, and chain swords. Melee combat will also play a strong role and will feel similar to that of other games such as Vermintide.
What are the classes and characters in Warhammer 40,000 Darktide?
Nothing definitive has been announced regarding the classes and characters you can play as in the game. However, based on a gameplay trailer linked below for the game, you can play as one of four characters. The first two are two guardsmen, and one appears to be ranged focus while the other is melee.
The third character is an ogryn, which is a big mutant brute in Warhammer 40k, so we can assume it will be a tankish kind of character. The last one is a priest or a sister of Battle of, so hopefully a healer type of character with a blend of strong melee attacks.
For more on Warhammer 40k Darktide, stay tuned for more coverage at PGG