Warhammer 40,000: Darktide is an fps Left For Dead-like experience that takes what the developers at Fat Shark learned with their Vermintide Warhammer Fantasy series to the 40k universe. Darktide features four unique playable classes and hordes of enemies to fight, including various Elites, Specials, and Bosses.
Players pick one of the four classes and complete missions with varying objectives, and it's an overall fun experience that elevates the Left For Dead format to new heights. But despite being an overall promising experience, Darktide is plagued with numerous performance and crashing issues that hamper an otherwise enjoyable game.
Narrative
Narrative-wise, what is present in Warhammer 40,000: Darktide is more than adequate for the setting and portrays the grim darkness of the 40k universe well. In short, players start as prisoners but will find themselves as frontline soldiers in a war to save a Hive world from the forces of Chaos. This serves as the basic premise of Warhammer 40k Darktide, and it works as it shows how little human life matters in the grand scheme of things.
Humans are nothing more than cannon fodder in a war that never ends, and starting players as reluctant prisoners turned conscripted warriors is an excellent way to portray it. Overall, I was pleased with the story and had no significant complaints. I also don't think narrative and story are crucial in a Warhammer 40k shooter. As long as the narrative is a decent jumping point into combat, I'm happy, and it does just that in Warhammer 40k Darktide.
Score: 5/5 Stars
Combat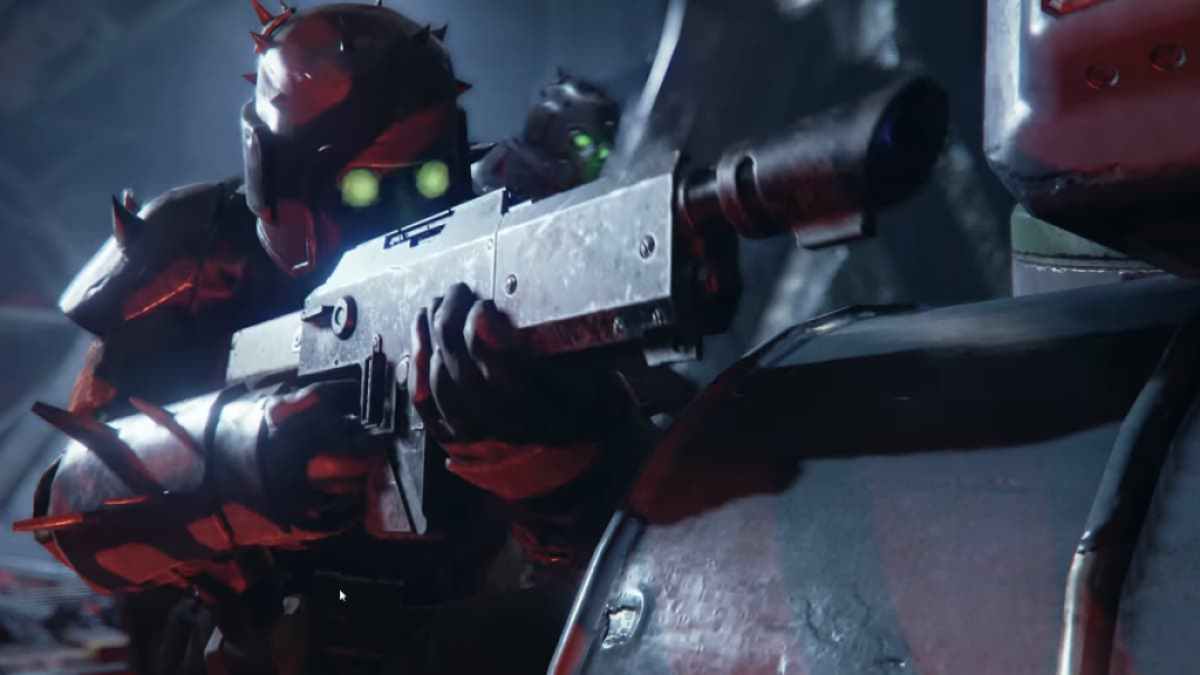 Combat is the most prominent feature that players will enjoy in any Warhammer 40k shooter. Luckily what is on display in Warhammer 40k Darktide is highly enjoyable and carries the game. Weapons are loud and serve the gameplay as tools in a violent orchestra. Combat is also bloody and visceral, and you can very easily get lost in a dance of death while swinging your weapon around, making all matter of Chaos disappear. Weapons are also highly varied, and there are many options, such as Boltguns, Heavy Stubbers, Chainswords, Chainaxes, Force Staffs, and much more. I enjoyed unlocking these many weapons and using them in Warhammer 40k Darktide. It's because they are fun to use, and the animations are vivid.
The process for unlocking new weapons is also simple and helps give players a goal and a sense of accomplishment. However, despite being varied, the weapons most classes can use are shared with other classes, which makes them a little less unique, in my opinion. I feel like more attention should have been paid to flesh out the class-exclusive weapons, as most human classes only get around three or more unique weapons. This is a small gripe on my part and doesn't really affect the combat as a whole, and combat still remains just as great as in other titles such as Verimtide 1-2.
Score: 4/5 Stars
Performance
Performance was the weakest part of Warhammer 40k Darktide for me and drags any enjoyment from a delightful game to a standstill. During my time with the game, I have experienced too many crashes at launch and slowdowns that forced me to play something else. When I finally loaded into Darktide, I was only met with more crashes to the desktop that prevented me from playing even further. I usually would forgive some problems on launch, but these performance issues come on the tail end of a Pre-Order Beta where the performance was far greater than the full release. I also have high-end hardware and system specs, so performance shouldn't be a problem on my end. Numerous bugs that break features, such as Penances and the Toughness mechanic, also exist and add further flame to a buggy fire that ruins nearly all enjoyment in Warhammer 40k Darktide.
Score: 2/5 Stars
Gameplay Loop
The Gameplay loop is solid in Darktide, as in previous Fat Shark titles. Players will load into Darktide and group up with other players to complete several mission types that reward experience and money. You can even use the money to buy new weapons and unlock more weapons as you level up. Players can also earn crafting materials and resources to enchant and craft new weapons. Overall it's an enjoyable time in Warhammer 40k Darktide, and you can easily get lost in the grind. Mission-wise, there are plenty of options and environments to explore, and it's fun battling the horde of enemies you will meet. However, a decent gameplay loop is only great if most players can actually enjoy it, which is sadly not the case. In short, Darktide's horrible performance and game-crashing bugs make it nearly impossible to stay in the game long enough to enjoy what is present. I'm sure most issues will get patched out as the days roll by, but it is simply too disappointing to see another great title released in such a state.
Score: 4/5 Stars
Verdict - Enjoyable, but wait until it's polished
At the time of writing, Darktide is an excellent game in a terrible situation that makes recommending it to most players difficult because of the numerous performance issues affecting it. We still think Darktide is a great game, but the performance issues are too many to count. However, if you are a Warhammer 40k Fan, you will find Darktide to be one of the best games set in the 40k universe if you can look past a rocky launch.
We received this code from Fatshark for reviewing purposes.