While the tactical turn-based battles are the Wartales bread and butter, you also need the trimmings of your companions' professions to really flesh out the experience. There are 10 professions in the game, each of which allows your party to either gather resources or create items. You'll get the opportunity to become a Bard once you've explored Tiltren Tomb, but when you enter taverns, you can't ply your new trade without having a Lute. Below we'll explain how to get the Lute in Wartales.
Where is the Lute in Wartales?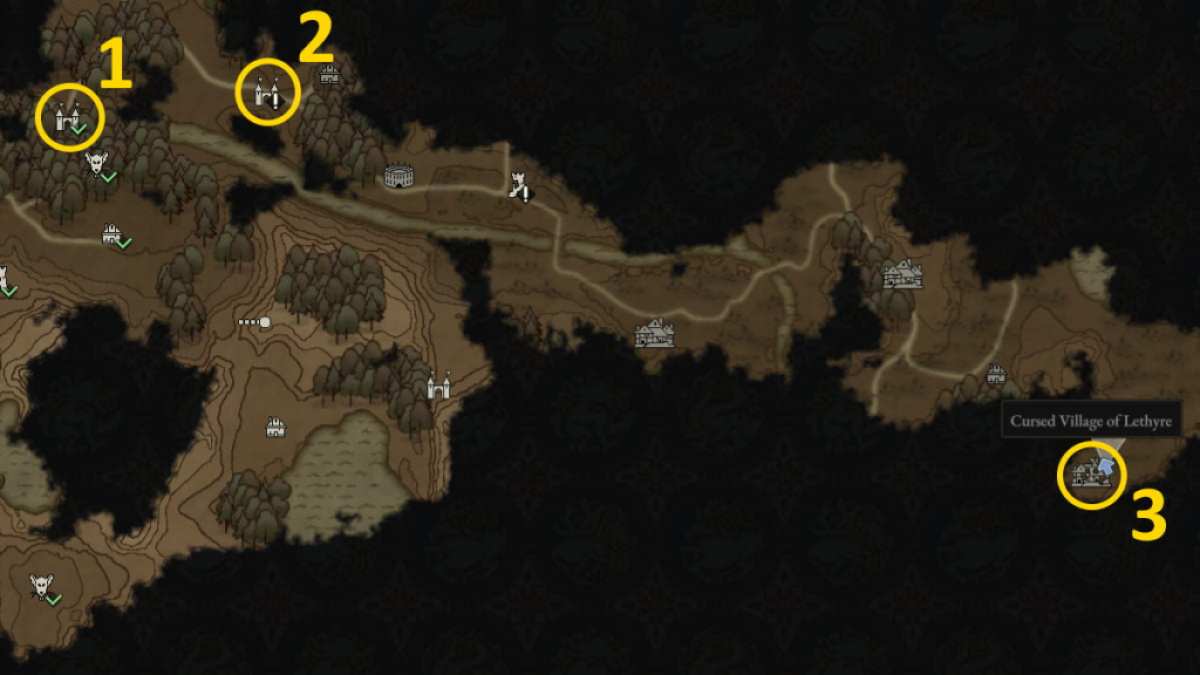 Do you want the bad news or the bad news? Firstly, there is only one Lute currently in Wartales. To make matters worse, it is found deep within the Ludern region. You'll be looking at facing mobs around level eight in Ludern, which is considered the fourth region of Wartales in terms of difficulty. As you'll see on the map above, you'll need to enter Arthes (which is the region north of Tiltern, 1) and then head east into Ludern (2). You'll then need to travel right to the southeast of the region, where you'll find the Lute in the Cursed Village of Lethyre (3).
Related: Wartales Region Levels & Order
Even if you manage to get to the village as a low-level party, you'll need a bit of luck to get the Lute itself. Exploring the village needs you to creep around exploring and any bit of bad luck will see you in a level eight battle. Basically, we wouldn't advise it.
There is a plus side, though. There are only a few occasions when you actually need the Bard skill early on, and when you do you do not need the Lute. Also, once you do get the Lute, the Bard skill is very quick to level up. It is a little frustrating not to be able to get to use a skill once it has been presented, especially for role-playing regions. But I personally don't think it is worth the trouble to get it before you enter Ludern naturally by progressing through the game at your own pace.
For more on Wartales at Pro Game Guides, check out Wartales Changing Profession & Multiple Professions, Explained and Wartales Profession Bonuses, Explained!