Welcome Home is an unsettling alternate reality website based on a children's cartoon from the late 1960s. The site is supposed to be an archive of old episodes, stories, and behind-the-scenes looks, and while that may sound fun, the more you dive into it, the more sinister it becomes. There are hidden secrets stashed away for you to find, taking the lore to new, terrifying depths. Here's a list of all the discovered secrets in Welcome Home ARG.
All discovered secrets in Welcome Home ARG
If you'd like to follow along with this guide and go down the list in real-time as we reveal the secrets discovered so far, start on the Welcome Home website here.
These are all the secrets that have been discovered so far, but internet sleuths are still going through the site with a fine-tooth comb, so if they unearth any more creepy findings, we'll update this list.
Welcome Home secret URL codes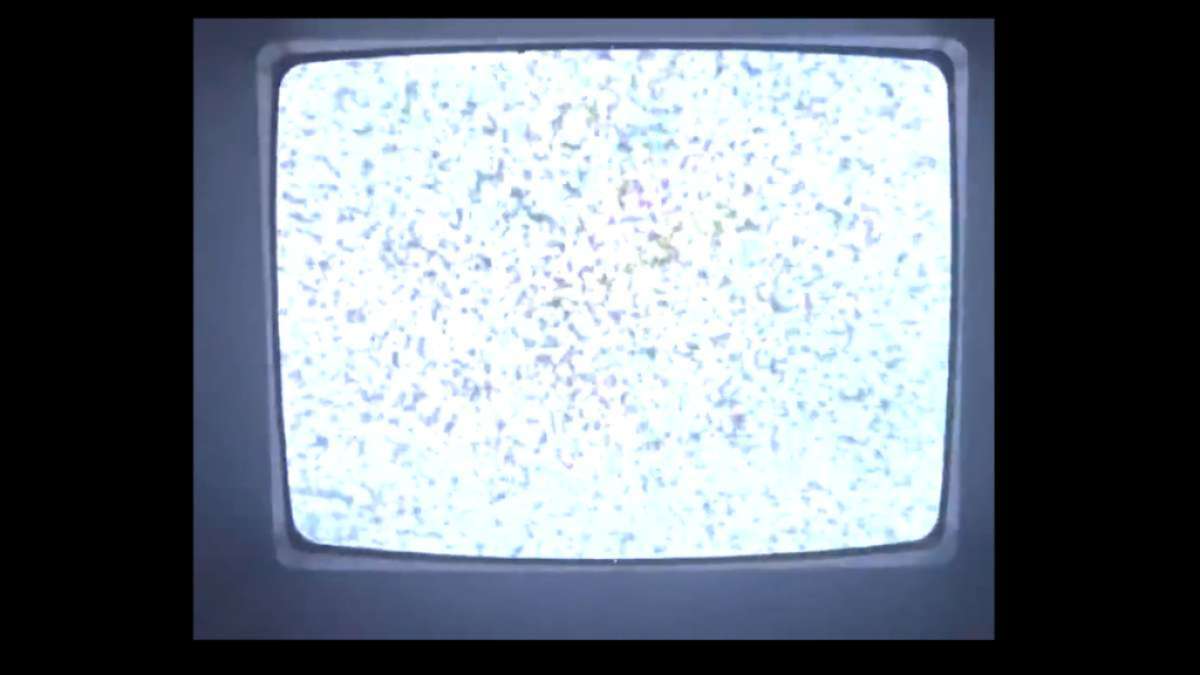 When reading through the Welcome Home website, you'll notice the letters Y, O, X, W, V, and E scattered around on different pages. This seems like nothing at first, but when made into a Welcome Home URL in various orders, some creepy secrets appear.
/ywxoev—Opens a new tab with a GIF of different eyes scrolling over a character's house. The word "OPEN" is written underneath in scrawled handwriting.
/woxyve—Opens a new tab with several images of the 1960s Welcome Home real show's script layered over each other. A GIF of all the characters' faces plays in the middle, with it ending on just a block of red.
/voywex—Opens up a new tab, with the following message typed out automatically: "Hello. You're there. I can't see you. Do you see me? Then stay quiet." If you screenshot the page and edit the brightness, you can see Wally's face, and if you right-click the page and open the image in a new tab, you get a GIF.
/eovwxy—Opens a new tab that displays a video of a TV with white noise on its display. At 16:13, 18:22, and 22:15 minutes, sound interferences can be heard, and the screen zooms in and stops. At 41:06, a pair of eyes appear on the screen.
/yxvwoe—Opens a new tab that displays a phone image and an error message that reads, "Uh Oh! Uh Oh Lo ooks like you Wandered wandered wandered tooooooooo far away from Home! Head back." When you click on the phone, Wally sings Beautiful Dreamer by Stephen Foster before saying, "That's all Barnaby taught me. Do you like it?" and "That's good, I think."
Welcome Home! page - Hidden message
When on the Welcome Home! page, you'll see a scrollable gallery of photos near the bottom. The fourth picture in it, a drawing of Frank and Sally building a snowman, hides a secret. When you open the image in editing software and manipulate the brightness, exposure, and contrast, a hidden message appears over the "We'll Be Right Back!" text at the bottom of the image. It reads, "May Your Home Be."
Related: Best Horror Games
About Us page - Invisible message

While the About Us page looks like one you'd see on a typical website at first, it becomes creepy really fast once you scroll down to the FAQ section. The answer to "How did you begin your research into Welcome Home?" sounds natural at first, but it's when you highlight the blank space after it that things take a sinister turn.
"But it hurts," it reads. Oddly terrifying.
About Us page - Frank GIF

Midway through the FAQ section, you'll see two GIFs of Frank's spinning head. Take note of the colorful one. The spines on the books to the left of the character read, "HELLO," "It's You Know Who?," "I'm Your Neighbor," "Do You Think About Me? You Do," and "I've Felt You."
About Us page - Scrambled message

Further down in the FAQ, a question asks, "Why did you make this website?" and, instead of a normal response, the answer is jumbled and difficult to read.
If you drag your cursor over the text and highlight it, the hidden message will become visible. "When I unwrapped the first letter, I felt it. I heard it. Open. Open. Open. I want it out. I'm going to get it out," it says.
About Us page - Invisible message #2
Another whited-out message is hidden in the FAQ under the "Do you know how many episodes of Welcome Home there are?" question. Highlight the end of the sentence, and "The numbers are so hard to read. Sometimes I can't see them" will be readable.
The Neighborhood! page - Hidden URL #1

The Neighborhood! is another page that looks innocent at first; you click on a Welcome Home character's house, and it brings up biographical information about them. Though, if you're a fan of Five Nights at Freddy's, you may get familiar vibes. And rightly so, because there are links hidden on the page that, when clicked, open up some seriously eerie content.
The first link is hidden in the text at the top of the page, under the Welcome Home logo. Click on the first half of the word "you're" in "Even if you don't live there, you're still one of its most important denizens!" and a GIF that reads "you" in a colorful font will open in a new tab. Stay on the page, and the following message will slowly type itself: "Wally is your best friend."
The Neighborhood! page - Hidden URL #2
The second link on the page is on the yellow path directly below Wally's house in the center of the street. Click it, and a new tab will open in your browser, displaying a black page with a terrifying image of a giant eye looking through a window at Wally. Note how the URL is called "so-below" which is a reference to the second verse of the Emerald Tablet ("as above, so below"), a set of Hermetic text from the eighth century.
If you view The Neighborhood! page on a mobile device, Wally's house will be levitating above a large black abyss, which could be a nod to the Emerald Tablet verse from the URL.
Guestbook! page - Hidden file names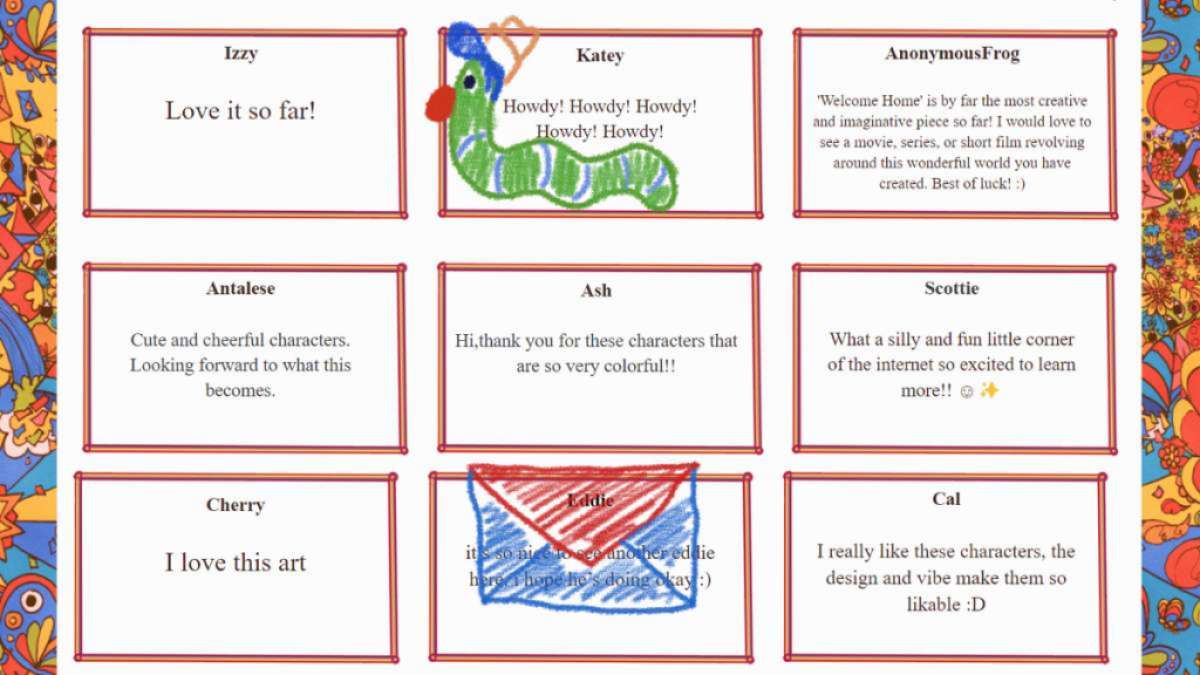 On the Guestbook! page, visitors to the Welcome Home website can leave a message. While many of them are real (or at least appear to be), some of them hide a rather unsettling secret that you can only spot by hovering over the doodled images and reading the uploaded file name. If hovering doesn't work, right-click the image, select Open Image in New Tab, and read the .png name at the end of the URL that appears in your browser search bar.
whyareyoufibbing_youarenothere_idontseeyou_pleasedonotlietome_.png
soyouknowiamlookingatyouneighbor_iamtalkingtoyou.png
youdontlikemeneighbor.png
Scratchharder_.png
nomemory_.png
dohesellhisheart_.png
iamyourfavoritetoo_imveryhappy_.png

Lovehim_Youremember.png
Itsnottimeyet_imlooking_.png
ilikeyellowtoo_imyellow_sallyisyellow_franksnoseisyellow_.png
Idontknoweither_.png
Valentine_Iwilltellher_.png
ourname_.png
everyoneishappy_.png
icantreachthem_imsorry_.png
imyourfavorite_thatmakesmehappy_thanyou_.png
iloveyoutoo_.png
whatisyourfather_.png
dontbeafraid_.png

icouldnotfindthem_iwilllookharder_.png
no_apuppet_.png
For more information on Welcome Home ARG, check out Welcome Home ARG – All Characters, listed on Pro Game Guides.