Since World of Warcraft is an MMORPG that focuses on real-time PVE and PVP battle elements, the framerate tends to fluctuate a lot. As such, it's better to monitor framerate using an FPS counter in case of any drastic FPS drops. Many new WoW players don't know that the game has a feature to showcase the FPS natively. If you happen to be one of those players—don't worry, we have you covered.
Displaying FPS Counter in World of Warcraft
You can easily show your FPS in World of Warcraft by following the steps below.
Open World of Warcraft and hop inside any game mode.
After loading, press Ctrl + R to toggle on the FPS overlay in World of Warcraft.
The FPS counter will be available just above the action bar.
Related: How to get to Exodar in World of Warcraft Classic Burning Crusade
Changing Key Bindings for FPS Counter
Ctrl +R is the default Key Binding to show the FPS counter. If the default combo keys aren't to your liking, you can always assign a new one. To change the default Key Bindings:
Open the Miscellaneous option under the Key Bindings section and look for the Toggle Framerate Display.
Choose any new key or combo you would like to use for toggling the FPS overlay.
Check the newly assigned Key Bindings after returning to the main game.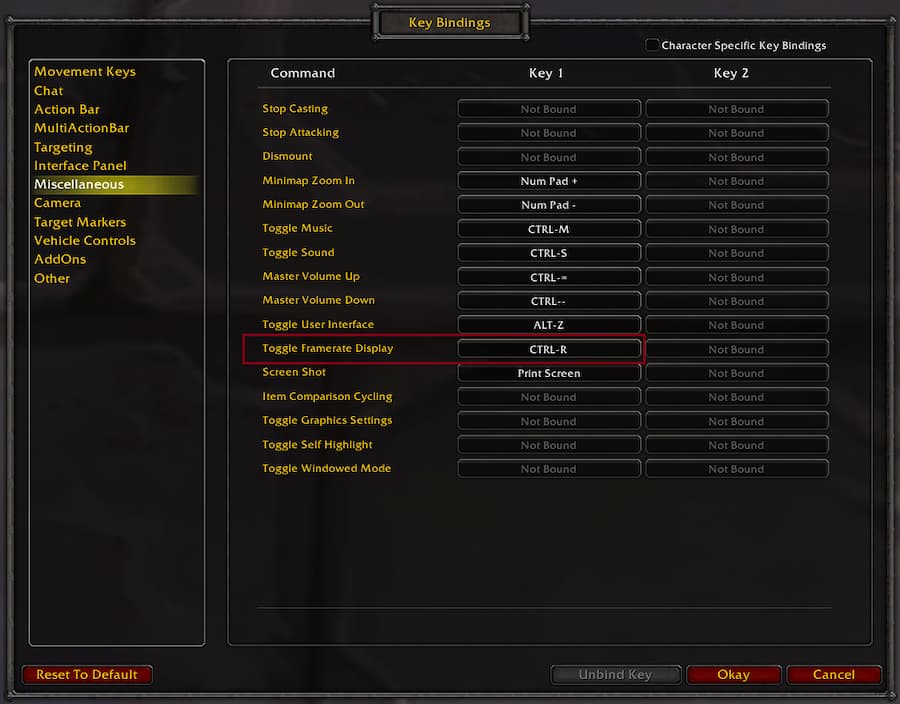 If you have followed all of the instructions, you should be able to display and change the Key Bindings of the framerate overlay in World of Warcraft. As mentioned before, use the counter to monitor your FPS numbers closely. In the event of an FPS drop, we recommend adjusting your graphics configuration to lower settings.
For more awesome guides on WoW, check out the World of Warcraft section on Pro Game Guides.