Batista can be unlocked in WWE 2K22 with special conditions. The world-renowned wrestler made his mark in the ring against some of the best talent ever. You will need to re-create one of his iconic matches to unlock him.
To unlock Batista in WWE 2K22, you must complete all the objectives in Rey Mysterio vs. Batista in Showcase Mode. You will play as Mysterio and perform moves in order to get the win. There are 13 objectives to complete to unlock two versions of Batista.
Here are the objectives to complete to unlock Batista:
Hit Batista with a Light Attack Combo.
Perform a Front Running Attack in the ring.
Hit Batista with a Front Light Attack.
Do damage to Batista ringside.
Hit Batista with a Heavy Combo ringside.
Perform a Front Running Grapple anywhere
Hit Batista with a Grab Combo in the ring.
Irish Whip Batista into a Corner, lift him on the turnbuckle and hit him with a Light Attack.
Hit Batista with a Comeback Move (Have full Special Meter and get on the top turnbuckle).
Perform a Springboard Attack from the apron on Batista while he's down.
Perform a Heavy Grapple in the ring.
Hit Batista with the 619 Signature Move standing in front of him.
Perform a Front Heavy Grapple.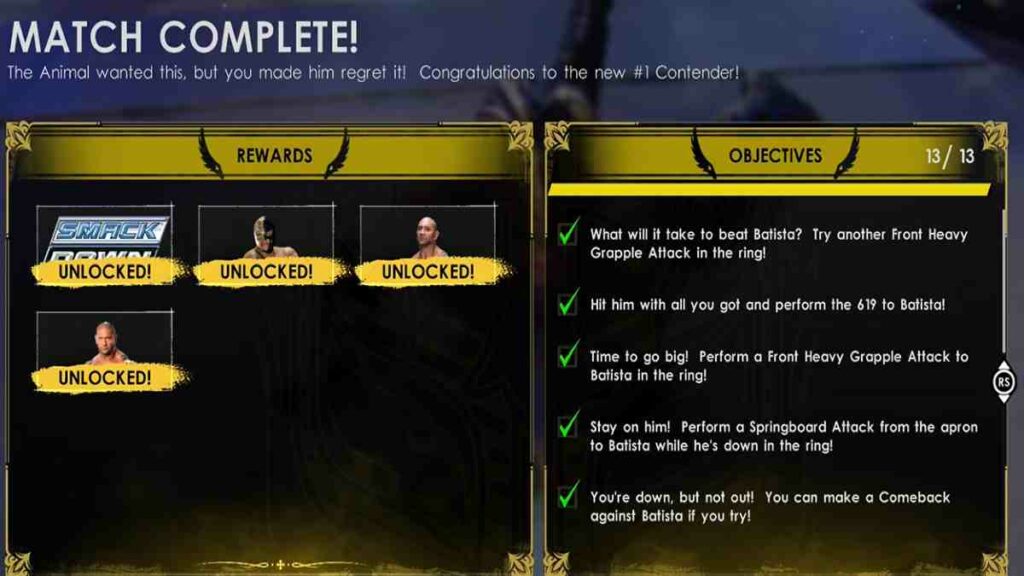 Once you complete the objectives, the match will end, and you will unlock Batista for matches and will be available on the roster in MyGM mode. If you are having trouble with one of the objectives, pause the game, and a description of what actions you should perform with button prompts will be shown in the top right corner.
For more WWE guides, check out What are the new controls in WWE 2K22? on Pro Game Guides.