Hunting Wizzrobes in The Legend of Zelda: Tears of the Kingdom made us very rich, very quickly. This is because, instead of Fire Rods and Ice Rods like in Breath of the Wild, these new Wizzrobes use Rod with gems attached to them (Rubies, Sapphires, and Topaz). By separating the Rods at Tarrey Town, Link can accumulate a nice stash of gems to sell. Players should definitely know where to look beforehand, though, because Wizzrobes are few and far between in Hyrule.
Where can players find Wizzrobes in TOTK - Zelda Tears of the Kingdom
There are three new types of Wizzrobes in Tears of the Kingdom: Blizzrobes, Meteo Wizzrobes, and Thunder Wizzrobes. They are basically stronger versions of the Ice Wizzrobe, Fire Wizzrobe, and Electric Wizzrobe, respectively. They don't take many more hits, though; and I was still able to beat the higher-level Wizzrobes with two or three arrow shots. Here is where players can find each type of Wizzrobe.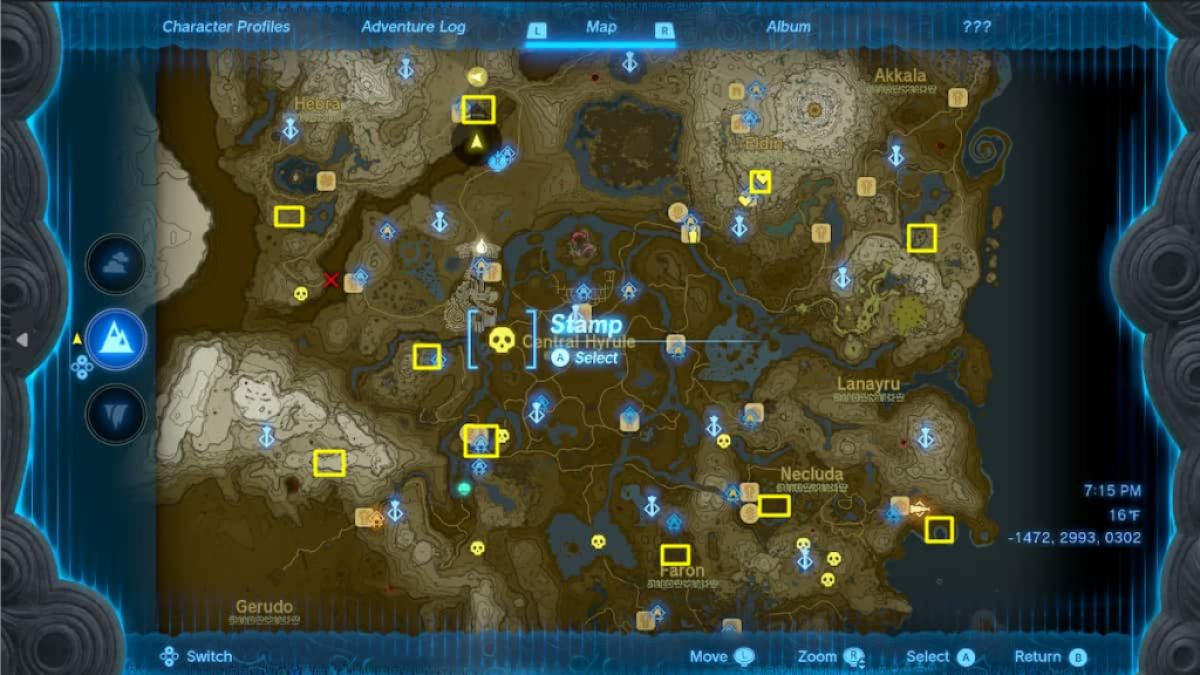 Ice Wizzrobe
In the Hebra mountains past the woods northeast of Snowfield Stable (coordinates: -1450, 2569, 0241)
Fire Wizzrobe
In the Eldin province, slightly northwest of the entrance to the East Restaurant Cave (coordinates: 1798, 1749, 0288).
In the woods east of Dueling Peaks Stable in Necluda (coordinates: 1829, -2033, 0016)
Electric Wizzrobe
On the shore in the middle of Hateno Bay, on the east side of Necluda (coordinates: 4018, -2289, 0002)
At the summit of Cuho Mountain, which can be found south of Rito Village across the water (coordinates: -3762, 1334, 0239)
On top of Satori Mountain, east of the cherry blossoms (coordinates: -2088, -0298, 0288)
Related: All Lynel Locations (Map) in TotK – Zelda Tears of the Kingdom
Blizzrobe
On the west side of Sapphia's Table in the Gerudo Highlands (coordinates: -3318, -1587, 0583)
Meteo Wizzrobe
In the Akkala region, right in front of the East Sokkala Bridge (coordinates: 3775, 1115, 0238)
Thunder Wizzrobe
On the Great Plateau, along the cliff to the west above Riogok Shrine (coordinates: -1406, -1557, 0117)
In the Zonai Ruins, south of Damel Forest on the hill (coordinates: 0850, -2759, 0023)
Want more Zelda Tears of the Kingdom guides? Pro Game Guides has you covered with All Hinox Locations (Map) in TotK – Zelda Tears of the Kingdom.