Time to figure out how to catch an Atlas Moth in Animal Crossing: New Horizons! Whether you're looking to creep out Blathers, fill up your museum, or complete your Critterpedia... you are going to need to know how to find this bug.
How to Catch an Atlas Moth
Let's take a look at the Atlas Moth's Critterpedia information because it's good to know when you can actually catch this thing.
Northern Hemisphere: April - September
Southern Hemisphere: October - March
Active Hours: 7pm - 4am
Location: Tree
Price: 3,000 Bells
Looks like you'll have to login at night to find one of these bugs! Northern Hemisphere players will find them in April through September, and Southern Hemisphere players will find them in October to March.
Unfortunately, there's not much you can do to get this to spawn other then be lucky. The only place you will find it is on a tree. It literally spawns on the trunk, and is one of the larger bugs you'll encounter in the game. It's pretty obvious when you see it. When you do find one, be sure to have your net out and hold down the A-button. This put you in bug creep mode, which basically means you'll have the net ready to swing and you will move slowly. Creep your way towards the moth and then let go of the A-button to swing once you're in range.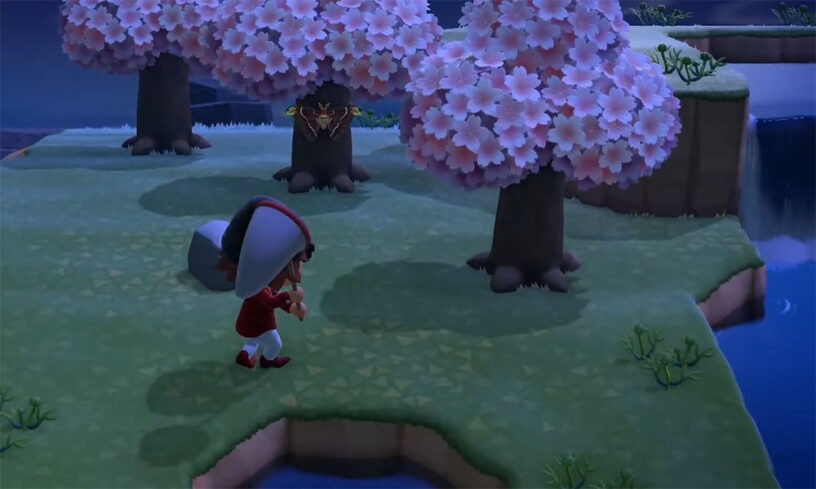 Credit to King Ryrex for the above image, be sure to check out his YouTube for helpful Animal Crossing guides!
If you're looking on your island, just make sure to have plenty of trees around for it to have the possibility of spawning. Heading to a mystery island might help you, because bugs seem to spawn more quickly there. Scare away any other bugs you see to increase the likelihood of a spawn!