The Gaiden Event in Apex Legends features cosmetics based on anime, the return of the LTM Armed and Dangerous, and a free reward track to complete. The free reward track includes five challenges that reset daily.
How to complete the Reward Track in Apex Legends Gaiden Event
To complete the reward track, you must earn 3000 total points from event challenges. The challenges have tiers, so you can earn more points doing the same challenges throughout the event. You can earn up to 1,600 points by completing every tier of the five challenges daily. Here are the first challenges to complete.
Play 2 Matches
Deal 1500 Damage
Survive 6 Ring Closings
Get 5 Knockdowns
Get a Top 10 Finish 4 Times
Completing the first set of challenges will net you 900 points, so even if you only complete the first tier every day, you can earn all the rewards in four days. The Gaiden Event free prize track is broken up into two sections: the first running from July 19 to July 26 and the second running from July 26 to August 2.
All Free Rewards in the Apex Legends Gaiden Event
Both prize tracks feature nine rewards including an Epic 30-30 skin, Epic Fuse skin, and a Gaiden Event pack The free rewards and how many points are needed for each can be seen in the image below.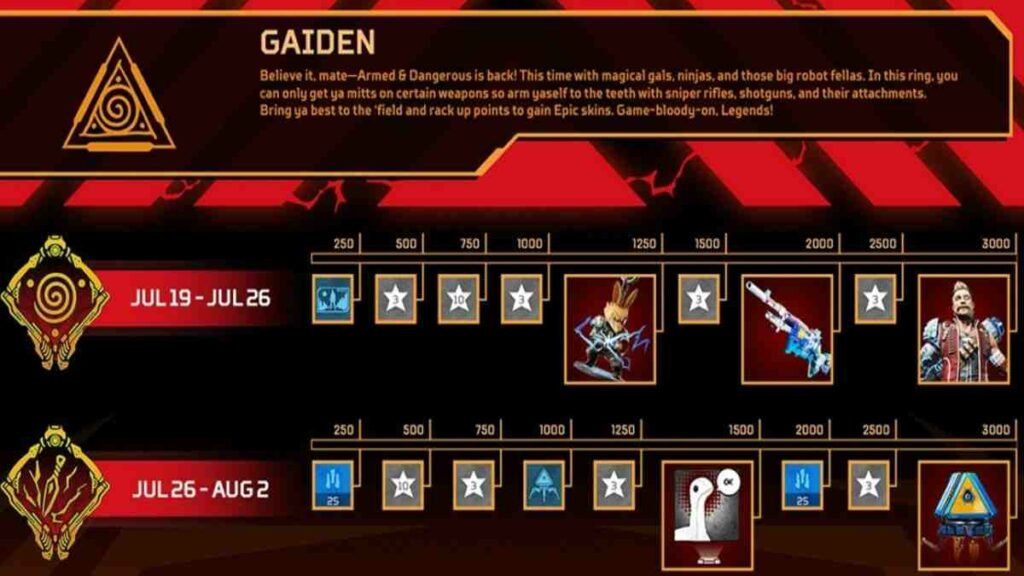 The challenges are the only way to get the free rewards, but the event does include Gaiden Legend skins that can be purchased with Apex Coins or crafting materials. Players can also visit the store for Gaiden bundles that include skins and Apex packs.
The Gaiden Event also includes eight anime-inspired Weapon skins that are a part of the 24 cosmetics needed to unlock the new Bangalore Prestige Skin.
For more Apex Legends guides, check out How to unlock Bangalore Prestige skin in Apex Legends on Pro Game Guides.