Rampart's Arenas Takeover is a Limited-Time Mode in Apex Legends during the Evolution Event. Until September 28th, Arenas games will feature gold weapons at discounted prices, supply crate weapons, and special paintball bullets.
Rampart offers a variety of gold or supply crate weapons that change periodically. The discounted weapons also can switch between rounds 1-3, 4-6, and 7-9. Each gold weapon is discounted 300 Materials, making it possible to pick weapons in early rounds. Some of the matches offer the three supply crate weapons, including the Spitfire, Alternator, and Triple Take.
Each gold weapon also features special bullets that appear as paintballs. The paint is purely cosmetic and does not affect how the weapon works, but it is a fun way to leave a mark on the battlefield. The paintballs are bright blue, yellow, and green, so the map can start looking pretty vibrant when gold weapons are in use.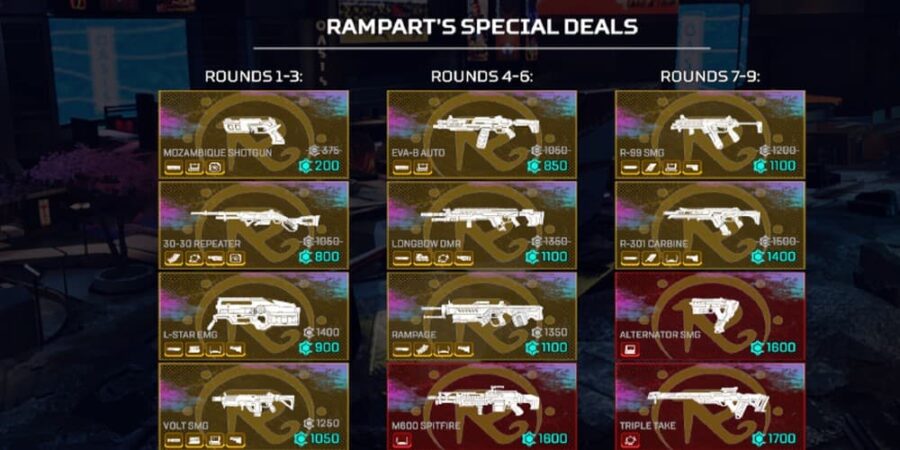 The gold weapons can definitely give players an early advantage. Even in round one, players can afford a gold Mozambique or a P2020, both of which can be very powerful. Players can purchase each for under 250 Materials, so they make a great round one selection. Many of the most powerful automatic weapons are available at the gold tier in later rounds, like the R301 and the Rampage LMG. Players should try out the gold weapons to see which ones give the best advantage during the Arenas matches.
The Rampart Arenas Takeover runs throughout the Evolution Event, featuring the "Big Maude" location in World's Edge that is also part of Rampart's takeover. In addition, Rampart received a substantial buff that allows her to carry Sheila freely at the cost of a longer wind-up time to fire. The Evolution Event also features 24 cosmetics that players can purchase with Crafting Metals or Apex Coins, so there is plenty to experience in Apex Legends right now.
For more Apex Legends guides, check out How to unlock Legends in Apex Legends on Pro Game Guides.