On September 10, 2022 during the Ubisoft Forward presentation, Assassin's Creed wrapped up the the event and dropped several bombshells. The Assassin's Creed showcase laid out plans for the future of the series that span the course of the next several years. Here's what was revealed in that roadmap.
What's next for Assassin's Creed?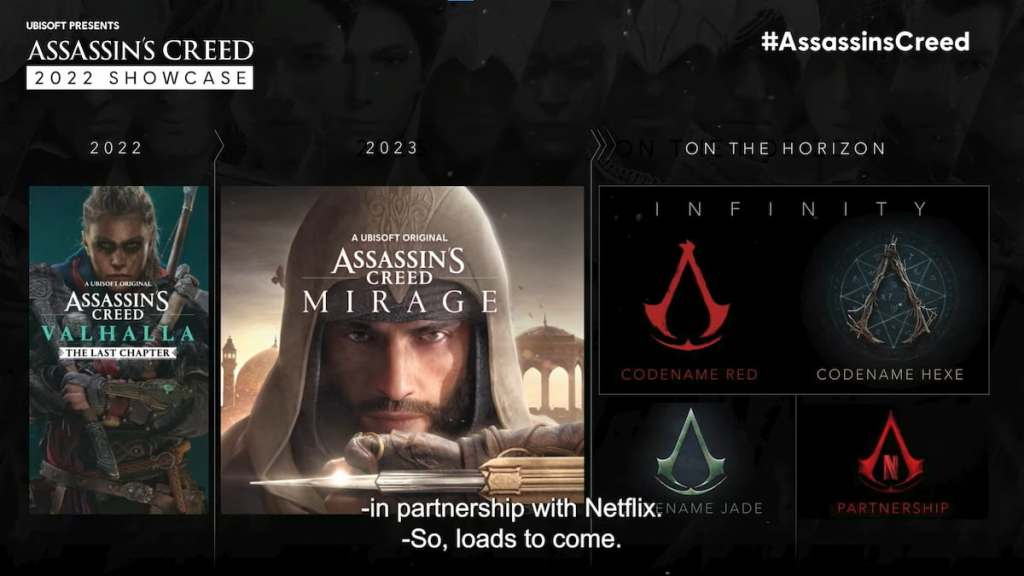 2022
In the back end of 2022, players will join Eivor in the last piece of DLC for Assassin's Creed Valhalla, appropriately titled The Last Chapter. A trailer was shown, but was a series of quick shots pieced together. We'll likely get more of an explanation, including a release date, in the next month or so.
Related: All editions and preorder bonuses for Assassin's Creed Mirage, explained
2023
Sometime in 2023, Assassin's Creed is set to return to its roots with the release of Assassin's Creed Mirage. It will be in the same vein as Origins, Odyssey, and Valhalla, but will put a heavier emphasis on the Assassins and their fight against the Templars during the golden age of Baghdad. There is supposed to be more emphasis on stealth, parkour, and close-quarters combat.
Beyond
There were a series of titles announced for the future of the Assassin's Creed franchise, in what Ubisoft is calling period three. Period two is Origins, Odyssey, Valhalla, and Mirage whereas period one encompasses everything before that. As such, it will likely be a full two or three years before we see these titles released.
The first of which is Assassin's Creed Codename Red. This will take place during Feudal Japan and promises to be a full Shinobi fantasy. It's certainly one of the most requested settings for the franchise and should sit well with fans of the Tenchu series.
Assassin's Creed Codename Hexe is sparse on details but in an interview with Mar-Alexis Cote, it was revealed that the title would diverge from the RPG aspects that Assassin's Creed has delved into. The series has been pushing further and further into supernatural territory, so it looks like it might be possible that we'll get a full-fledged horror title in the series. We are particularly stoked about this one.
Assassin's Creed Codename Jade is an ambitious title that's coming exclusively to mobile. It will be the first in the series to allow players to create their own character and will be set in Ancient China. Beyond that, not much is known.
Assassin's Creed Invictus will be a standalone multiplayer title. To accomplish this, Ubisoft is pulling talent from both the For Honor and Rainbow Six Siege teams. Again, Cote wasn't bursting at the seams with information at this one. But it's likely that it will draw heavily on the animus lore as a parallel for modern-day players accessing such a title.
Finally, Netflix is working with Ubisoft to develop three mobile titles, one of which is heavily rumored to be tied into the upcoming live-action Assassin's Creed series. It is said to be different from the open-world games and is something that will take the series back to its roots like Mirage.
For more Assassin's Creed goodies, check out Top 12 Assassin's Creed Games, Ranked on Pro Game Guides.