Battlefield 2042 features three Assault class Specialists at launch—Sundance, Mackay, and Dozer. An Assault class operator's job is to attack the objective first and clear a way for the team to the objective.
Here's our pick for the best Assault Specialist in Battlefield 2042. That being said, your preferred operator may vary from the one on our list.
1. Webster Mackay
Specialty: Grappling Hook - Allows unrivalled mobility.
Trait: Nimble - Move faster when aiming & on ziplines.
Mackay sits at the top of our list due to the incredible movement flexibility he provides. His mobility is dominant in close to mid-range combats and perfectly fits the Assault class's role. Using his Grappling Hook, players can evade or get into a fight in a jiffy.
To avoid exploitation, the grapple has a cooldown. Moreover, he can strafe faster while aiming down sights a weapon. Although this trait gives him an edge in combat, you'll have to be accurate while strafing to defeat your opponents.
2. Emma "Sundance" Rosier
Specialty: Grenade Belt - Multiple grenade payloads.
Trait: Wingsuit - Equips CW-2A Wingsuit instead of Parafoil
Sundance is the only operator who can match or undermine Mackay's mobility features. Their wingsuit allows you to traverse distances you cannot usually cover without a vehicle. However, they come second in our list because their trait is only accessible when moving from a height to a lower ground.
Secondly, they carry a variety of grenades that you can utilize in different combat scenarios. These include EMP, Anti-Armor, and other grenades.
3. Santiago "Dozer" Espinoza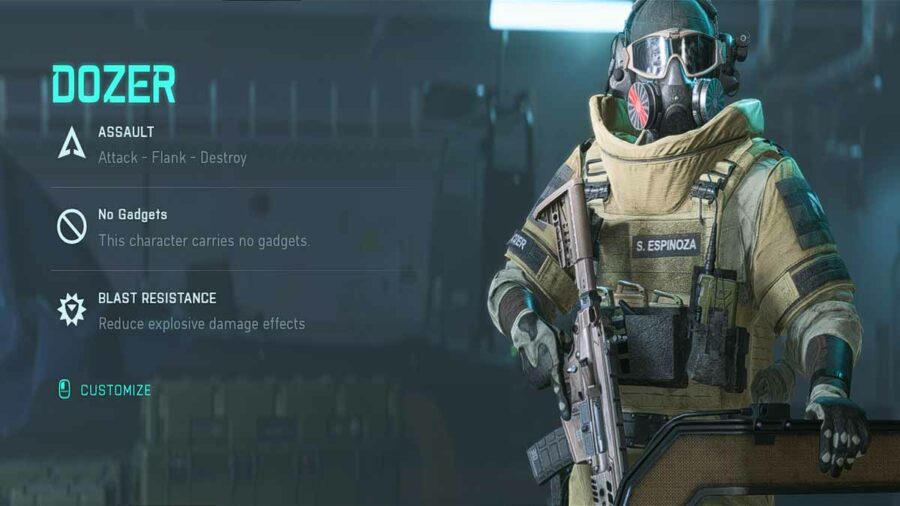 Specialty: SOB-8 Ballistic Shield - Protects against bullets.
Trait: Blast Resistance - Reduce explosive damage effects.
*Dozer's Shield has been temporarily disabled due to some persistent bug at launch. It will be reintroduced shortly.
Dozer carries a shield with him which he can pull out whenever required. The shield helps him and the squad push the enemies while taking significantly less damage and defends him when surrounded. Moreover, he can take more explosive damage than any other Specialist in the game.
Being at third in the ranking doesn't mean Dozer is not as good as the other two operators. There is no match for Dozer in a certain situation, and you'll realize that only after trying him out.
Stay tuned to Pro Game Guides for more Battlefield 2042 and Portal content. In the meantime, head over to our article – Who is the best Support Specialist in Battlefield 2042?