We're taking a look at how to successful rob a train in BitLife! There was a recent update to the game that added a bunch of robbery and crime options to the game, and one of those options is the ability to rob a train. It would seem like a relatively simple thing to do, but there's a trick or two to know before making an attempt!
How to Commit a Train Robbery Successfully
You'll need to get to about 18 years old before you can rob the train. Once that unlocks for you, look for the Train Robbery option under Crime. You will have two options you can pick from in this menu. First is the option of the train you can choose to rob. This option doesn't seem to matter, so pick whichever one sounds interesting to you. The second option is the important part, and you will need to select a time. The options you can pick from are: Sunrise, High Noon, 4:20PM, Sunset, and Midnight. The time you pick will need to correspond to your time in real life for you to actually encounter a train! So, pick the one nearest your current time and hopefully the train will show up and you can rob it!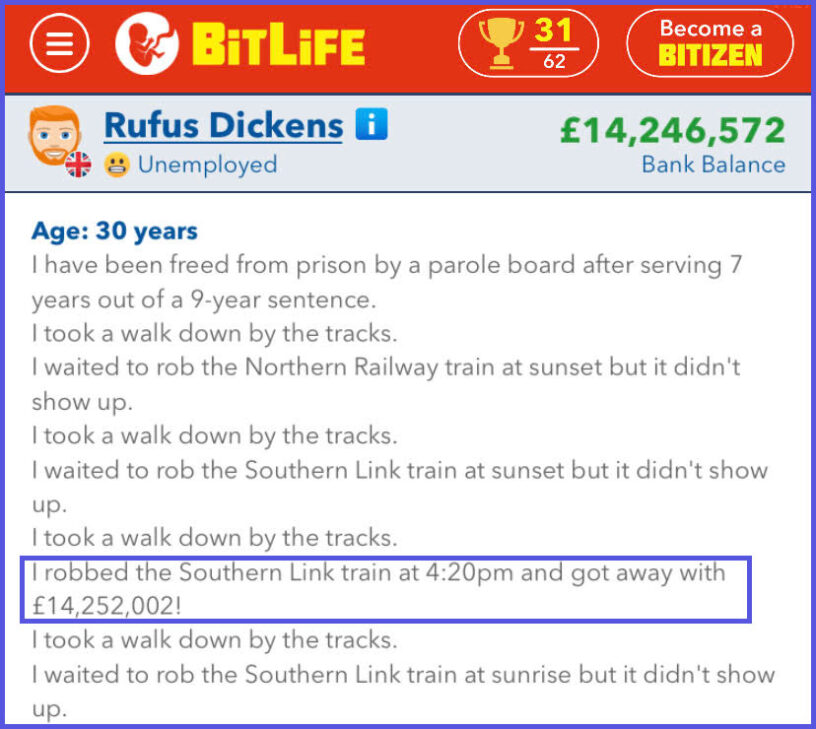 If you aren't near one of the times, you can change the time on your device to match the one you'd like to do. 4:20PM being the most obvious one to try out. I did this and I was successfully able to rob the train and gained over 14 million in cash! There is a problem though, after I did this once, I was unable to replicate it again. So, it seems like you can only successfully rob the train once per account? I tried on multiple different lives, so it appeared to me that you can only currently get a train robbery to successfully happen once!
Let me know in the comments if you're able to rob the train using this method! I'm trying to narrow down what the exact parameters are that will help you be successful.