To become a Billionaire in BitLife, it will require us to be a famous actor, do commercials, sell products via social media, and then get a whole bunch of houses that will gain value as we head into old age.
Getting to the point where you earn the achievement can take some time because getting to the lead actor employment stage isn't super easy.
Not only that, we'll need to maintain our fame, post on our social media accounts, and then buy up all sorts of real estate! Don't worry, though, we're addressing this all below in our guide.

The first thing you want to do is start your character off in Monaco. We do this because there are no taxes here, and we want to horde all of the money we can get!
Now, make sure you have pretty high looks because we will be banking on those to go down the path of an actor. Once you see Mind & Body open up, start going on walks as soon as you can.
We want to maintain our looks as high as possible; we'd ideally want them at 100 at all times. Once the Gym opens up, start going to that at least once a year.
Also, join all of the Social Medias as soon as they are available. You don't really need to start posting right away because we'll get plenty of followers when we become famous.
Age up until you've graduated from High School and then look for a job. You want to find Voiceover Actor. If you don't see it, completely close out of BitLife and then open it up again to see if it's there. Repeat this process until you find it and are employed.
We don't want to waste time aging up without having this job. Now that you have it, make sure to work hard each year at least once.
You will eventually make your way to Actor and then to Lead Actor. Once you are a Lead Actor, look for a new job because your salary will be pretty low at your current place. You can get around 4,000,000 a year if you get the right job.
You will eventually get the fame bar available to you. This is important and will be one of the ways we start making real money. Start posting every year on Social Media, particularly on YouTube and Instagram. These will upgrade your fame rating each year.
You can also start by doing a Photo Shoot and hopefully getting a Commercial. Once you've hit 90+ Fame, you will start getting about 3,000,000+ a commercial. You can also write a book, which can also get you some cash.
When you have over 100,000 followers on your various social media, make sure to get verified and monetize your YouTube channel. I would continue posting on the two platforms but not really bothering with the others.
Once you hit about 20,000,000 followers on YouTube or Instagram, you can start promoting on them. This will get you about 400 - 1,000,000 per promotion, which is a significant chunk of change.
So, once we hit about 30,000,000 in the bank or so, we will want to start purchasing a property. You want to purchase at least one or two each year.
You can flip a few of them by renovating, but we will eventually want to keep them all. Try to get around 100,000,000 cash which will allow us to really purchase some expensive properties.
Once you have enough money, start buying properties in the 20 - 30 million range each year or so. You will want to continue this until you start losing around 3 - 6 million a year.
Each property costs you a monthly amount of money to keep. Eventually, that will overtake your salary, but don't worry! We can still make enough money to maintain by doing commercials and promoting products on Social Media.
Now we're in maintenance mode until we reach a billion net worth. Here's what you will want to do each year until you reach your goal:
Go to the Gym (Keep Health at 100 each year)
Do a commercial
Sell products on Social Media
If your fame is dropping, go on a talk show or post on your social media channels.
Work hard at your job so you don't get fired
Keep Looks above 90 (You can get Botox at the Plastic Surgeon or get a Spray Tan)
Your health is the most important because you might need to live into your 100s to reach the money goal. If the Gym doesn't cut it, then try going for a walk, going to the doctor, gardening, meditating, and everything else. Always get checked out if you get sick or have a symptom.
As you grow older, you'll start to see your net worth really go up quite a bit due to your properties. Here's an example of how much one of mine went up after 40+ years: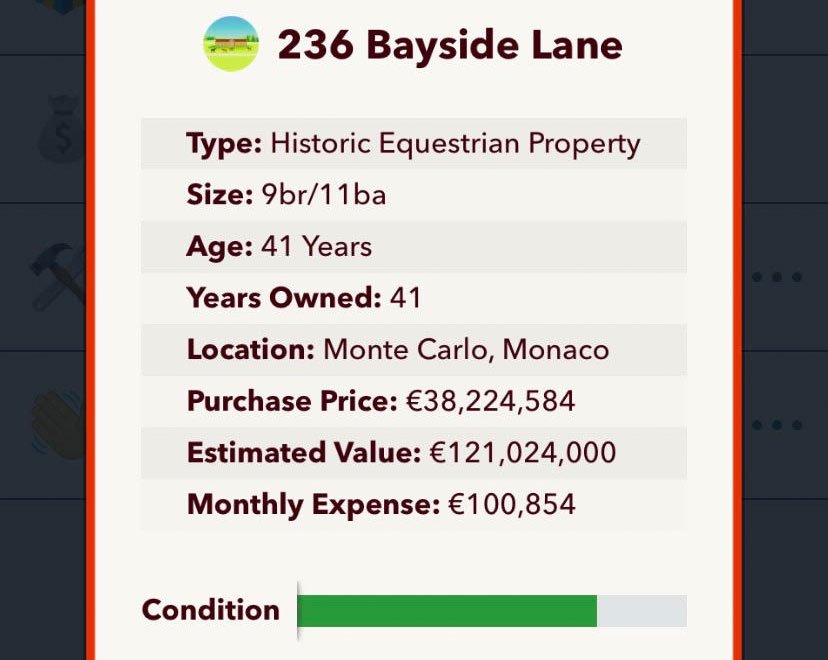 Now, you can do this all in one life, but you might want to take out some insurance. At some point in your later age, you should have a kid. Divorce your significant other and maintain a relationship with them. If you die early, you will want this as a backup plan; you'll need someone to leave your stuff to.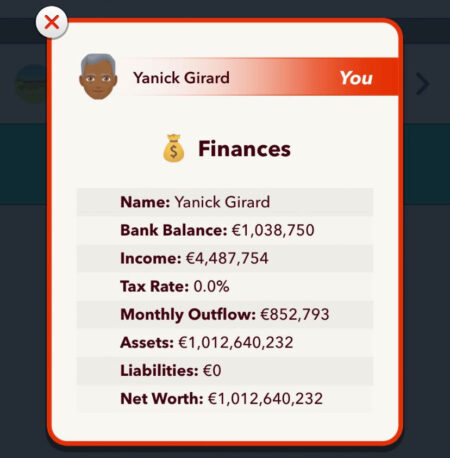 That's pretty much it; you will eventually cross the billion mark if you've got enough properties and time for them to grow in value.
I reached billionaire status at age 113, but these techniques have been refined more, so I would expect you to get there sooner! If you keep yourself healthy enough, you might even reach 120.
For more on BitLife, Pro Game Guides has you covered with a massive and ever-expanding catalog of guides.