I make no secret that Hollow Knight is my favorite game and what I consider the greatest gaming achievement. But another game I enjoy is Blasphemous, so much so that I kickstarted the original game. With The Game Kitchen's Blasphemous 2, I was all on board with a sequel to one of my favorite Metroidvanias. And boy, did The Game Kitchen deliver with this action-packed platforming sequel.
Gameplay
Blasphemous 2 combines Metroidvania, upgraded from the first Blasphemous, and souls-like gameplay to create a challenging 2D adventure. The enhanced Metroidvania elements of Blasphemous 2 are evident and have gone a long way toward improving the game. Unlocking new abilities and backtracking to areas feels rewarding, as does upgrading each of the three weapons available.
Overall, the combat and platforming are fun and engaging, with each weapon feeling distinct in battle and offering different ways to traverse the world. Throughout my playthrough, I had to swap weapons to reach areas and overcome platforming challenges, but I also found myself switching weapons in combat based on the foe I faced. I feared the three weapons would have me favoring one and forgetting the others, but Blasphemous 2 does a great job making the weapons feel organic, as well as swapping between them. Overcoming obstacles and enemy variety make it impossible to progress without using all three weapons.
One aspect of Blasphemous 2 that irritated me was some questionable precision. I often found platforming, weapon end lag, enemy attacks, and the dash to feel off at random intervals. One moment, attacks or dodging would feel fine, but other times, my actions were off despite similar inputs. This weird impreciseness carried over to platforming, causing me to miss some jumps. While annoying, this wasn't an unacceptable issue, but it did cause me to waste some Bile Flasks or redo platforming challenges.
Score: 4/5
Related: What weapon should you choose first in Blasphemous 2?
Bosses
Bosses have always been one of the best parts of souls-likes, which remains true for Blasphemous 2. The bosses in Blasphemous 2 offered the perfect challenge. Some I defeated after a handful of tries, while others took me far longer. But regardless of how long it took me to defeat a boss or how many times I saw the death screen, each fight felt fair, and my losses were my fault. Each boss required new strategies, and I thoroughly enjoyed learning their attack patterns.
But what I loved most about the bosses were their designs. Each one truly personified the disturbing imagery throughout Blasphemous 2. I encountered a blacksmith whose grinding wheel was infused to his back, a gold figure whose real body was that of a small child, a giant whose back was pierced by glass shards, and much more. Every boss felt like a part of the word and the suffering bestowed by the Miracle reflected the harsh religious dedication in Cvstodia.
What's more, defeating bosses felt rewarding, both in-game and personally. Fights progressed with bosses changing up their tactics and attacks, and though many took me several attempts, I felt so satisfied after a hard-fought victory. Conversely, I recognized my mistakes and learned a boss' patterns to overcome my struggles. Defeating a boss unlocked a delightful lore drop and allowed me to progress further through Cvstodia. Throughout my playthrough, I was eager to encounter these penultimate challenges and overjoyed when I finally reached a boss room.
Score: 5/5
Aesthetic
When Blasphemous was first announced, the beautiful pixel art captured my attention, and Blasphemous 2 continues this gorgeous art style. Combined with the gothic Catholic inspirations, Blasphemous 2 has an incredible look. I highly recommend switching the language to Spanish, as it sounds incredible and really breaks out the aesthetic that the Spain-based developers perfected.
Enemy design is top-notch, from regular enemies to mini-bosses and full-fledged bosses. I was constantly seeking out new foes just to see their design. The enemy variety features numerous challenges and requires tackling each with new strategies. Each movement and attack is animated perfectly, and after learning an enemy's attack telegraph, I never questioned what move would come out.
Blasphemous 2's unsettling atmosphere is more than its creepy and disfigured characters and enemies. The environments have cryptic names and backgrounds that could inspire disturbing horror movies, and I loved it. Dark churches, ruined cities, and nightmarish landscapes make up the bulk of the world, and each environment incorporates new elements visually and with its gameplay. All this comes together to make up Blasphemous 2's strongest aspect.
Score: 5/5
Related: Best Rosary Beads in Blasphemous 2
World & Lore
The world of Blasphemous 2 follows that of the first Blasphemous, which follows the souls-like formula of allowing players to discover it by reading item descriptions. While NPCs and cutscenes will reveal information, most of this is found by inspecting items and reading the attached lore. I've always enjoyed this hidden lore that hides beneath the surface. I read every item description in Blasphemous 2 to get as much lore as possible.
The Miracle is at the heart of Blasphemous 2, and this mysterious entity is up to the same shenanigans from the original game. The Miracle takes the place of God and seemingly doles out curses and blessings that affect nearly every individual in Cvstodia. I was constantly amazed and horrified by the NPCs and the curses I encountered. Some of my favorites were a man cursed to have honey pour from his mouth and a woman whose flesh ripped apart the more I upgraded.
My one complaint with Blasphemous 2 and its world is that there is no codex. I desperately wanted a record keeper of enemies, lore, and items I encountered throughout my journey. A codex would expand the lore and allow me to reflect on my journey, particularly with quest items that leave your inventory once used. With such a creative world, it is a shame there is no way to keep track of it in-game.
Score: 4/5
Verdict - A Blessed Sequel
Blasphemous 2 does everything the original did, but better. The Game Kitchen took what worked in Blasphemous, improved it, and added what it lacked. Enemy variety has been increased, more Metroidvania elements have been incorporated, and the beautiful world of Cvstodia has been expanded. What few hang-ups I have with Blasphemous 2 do little to detract from a thrilling experience. Overall, Blasphemous 2 does not hit the high that is Hollow Knight, but it stands alongside some of the best Metroidvanias.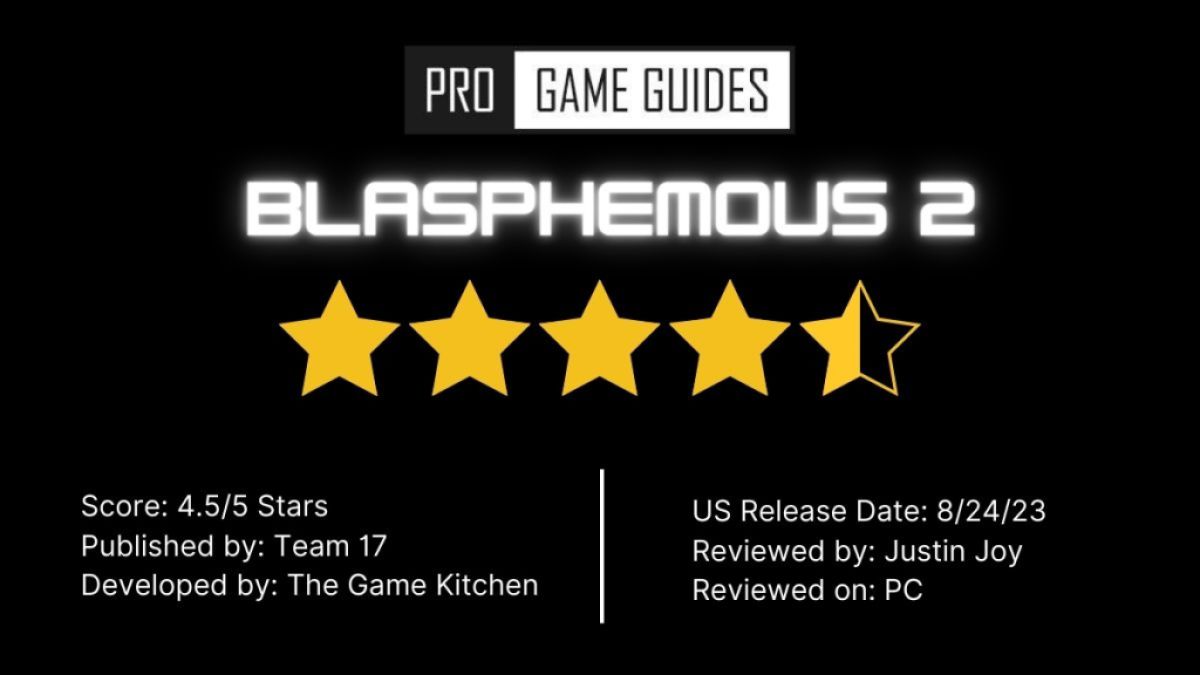 A free copy of the game was provided to PGG by the publisher for review purposes.
For more information on gaming, check out How to get to the White Palace in Hollow Knight and Where to find Pale Ore in Hollow Knight on Pro Game Guides.