Hollow Knight offers the player multiple routes and resources on how to complete the game. You are somewhat free to choose your route and gather materials, charms, upgrades, and more. One resource you will want to keep an eye out for is Pale Ore, as it will make your life much easier. This may leave you wondering where to find Pale Ore and what it does in Hollow Knight.
How to get Pale Ore in Hollow Knight
There are six pieces of Pale Ore to collect in Hollow Knight. Here is how to get all Pale Ore.
Ancient Basin

Defeat two lesser Mawleks west of the Tram near the main entrance.

Resting Grounds

Collect 300 Essence with the Dream Nail and speak to the Seer.

Crystal Peak

Located in the pedestal of the Radiance Statue at Hallownest's Crown (the Mantis Claw, Monarch Wings, and Crystal Heart are recommended before collecting this Pale Ore).

Deepnest

In a hidden room behind a wall in Nosk's lair west of the Hot Spring.

Forgotten Crossroads

Speak to the Grubfather after rescuing 31 Grubs.

Kingdom's Edge

Complete the Trial of the Conqueror in the Colosseum of Fools.
Related: Is Hollow Knight multiplayer?
All Pale Ore Locations in Hollow Knight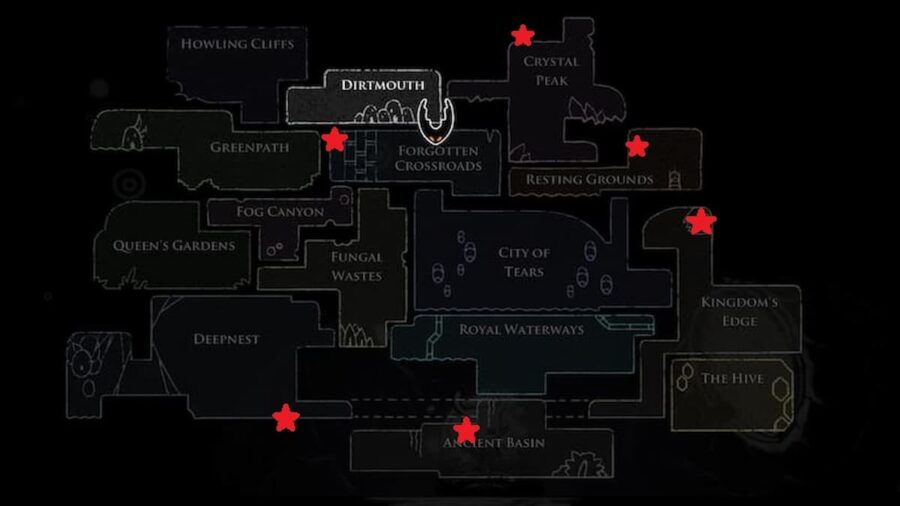 Head to the locations marked on the map above to collect all six Pale Ore. Make sure you meet the requirements before heading there, or you will need to return. Here are all Hollow Knight Pale Ore locations.
What to do with Pale Ore in Hollow Knight
If you were wondering what to do with Pale Ore once you find it, you must give it to the Nailsmith to upgrade your Nail. You can upgrade your Nail four times, with the first being free and each successive time requiring additional Pale Ore. Upgrading the Knight's Nail is crucial to increasing your damage output.
For more information on Hollow Knight, check out How to get to the Hive entrance – Hollow Knight and How to get to the Abyss – Hollow Knight on Pro Game Guides.