Hollow Knight takes place in Hallownest, a winding and twisting labyrinth of regions. Many of these can easily be found, but some are harder to locate than others. One area you may have trouble finding is the Hive. Here is how to find the entrance to the Hive in Hollow Knight.
Where to find the Hive entrance in Hollow Knight
You can find the Hive below the Kingdom's Edge area. You must have the Tram Pass if you want to access this area. In addition to this, you must have the Vengeful Spirit, the Shade Soul spell, or the ability to wall jump. To enter the Hive in Hollow Knight: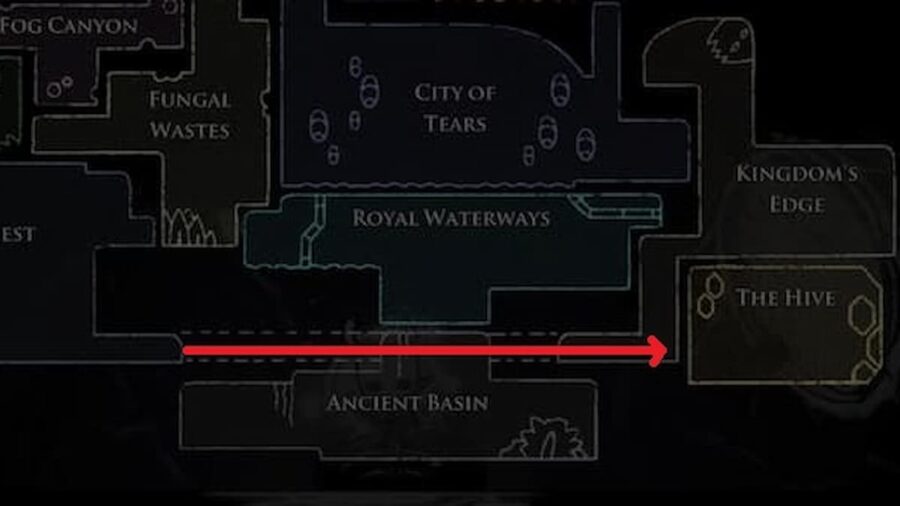 Take the Tram all the way to the right from either Deepnest or the Ancient Basin.
After leaving the Tram, travel right, crossing over the pit of spikes, until you encounter a wall and two Hivelings.
Defeat the Hivelings and use your Vengeful Spirit, Shade Soul, or wall jumping to destroy the wall. This will take you to the Hive.
There are other entrances to the Hive, but this is the easiest to find and reach. Make sure that you have the Tram Pass and one of these spells or the ability to wall jump—without these, you cannot enter the Hive here.
What is the Hive in Hollow Knight?
The Hive is a separate kingdom from Hallownest, despite residing within it. It is ruled by a queen and is primarily populated by winged bugs that resemble bees. At some point, the Hive sealed itself off from the rest of Hallownest and the Pale King. However, as time went on, the queen eventually died, and as a result, the Hive was overcome by the Infection.
For more information on Hollow Knight, check out Which is harder, Cuphead or Hollow Knight? and Hollow Knight: Silksong Release Date, Platforms, Game Pass & Everything We Know on Pro Game Guides.