The atmospheric world of Hollow Knight is sparsely populated, but those few bugs who still reside there are quite the characters indeed. For those interested, here's a comprehensive list of every NPC the player can speak with along with a short description. Oh, and the main character themselves, of course.
The Knight
The main protagonist of Hollow Knight. They embark on a magnificent journey into the depths of Hollownest, searching for the secrets of the light.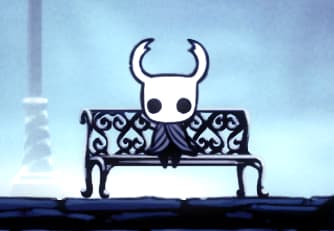 Wanderers

The Knight is likely to find these strange bugs in more than one spot throughout their journey. Some of them may even prove vital in unraveling Hallownest's checkered past...
Hornet
This mysterious bug seems to pop up at various places throughout the Knight's journey, even posing like a boss once or twice. In the right light, it might even appear as if she is testing the Knight. Just what does Hornet seek here in the depths of Hallownest?
Cornifer
Cornifer is an eccentric cartographer who loves nothing more than to scrounge around in unmarked territory, sketching out paths and tunnels to his heart's content. He takes a liking to the Knight, a fellow explorer, and will offer them maps in each new area they end up in together.
Quirrel
The roaming rogue Quirrel is the thoughtful and inquisitive type. He can often be found either inspecting some oddity, polishing his nail, or even just taking in the sights. That mask he wears on his head looks awfully familiar though...
The Great and Mighty Zote!
Be warned weaklings, for this is the all-powerful warrior Zote! Speak to him with disrespect and you shall taste the bite of his nail, Life-Ender! And he most certainly does NOT need help under any situation whatsoever! Not even if it might cause his own death! Because he totally has it handled! 100%!
Cloth
Cloth is, in truth, a cowardly bug seeking to better herself through life-threatening combat and exploration. Maybe if the Knight finds and speaks to her enough times, some of their courage will brush off onto her so that she might finally become the warrior she desires to be...
Tiso
The arrogant Tiso seeks to engage in the mythical Trial of Fools on the Kingdom's Edge. Being the powerful warrior that he is, he is likely a true competitor for the Colosseum's title of champion. But where does he go when he suddenly disappears after his assuredly triumphant trial?
Mister Mushroom
"Nyush oola mumu? Shruba dungo ola, ola mu... gungi."
Who knows what Mister Mushroom's strange rantings are about? Maybe if the Knight had something to raise their kinship with mushrooms, they'd be able to understand whatever this strange fellow is saying...
Merchants

These friendly bugs provide various services to help the Knight along their way. Though, of course, nothing in this world is for free.
Sly
A crafty merchant who nearly fell victim to the corrupting influence of Hollownest's corrupted tunnels. After being saved, he's more than willing to part with his precious stock to help the Knight. For the right price, of course.
Iselda
The exasperated wife of the traveling cartographer Cornifer. Despite not understanding her husband's love of adventure, she still willingly supports him by running a map shop up in Dirtmouth.
The Nailsmith
This stalwart stag is not simply devoted to his work. His craft is his life, his entire being. He wishes only to one day bring into being the perfect nail for a master warrior to wield. For some geo and some pale ore, he'll upgrade your nail's damage.
Salubra
Salubra's shop is one of the few warm and welcoming places left in the fogs of Hollownest's tunnels. She sells a variety of charms and has been known to show her favor to fellow lovers of the helpful knick-knacks.
The Last Stag
A relic of the former prosperity of Hollownest, the Last Stag serves as Hollow Knight's fast-travel network. For a one-time initial price at each Stag Station, the Last Stag will carry the Knight to any other unlocked Stag Station.
Leg Eater
Don't let his name or jittery looks fool you. This bug means you no harm. Instead, after proving your interest with a bit of geo, Leg Eater will permit the Knight to purchase some fragile charms. These charms provide great boons but break after dying with them equipped.
Divine
A ravenous merchant accompanies Grimm and his troupe. She finds Leg Eater's fragile charms quite tasty, but be warned: the cost of getting your charms back is quite exorbitant. But should you have the dough, Divine can turn Leg Eater's fragile charms into unbreakable ones.
Lemm
Lemm is a simple bug of simple tastes. He loves relics. If the Knight happens upon any Wanderer's Journals, Hallownest Seals, King's Idols, or even a mythical Arcane Egg, then Lemm will happily trade them some geo for the priceless artifacts.
Millibelle
Millibelle is a strange old lady living on the edge of Fog Canyon, near the Queen's Station. She runs her own bank there, where the Knight can safely store some of their hard-earned geo. But like many bugs in Hollownest, Millibelle is hiding a secret...
Little Fool
This chatty little friend "hangs out" in the Colosseum of Fools on the outskirts of the kingdom. While on punishment, he'll collect your geoto unlock the three separate Trials of the Fools. There you can fight for glory, for honor, and for some pretty little pebbles called geo! Just mind that you don't end up like the Little Fool himself.
Confessor Jiji
After awakening from a deep slumber, Jiji feels a little peckish. Make sure to remember the sleepy confessor. If the Knight hands over one of the vile Rancid Eggs they've found on their journey's around Hollownest, then Jiji will return the favor by performing a helpful ritual to summon the Knight's wayward soul to the surface.
Steel Soul Jinn
For players brave enough to try their mettle in Steel Soul mode, Jinn will be resting in Jiji's place. Since deaths are permanent in Steel Soul mode, rancid eggs no longer serve their original purpose. Instead, the Knight can sell them to Jinn for some pocket change.
Tuk
The elusive Tuk hides away in Hallownest's sewers, scrounging around for his favorite treat; tasty, tasty Rancid Eggs. But he might be willing to part with a few of his beloved snacks for some pretty geo. But one has to wonder what becomes of the gentle giant in a world where Rancid Eggs are no longer useful...
Helpful Bugs
All of these bugs can give the Knight a leg-up in his journey, and some may even be imperative to success.
The Snail Shaman
This dark creature gifts the Knight their very first Soul attack. And, since you're such good friends and all, it's only right that you do the good Shaman a little favor in return, right?
The Seer
Another bug who is the last of her kind. This moth Seer waits in the Resting Grounds for some champion to come and right the wrongs of the past once and for all.
The Grubfather
This poor, elderly grub had all of his precious grandchildren stolen from the nest by a horrific being of shadows and mirth. He'll reward the Knight heartily for their efforts in returning his grandchildren to him. Make sure to visit the kind old soul often, even after you rescue all of his family, yeah?
Mato
One of the three Nailmasters. Mato is an energetic bug who practices his techniques in his den on the Howling Cliffs. The Knight just might be someone who he's been waiting for...
Oro
One of the three Nailmasters. He sits on the far reaches of the Kingdom's Edge, ruminating about the past. He isn't the type to help a bug out easily, but... hey, living isn't cheap, y'know? So he might teach the Knight for a geo or two.
Sheo
One of the three Nailmasters, though he now seeks to be a master in a very different craft in his hut deep in Greenpath. He won't teach the Knight directly, but he might still have a lesson to give so long as you appreciate some fine art.
Bretta
Bretta is a sweet, lovesick bug who finds her "one" after being rescued from the fog of Hallownest's tunnels. But love is a fickle thing, for someone with a silver tongue might just manage to steal her heart from her heroic savior...
The Dreamers
These enigmatic creatures seek only the safety and prosperity of Hallownest. For some reason, each of them has entered a deep slumber in their respective homes, protected by fearsome guards. Seeking them out is the only way to pierce the fog that has enveloped Hallownest.
White Lady
The White Lady rests deep in the heart of the Queen's Gardens. For any adventurer determined enough to reach her, she holds a piece of the key necessary to confront the truth of Hallownest's corruption.
The Hunter
What could possibly lie within that cave? What type of creature could exude such a powerful predatory vibe? There is only one thing that is known for certain; it has taken a liking to the Knight. One can only wonder what would happen if the Knight were to become as accomplished a hunter as this monstrous beast...
The Grey Mourner
Oh, for how she suffers! If only there were a stalwart bug who would fulfill her one and only wish? One who would be so cautious and possess such prowess as to traverse the length of the world while receiving nary a blow from enemy or environment alike?
Nightmare Troupe Master Grimm
After unsealing the Nightmare Troupe from a certain room in the Howling Cliffs, the Knight will find that the Nightmare Troupe has come to visit the town of Dirtmouth. And Grimm, the towering Master of the Troupe, has a request he would like the Troupe's caller to complete...
Brumm
Brumm is but a humble member of the Nightmare Troupe. He plays quite the jaunty tune, but is it possible that he has some hidden plans being crafted behind those empty eyes of his?
The Godseeker
This portly royalty was sealed away in the hidden depths of the sewers for one reason or another. The Knight can use a tool taken from her to access Godhome, wherein lies a challenge beyond all challenges.
Miscellaneous NPC's

These bugs may not have anything tangible to give the Knight, but they still make the world feel alive and real. And they each offer some pieces of lore that can unravel the mysteries of Hallownest...
Dung Defender: A stalwart champion of old who tests the Knight's mettle in combat in teh sewers.
Elderbug: The poor steward of Dirtmouth, who at one point in time, was it's sole remaing occupant.
Myla: A tireless miner hoping to make some good geo while humming a catchy tune.
Willoh: A large creature who may or may not have taken a liking to a forbidden taste.
Bardoon: A behemoth catterpillar who knows more about Hallownest than perhaps any other bug alive.
Mask Maker: A shady being on the edge of Deepnest who crafts masks for all the bugs of Hallownest.
Moss Prophet: A doomed prophet of the light's glow.
Midwife: An oh-so hungry bug who hides in the deep depths of Deepnest. Watch your fingers around this one...
Unnamed Moth/Dream Moth: A moth living only in dreams who posseses forbidden knowledge.
Nymm: A happy little friend who shows up in Dirtmouth should Brumm have his wish granted.
Fluke Hermit: The only fluke worm to keep a grip on it's sapience.
For more info on Hollow Knight, check out some of our other Hollow Knight content!