Our Borderlands 3 Moze Leveling Build Guide features a complete step-by-step leveling guide, focusing on your weapon damage and shields while keeping the early progression on this build exciting! Out of all the vault hunters, Moze has the highest potential in damage. She specializes in a variety of ways, mainly offense. She's capable of unlimited ammo, large explosions, and turning Iron Bear into a heavy class boxer.
Contrary to her appearance, Moze is actually very durable! Keep death at bay with backup shields and if necessary, call down your mech for a quick save. Unlike the other vault hunters, Moze has one action skill to use but can attach two weapons with an augment. Be wary when using it though, Iron Bear doesn't last very long when rapidly firing and also has a long cooldown.
Moze Full Build
Early throughout this build, we will pick up skills that benefit Iron Bear and your ammo capacity. All of the damage will be gained from the Shield of Retribution tree. Towards the end of this build, you can expect to easily melt through hordes of enemies while keeping your ammo capacity high and your cooldown rate diminishing.
The following is the full build you will end up with, but it isn't how you should level it up initially. We've got a step-by-step guide below that features what skills you should have as you level your character!
View the Build on the Borderlands Skill Tree Editor
Moze Leveling Build Guide
Demolition Woman Tree - Levels 2 - 7
At level 2, you are able to use your Iron Bear mech. For maximum AoE and burst damage, I advise equipping V-35 Grenade Launcher and Railgun. Keep in mind that you can replenish your shields and health while in Iron Bear, but it has a very long cooldown.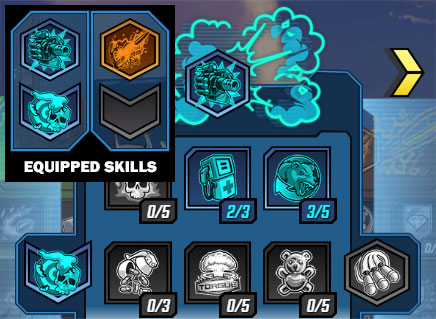 After reaching level 3, go over to the Demolition Woman (blue) tree and spend 3 points into Grizzled and 2 points into Deadlines on the first tier. These two skills grant faster access to iron bear and decreased fuel per shot for longer duration. Apply the augment Shaped Charge for extra damage on direct hits with the launcher.
Bottomless Mags Tree - Levels 8 - 13
Now that you have skills that support iron bear, go over to the Bottomless Mags (green) tree. For the first tier, spend 5 points into Cloud of Lead. This allows some shots not to consume ammo. Now that you're on the 2nd tier, spend 1 point into Redistribution. This skill regenerates free ammo into your current magazine after shooting an enemy's critical spot. Now that you unlocked the augment Left off some steam, swap out Railgun and equip Minigun.
Shield of Retribution Tree - Levels 14 - 18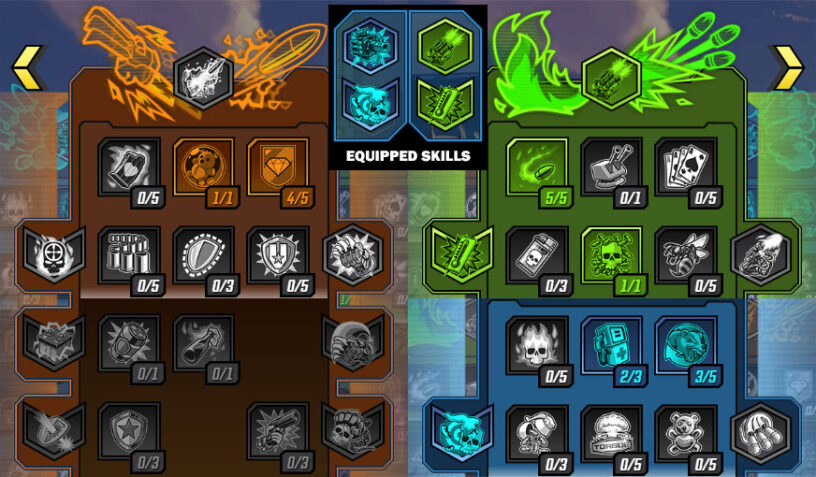 The essential skills are out of the way, now it's time to build damage. On the Shield of Retribution (orange) tree, spend 1 point into Security Bear for extra protection inside Iron Bear. Next, spend 4 points into Armored Infantry. This reduces all incoming damage while also increasing your gun damage.
Shield of Retribution Tree - Levels 19 - 23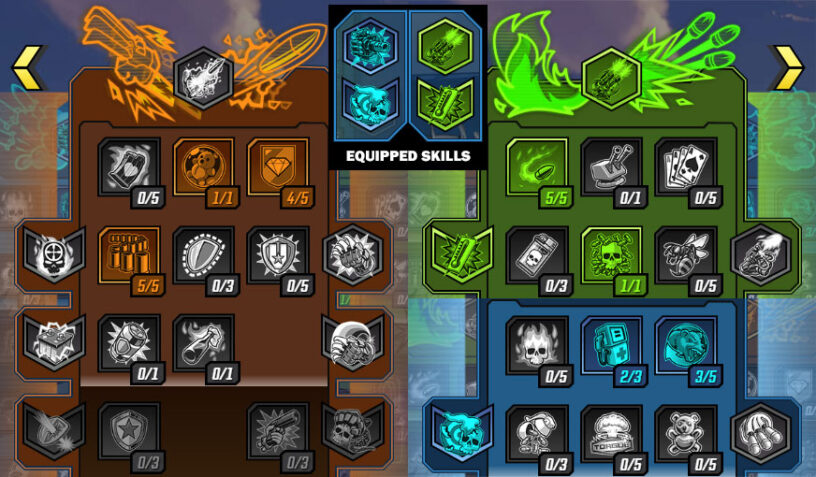 On the 2nd tier, spend 5 points into Drowning in Brass. This skill stacks up to 60% gun damage (however, it slightly decreases fire rate) and it is even shared with your allies.
Shield of Retribution Tree - Levels 24 - 28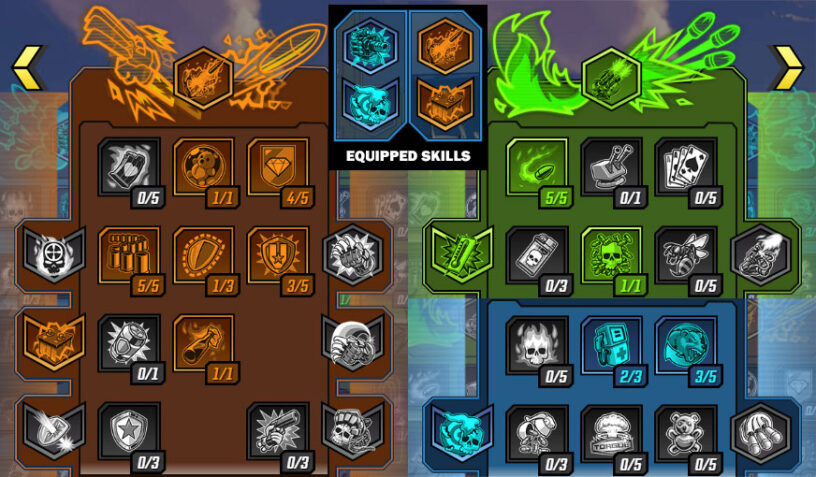 On the 3rd tier, spend 1 point into Experimental Munitions for bonus fire damage when you shoot an enemy's critical spot. The reason for skipping Full Can of Whoop-ass is that Moze already recharges shields when entering Iron Bear. This skill only increases the recharge rate by a bit. Up on the 2nd tier, spend 3 points into Vladof Ingenuity for resistance against shock and it also grants bonus shields. After that, spend 1 point into Thin Red Line. This skill converts a chunk of your health into shields (for clarity, it permanently removes 20% of your health as if you're damaged, not reducing max health overall). This skill will synergize very well with later skills down the tree. Lastly, you should swap out Minigun with Railgun and apply the new augment, Capacitive Armature. Your Railgun will now chain to nearby enemies.
Borderlands 3 Leveling Guides Coverage
Shield of Retribution Tree - Levels 29 - 33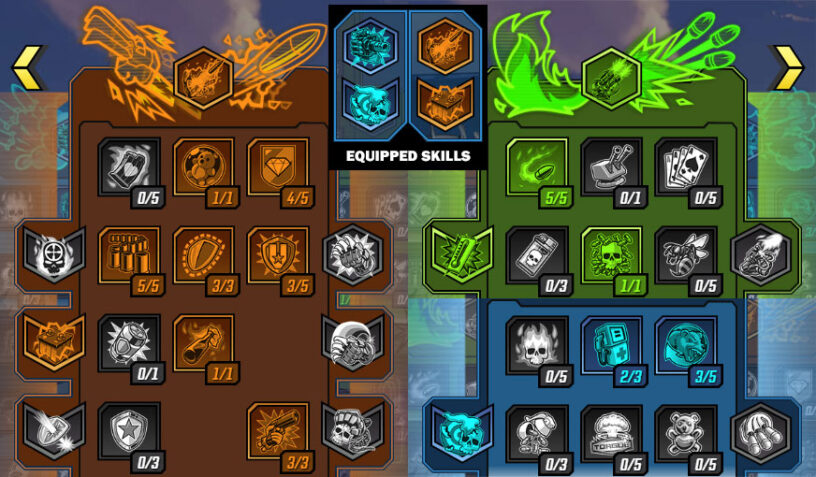 On the 4th tier, spend 3 points into Desperate Measures. This boosts gun damage up to 50% based on how low your health is. Next, spend 2 points into Thin Red Line. Now that you have 60% of your health removed, you're now able to keep the gun damage bonus from Desperate Measures at all times.
Shield of Retribution Tree - Levels 34 - 40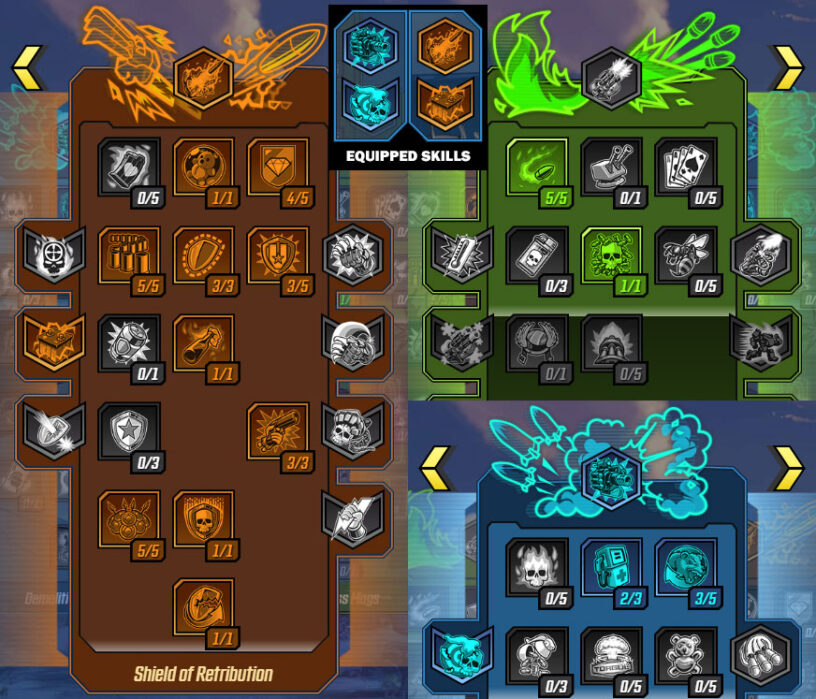 On the 5th tier, put 5 points into Phalanx Doctrine. This absurd skill grants no limit to damage, granting 10% gun damage for every kill and each stack remains active for 30 seconds. Additionally, for every kill your max shields increase by a whopping 15%.
You finally reached the capstone on this tree! Tenacious Defense is among the best skills in the game. After your shields deplete, they instantly restore back at 40% capacity as well as granting you 30% gun damage on top of that! There is no cooldown for this skill, except for the fact that your shields must full restore for Tenacious Defense to work. To help with that, spend 1 more point into Force Feedback on the 5th tier. This skill grants immediate recharge for your shield upon critical kill.
Bottomless Mags Tree - Levels 41 - 50
Head over to the Bottomless Mags tree and spend 4 points into Scrappy. This improves weapon swap speed, mode switch speed, and handling by a well amount. Next spend a point into Rushin' Offensive for the ability to sprint and shoot at the same time. Lastly, spend 5 points into Scorching RPM's for 20% critical hit damage and 15% fire rate.