Our Borderlands 3 Moze Leveling Build Guide features a complete step-by-step leveling guide, focusing on your weapon damage and shields while keeping the early progression on this build exciting! Out of all the vault hunters, Moze has the highest potential for dealing a lot of damage, especially Splash Damage. She specializes in a variety of ways, mainly offense. She's capable of unlimited ammo, large explosions, and turning Iron Bear into a heavy class boxer.
Contrary to her appearance, Moze is actually very durable! Keep death at bay with backup shields and if necessary, call down your mech for a quick save. Unlike the other vault hunters, Moze has one action skill to use but can attach two weapons with an augment. Be wary when using it though, Iron Bear doesn't last very long when rapidly firing and also has a long cooldown.
Note: The most important thing is to play however you want. As long as you are having fun, you are doing it right, but if you want to get some inspiration and follow some pointers on where to put your Skill Points this guide is for you.
Moze Full Iron Cub Build (Level 72)
We will show you the complete build focused on Moze's damage output that will be supported by the Iron Cub action skill. Many builds rely on her using Iron Bear, however, we will show you how to constantly run and gun, without having to wait for these long cooldowns to come back.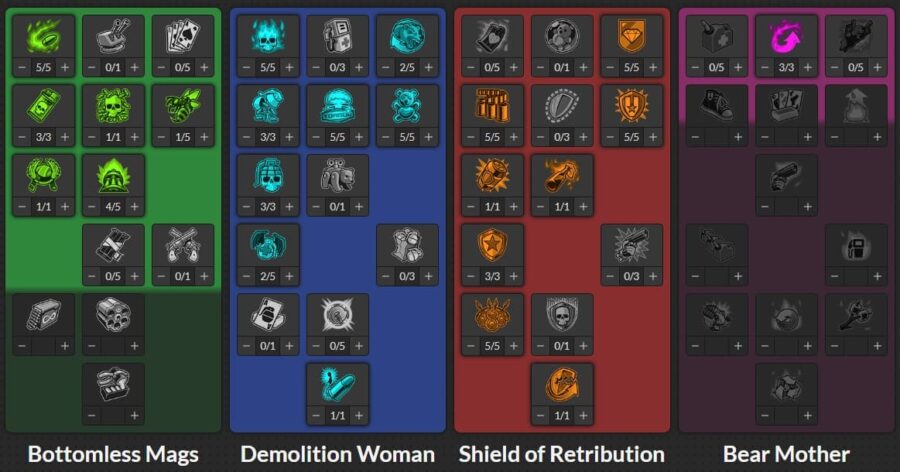 Early Game (Levels 2-17)
Like in many other looter-shooter games, early game is not the biggest challenge but also gives you limited options when it comes to the number of skill points at your disposal. Our main focus should be the best damage-increasing skills since survivability will not be an issue this early into the game. Moze has a lot of skills that are focused on Splash Damage and Area of Effect Damage. I recommend starting with Moze's green skill tree called Bottomless Mags.
Skill Points:
Cloud of Lead (Free shots and incendiary damage)
Stoke the Embers (Incendiary damage increase)
Redistribution (Ammo regen)
Ruchin' Offensive (Lifesteal)
One point into Scrappy to get down the skill tree
Four points into Scroaching RPM's (Critical damage and fire rate)
Skills and Augments:
Action Skill: Iron Cub
Augment 1: nothing at the moment
Iron Cub Weapon: Minigun
Augment 2: Exploding. Bullets.
First Playthrough (Levels 18-40)
The next stage is near the end of your first playthrough. You will focus on using the blue skill tree "Demolition Woman." It is one of the most important trees in Moze's arsenal. It helps tremendously in the entire game, but especially on higher Mayhem levels with increased scaling of some skills.
Skill Points:
Fire in the Skag Den (A lot of incendiary damage)
Only two points into Grizzled (Lower cooldown)
Means of Destruction (Ammo regen chance)
Torgue Cross-Promotion (Splash damage and radius)
Stainless Steel Bear (Overall damage and action skill increases)
Pull the Holy Pin (Grenade critical chance)
Skills and Augments:
Action Skill: Iron Cub
Augment 1: nothing at the moment
Iron Cub Weapon: Vanquisher Rocket Pod
Augment 2: Target Softening
True Vault Hunter Mode (Levels 41-51)
True Vault Hunter Mode or TVHM poses a much bigger threat. It is the second playthrough of the game and enemies are tougher than before, with some new foes thrown in. You will be around level 40 after finishing your first playthrough, depending on how much you farm or how many side quests you finish. This time we will focus on finishing off the blue tree, adding all necessary points into the purple tree, and then starting our climb into the final red tree.
Skill Points:
Two points into Vampyr (Grenade survivability)
Capstone: Short Fuse (Huge damage increase, especially Explosion Damage)
Now from the Purple Tree - "Bear Mother":
Max out Big Surplus (Damage while waiting for action skill cooldown to go down)
It is a very interesting skill because it multiplies its damage by over 30 times. Next to finish this off we will spend all of the remaining points into Moze's red tree - "Shield of Retribution."
Armored Infantry (Gun damage and damage reduction)
End Game (Levels 52-72)
The remaining 21 skill points we will distribute to also reach the capstone of the red tree. It will give us a lot of survivability needed for the higher Mayhem levels and end-game content.
To finish this build off I tried to max out the damage output, as well as survivability to be able to go through even the hardest challenges in the game without too much trouble. I wanted to diversify this build into going more into Moze than her Iron Bear, and Iron Cub is only here to help you out or weaken/debuff enemies as well as proc all of your skills required.
Skill Points:
Drowning in Brass (Stacking damage buff for Moze and her iron companion)
Vladof Ingenuity (Shield buffs)
Experimental Munitions (Incendiary critical damage buff)
Full Can of Whoop-Ass (Instant shield recharge, damage reduction - not listed)
Behind the Iron Curtain (Even more shield buffs)
Phalanx Doctrine (Important survivability and damage stacking)
Capstone: Tenacious Defense (Instant shield restore and gun damage)
Gear Suggestions
Sniper Rifle: Sandhawk
Assault Rifle: The Monarch
Pistol: Light Show or Unkempt Herald
Submachine Gun: Flipper
Rocket Launcher: Backburner or Plaguebearer
Shotgun: Tigg's Boom or Trevonator
Grenade Mod: Clonning Maddeling Tracker or Miltois Hunter-Seeker
Class Mod: Blast Master or Flare
Artifact: The Pearl of Ineffable Knowledge or Last Stand
Shield: Re-Volter or Fire Old God
For more on Borderlands 3 make sure to check out our article on Borderlands 3 Shift Codes List (September 2021) – Shift Codes for Golden Keys & Rewards and What is the Max Level in Borderlands 3?.