Season 4 of Call of Duty: Warzone starts with the a new limited-time event for the game called Mercenaries of Fortune. Similar to the previous LTEs like the Rebirth Reinforced Event, players can complete a set of challenges on Caldera and Fortune's Keep to earn free cosmetic rewards in Warzone.
The event runs from June 22, 2022, through July 7, 2022, and features eight challenges, each coming with an exclusive reward. Furthermore, players who manage to complete all the challenges will unlock the event completionist bonus reward. Here's a guide to all the event challenges and rewards.
All Mercenaries of Fortune Event Challenges in Call of Duty: Warzone
Moneybags

Challenge: Collect $100,000 in gold on Fortune's Keep
Reward: "Venomous Approval" Rare Weapon Sticker

Cutthroat

Challenge: Get 50 kills on Fortune's Keep
Reward: "False Prospector" Legendary Golden Vanguard Weapon Camo

Shopping Spree

Challenge: Purchase five items from the Black Market Station on Fortune's Keep
Reward: "Scaled Snipe" Epic Weapon Reticle

Pocket Sand

Challenge: Dig up three piles of buried treasure on Fortune's Keep
Reward: "Nefarious Deeds" Epic Weapon Charm

Road Trip

Challenge: Get five kills while in a vehicle
Reward: "Nugget" Legendary Weapon Charm

Storing Bodies

Challenge: Get 25 kills in the new Storage Town POI on Caldera
Reward: "Death Prospector" Rare Golden Vanguard Weapon Camo

Minted

Challenge: Open an Underground Mercenary Vault in Caldera using a golden keycard
Reward: "Fanged Assault" Rare Emblem

Gilded Victor

Challenge: Win one game of Golden Plunder
Reward: "Venomous Wealth" Legendary Animated Calling Card
After completing all the Mercenaries of Fortune Event challenges, players receive "The Vault" Ultra Golden Vehicle Skin for the new Armored SUV vehicle as a bonus reward.
Related: CoD Warzone Season 4 Patch Notes – Weapon changes, features, and more
Mercenaries of Fortune Event Rewards in Warzone Pacific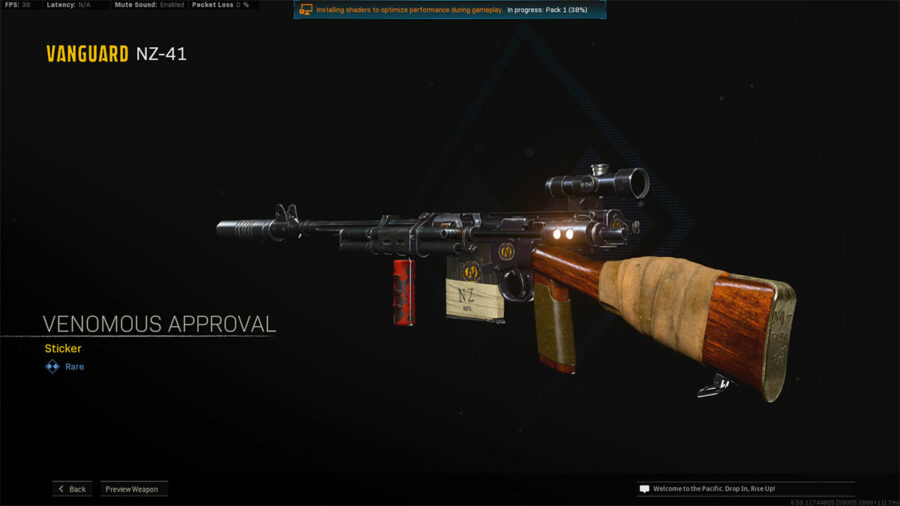 Stay tuned to Pro Game Guides for more Call of Duty and Warzone content. In the meantime, head over to our article on How to unlock UGM-8 LMG in CoD Warzone & Vanguard.