Ranked Play Beta was introduced with Season 2 of Call of Duty: Vanguard. The game mode incorporates the competitive settings rulesets of Call of Duty League (CDL). These CDL rules restrict the use of certain weapons, equipment, and perks that are deemed unfair by the professional teams.
All of these items are inaccessible and highlighted with a caution mark, which ensures that no player can ever equip them in their loadout. The following list mentions all restricted weapons and items in the ranked mode of Vanguard.
Vanguard Ranked Play Restricted Weapons
All Light Machine Guns

MG42
DP27
Type 11
Bren
Whitley

All Shotguns

Einhorn Revolving
Combat Shotgun
Gracey Auto
Double Barrel

All Marksman Rifles
Combat Shield Primary Melee
All Launchers

M1 Bazooka
Panzerschreck
Panzerfaust
MK11 Launcher
Vanguard Ranked Play Restricted Weapon Attachments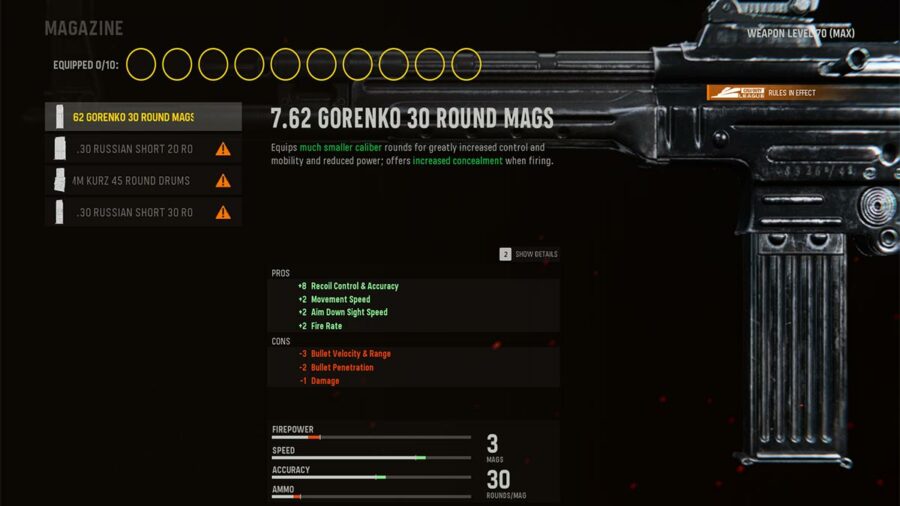 Muzzle

MX Silencer
Mercury Silencer
M1929 Silencer
Oil Can Silencer
Recoil Booster

Optic

M19 4.0X Flip
1913 Variable 4-8X
ZF4 3.5X Rifle Scope
1229/Slate 3.25X Custom
SVT-40 PU Scope 3-6X
MK. 12 Night Vision

Underbarrel
Magazine - Different magazine options for various guns in Vanguard.
Ammo Type

Subsonic
Incendiary
Hollow Point
Frangible
Armor Piercing

Proficiency
Trigger Action (Handguns) - Rapid Action
Related: Best Ranked Play Loadouts and Class in Call of Duty: Vanguard Season 2
Vanguard Ranked Play Restricted Equipment
Lethal

Incendiary Grenade
Throwing Knife
Thermite
Demolition Charge
Molotov Cocktail

Tactical

Stim
MK V Gas
S-Mine 44
Decoy Grenade

Field Upgrade - Everything except Supply Box and Dead Silence

Tactical Insertion
Dead Drop
Armor Plates
Goliath
Field Mic
Jammer
Deployable Cover
Vanguard Ranked Play Restricted Killstreaks
Every Killstreak except Glide Bomb and Strafing Run, which includes:

Intel
Care Package
Spy Plane
Counter Spy Plane
Mortar Barrage
War Machine
Guard Dog
Bombing Run
Death Machine
Emergency Airdrop
Flamenaut
Attack Dogs
Firebombing Runs
Local Informants
Vanguard Ranked Play Restricted Perks
Perk 1
Perk 2

Tracker
High Alert
Forward Alert
Piercing Vision
Intuition

Perk 3
Stay tuned to Pro Game Guides for more Call of Duty content. In the meantime, head over to our article on – How does Ranked Play work in Call of Duty: Vanguard and Call of Duty may be delayed to 2024.