In Call of Duty Warzone 2, players experience a new narrative-driven extraction mode called DMZ. In this game mode, there are three factions, Legion, White Lotus, and Black Mous. These factions have various missions divided evenly across multiple Tiers, and you must complete them to obtain all the rewards from this game mode. Here are all the White Lotus faction missions players need to complete in Call of Duty DMZ.
Call of Duty DMZ White Lotus Faction Missions Tier 1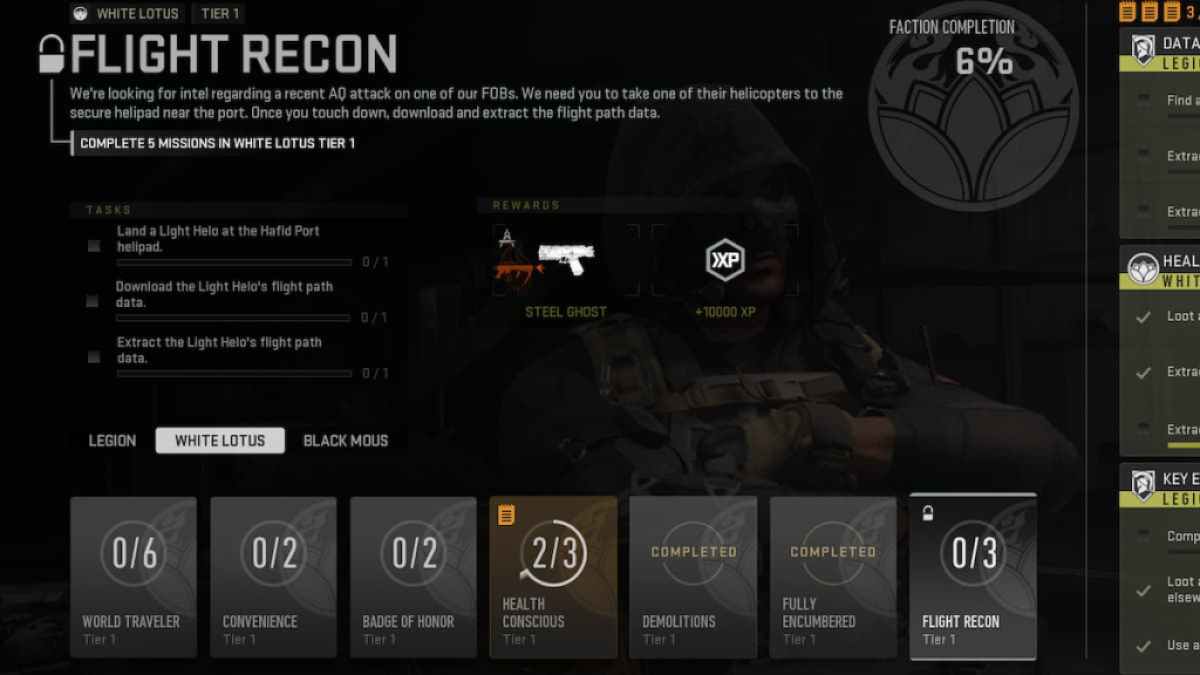 Missions
Objective
Rewards
World Traveler
1. Travel to six different Points of Interest in one single deployment
1. M16 Contraband
2. 5,000 XP
Convenience
1. Fuel and repair vehicles at five Gas Stations
2. Extract seven Gas Cans
1. Kushaak Construction Warehouse Key
2. 5,000 XP
Badge of Honor
1. Acquire a Basilisk, commonly found in Police Stations
2. Kill 13 enemies with headshots using a Basilisk
1. Basilisk Contraband
2. 5,000 XP
Health Conscious
1. Loot a medicine Cabinet
2. Extract nine Stims
3. Extract six Bandages
1. White Lotus Emblem
2. 5,000 XP
Demolitions
1. Acquire a Destroy Supplies contract
2. Complete a Destroy Supplies contract
3. Open a Safe
1. Double Weapon XP Token
2. 5,000 XP
Fully Encumbered
1. Extract with a full backpack
1. RAPP H Contraband
2. 5,000 XP
Flight Recon
1. Land at a Light Helo at Hafid Port Helipad
2. Download the Light Helo's flight path data
3. Extract the Light Helo's flight path data
1. Steel Ghost X13 Auto Blueprint
2. 10,000 XP
We will update this section with more information on White Lotus faction missions as we unlock the new tiers in DMZ.
Wondering how to unlock weapons from DMZ? Check out How to unlock weapons you don't have through DMZ? on Pro Game Guides.