The Defuse operator skin for Zimo is one of the many rewards you can unlock via Faction Missions in Call of Duty: Warzone 2 DMZ. The skin is the final completion reward for Tier 2 White Lotus Faction Missions, which unlock only after you've completed the Tier 1 set of challenges.
How to unlock the Two Birds Mission in Warzone 2 DMZ
You can get the Defuse Zimo skin by finishing the final Tier 2 White Lotus Faction Mission, Two Birds. This mission is unlocked by completing any five of the six base challenges available in the same tier. We've listed the five that you can easily complete in DMZ below:
Bombing Run

Exfil with six Killstreaks in one deployment

Bag 'Em and Tag 'Em
Intel Exeecuted

Activate five UAV Towers
Kill 20 enemies pinged by UAV Towers

Hostage Rescue
Hit and Run

Run over 16 enemies with a vehicle
Fully refuel and repair a vehicle at a gas station
Two Birds DMZ Guide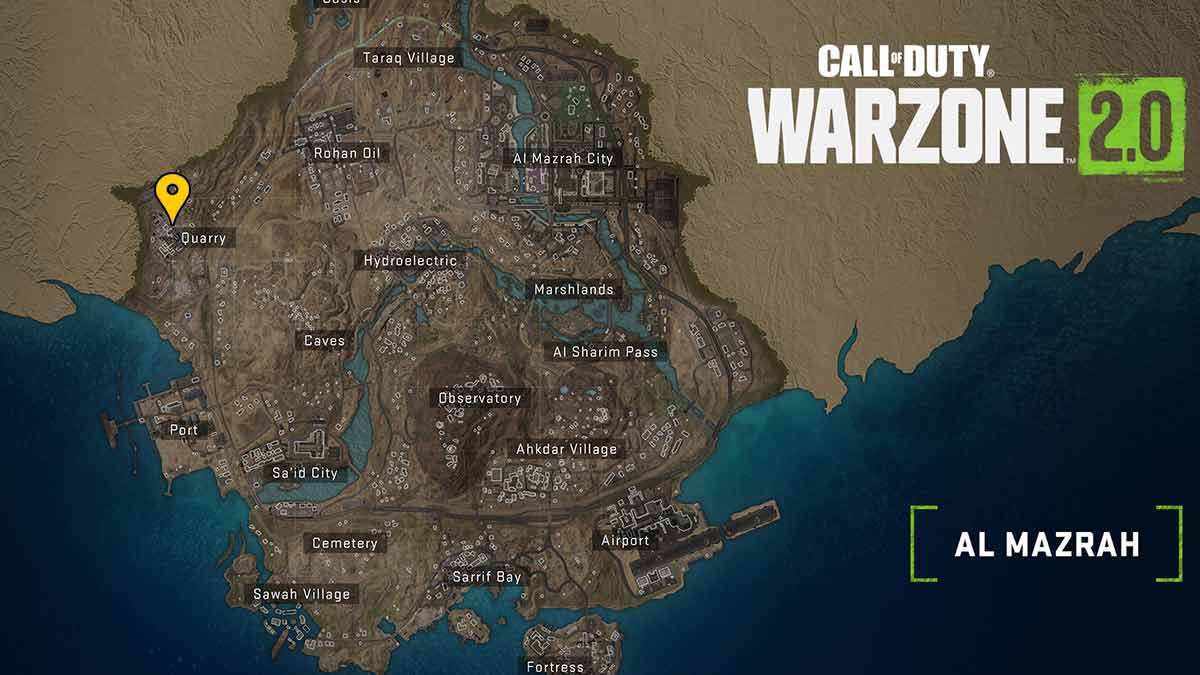 After you've completed five base Tier 2 Missions for the White Lotus Faction, the final Two Birds mission will be unlocked. This mission comprises three tasks that you need to complete to get the Defuse skin:
Travel to Al-Safwa Quarry: This POI is located in the north-western region of Al Mazrah as shown on the map above.
Kill 18 enemies in Quarry: Once you've reached Al-Safwa Quarry, get 18 AQ Soldier kills in the region. There will be many bots in the area, and you can easily mark them by activating a nearby UAV Tower.
Destroy two reinforcement helicopters in Al-Safwa Quarry: The third and final task requires you to destroy two helicopters that bring in AQ Soldiers in the region. These birds fly in regularly, but you may have to wait a while to spot one. The helicopters aren't that easy to shoot down using your guns. We recommend purchasing an LTV from a nearby Buy Station for $18000 and using its turret to take down the chopper. Alternatively, you can use RPGs carried by the bots.
Complete all three tasks to unlock the Defuse skin for the Zimo operator. The skin is quite similar to the base character skin. You can equip it in the Operator selection menu in DMZ, Warzone 2, or MW2.
Stay tuned to Pro Game Guides for more Call of Duty: Modern Warfare 2 and Warzone 2 content. In the meantime, head over to our article on How to get the Basilisk Handgun in DMZ.