BAR, or the Browning Automatic Rifle, is a heavy-duty Assault Rifle in Call of Duty: Warzone. The Vanguard AR features high damage with a slow fire rate, just like the Oden from Modern Warfare. Although the weapon requires skill to operate, it's perfect for engagements over range.
Here's a guide showcasing the best BAR attachments and class setup in Warzone Pacific.
Best BAR Loadout Warzone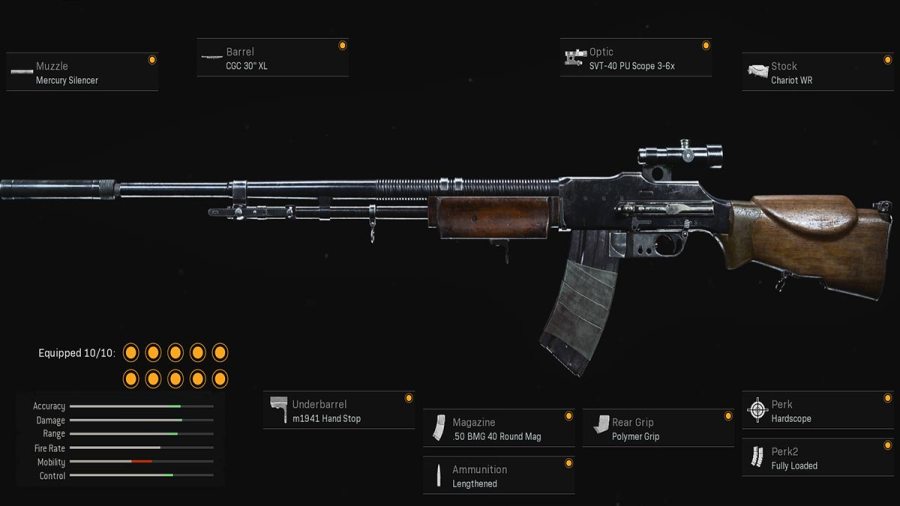 Muzzle: MX Silencer
Barrel: CGC 30" XL
Optic: SVT-40 PU Scope 3-6x
Stock: Chariot WR
Underbarrel: M1941 Hand Stop
Magazine: 8mm Klauser 40 Round Mags
Ammo Type: Lengthened
Rear Grip: Hatched Grip
Perk 1: Hardscope
Perk 2: Fully Loaded
We have equipped attachments for a long-range BAR class that boosts the weapon's accuracy, recoil control, damage range, and bullet velocity. As such, the muzzle, barrel, optic, stock, underbarrel, and rear grip help with accuracy and recoil.
Although these attachments hurt the mobility and aim-down-sight (ADS) speed, that's not a major concern for a long-range build. Additionally, the barrel and stock add flinch resistance which helps keep you on target while getting shot. The Hardscope perk further improves accuracy during ADS.
Finally, the .50 BMG magazine and Lengthened ammo type boost the damage range, bullet velocity, ammo capacity, bullet penetration, and damage of the AR. Furthermore, the Fully Loaded perk ensures that you have maximum spare ammunition after grabbing your loadout.
Best BAR Class Setup Warzone
Primary Weapon - BAR
Lethal - Throwing Knife
Tactical - Stim
Perk 1 - Cold Blooded
Perk 2 - Overkill
Perk 3 - Combat Scout
Stay tuned to Pro Game Guides for more Call of Duty content. In the meantime, head over to our article on – How to appear offline in Call of Duty: Warzone.