The Modern Warfare Fennec is one of the fastest firing Submachine Guns in Call of Duty: Warzone. Although the weapon has always been much viable, players simply preferred faster and more consistent alternatives. The gun received a major buff to its damage multipliers with the Season 5 update and currently appears to be a great close-range weapon choice. Here's a guide to the best Fennec attachments and class to use in Warzone Pacific.
Best Fennec Loadout Warzone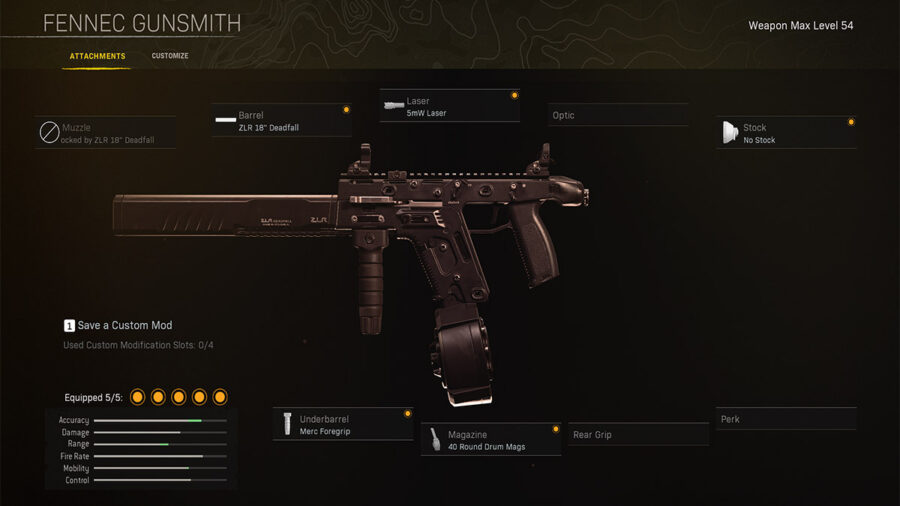 Barrel: ZLR 18" Deadfall
Laser: 5mW Laser
Stock: No Stock
Underbarrel: Merc Foregrip
Magazine: 40 Round Drum Mags
Before taking a look at our recommended Fennec build, you should note that the weapon's fast fire rate and mediocre magazine capacity makes it less versatile. It's best to use this gun in the solos and duos mode paired preferably with a long-range Assault Rifle of choice.
Related: Best MW AK-47 Loadout and Class in Call of Duty Warzone
For the first attachment, we use the ZLR Deadfall for improved damage range, bullet velocity, and recoil control. This comes pre-kitted with a sound suppressor and spares us an attachment slot. The 5mW Laser and No Stock attachments boost the gun's mobility features such as movement, sprint-to-fire, and aim-down-sight (ADS) speeds.
The Merc Foregrip tightens the hipfire spread of the Fennec and reduces its recoil. Finally, the biggest available magazine for the weapon, 40 Round Drum Mags, is the most crucial attachment in this build and allows you to stay in gunfights for longer. Due to the gun's fast rate of fire, even the 40 round magazine isn't enough sometimes. Hence, some players use the Sleight of Hand perk instead of No Stock for a faster reload speed.
Best Fennec Class Setup Warzone
Secondary Weapon: Fennec
Lethal: Semtex
Tactical: Stim
Perk 1: Serpentine
Perk 2: Overkill
Perk 3: Amped
Stay tuned to Pro Game Guides for more Call of Duty content. In the meantime, head over to our article on How does the Supply Box UAV Killstreak work in Call of Duty Warzone?