In Modern Warfare 2, players can experiment with a variety of weapons to create a loadout that meets their playstyle requirements. One of the best SMGs you can use in the game is the Kastov 74u. What this gun lacks in range and accuracy, it more than makes up for with a deadly fire rate and mobility. This simple characteristic of the 74u has made it one of the most popular guns in the Call of Duty franchise. The following is the best Kastov 74u loadout in Call of Duty: Modern Warfare 2.
Modern Warfare 2 best Kastov 74u Attachments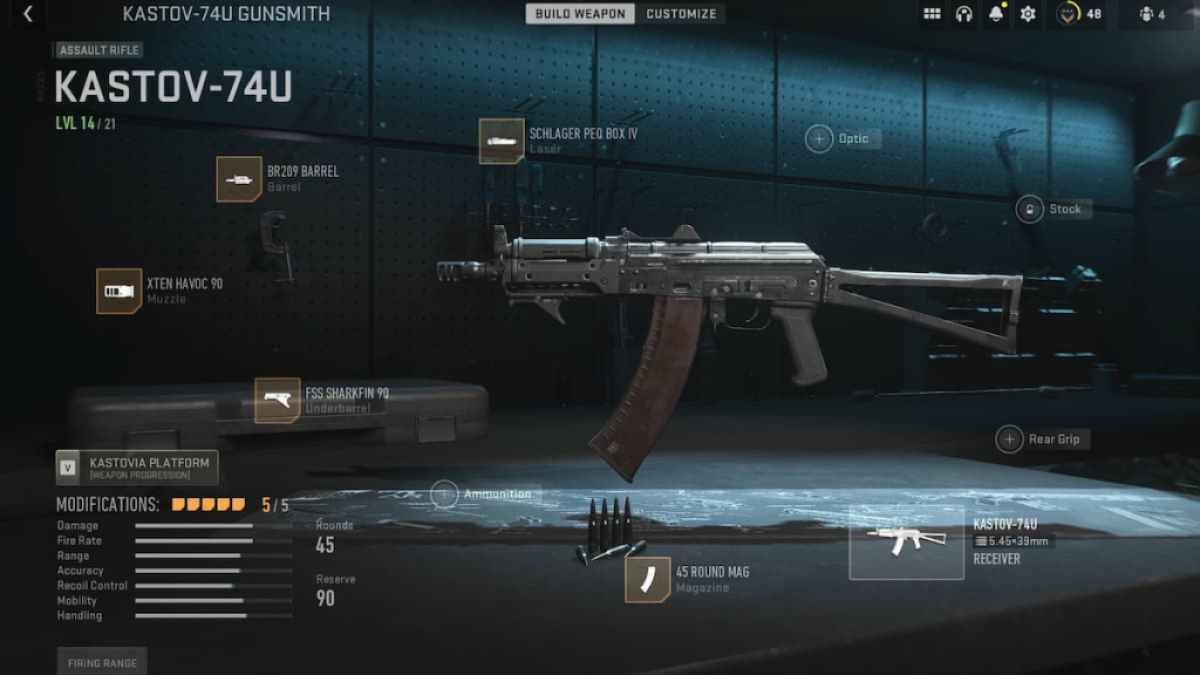 The Kastov 74u is the revamped and renamed iteration of the classic AK-74u sub-machine gun that will ring a bell in long-time Call of Duty players' minds. The Kastov 74u operates with the same deadly force that its ancestral versions are known for, with uncompromising fire rate and damage. It comes with 21 levels of progression, and we suggest hitting the max level quickly to unlock its Gunsmith Weapons Tuning. The following are the best attachments to equip the Kastov 74u SMG in Modern Warfare 2.
Barrel: BR209 Barrel
Underbarrel: FSS Sharkfin 9
Laser: Shlager Peq Box IV
Muzzle: Xten Havoc 90
Magazine: 45-Round Mag
The attachments listed above focus on a more run-and-gun gameplay style. Since the Kastov 74u already comes with good mobility, optimizing its potential in that sector makes sense. This build increases ADS speed, movement speed, and reduces horizontal and vertical recoil.
Modern Warfare 2 best Kastov 74u loadout
Apart from Attachments, you can really push the potential of a weapon to its max by properly utilizing Perks, Field Upgrades, and throwables. The following is the best equipment for your Kastov 74u loadout in Call of Duty: Modern Warfare 2.
Tactical: Stun Grenade
Lethal: Semtex
Perk Package

Basic Perks: Scavenger and Tracker

Bonus Perk: Fast Hands
Ultimate Perk: Ghost

Field Upgrade: Dead Silence or Battle Rage
Wondering which are the best Field Upgrades to use in Modern Warfare 2? Check out the Best Field Upgrade & how to unlock in MW2, right here on Pro Game Guides.