In Call of Duty Modern Warfare 2, players unlock and customize various weapons with different attachments. The Fennec 45 SMG is a weapon you'll unlock late in the game, but this gun is one of the best in its class. The Fennec 45 is most viable for a run-and-gun setup out of all the SMGs you'll unlock. Here's the best Fennec 45 loadout to use in Modern Warfare 2.
Modern Warfare 2 Best Fennec 45 Build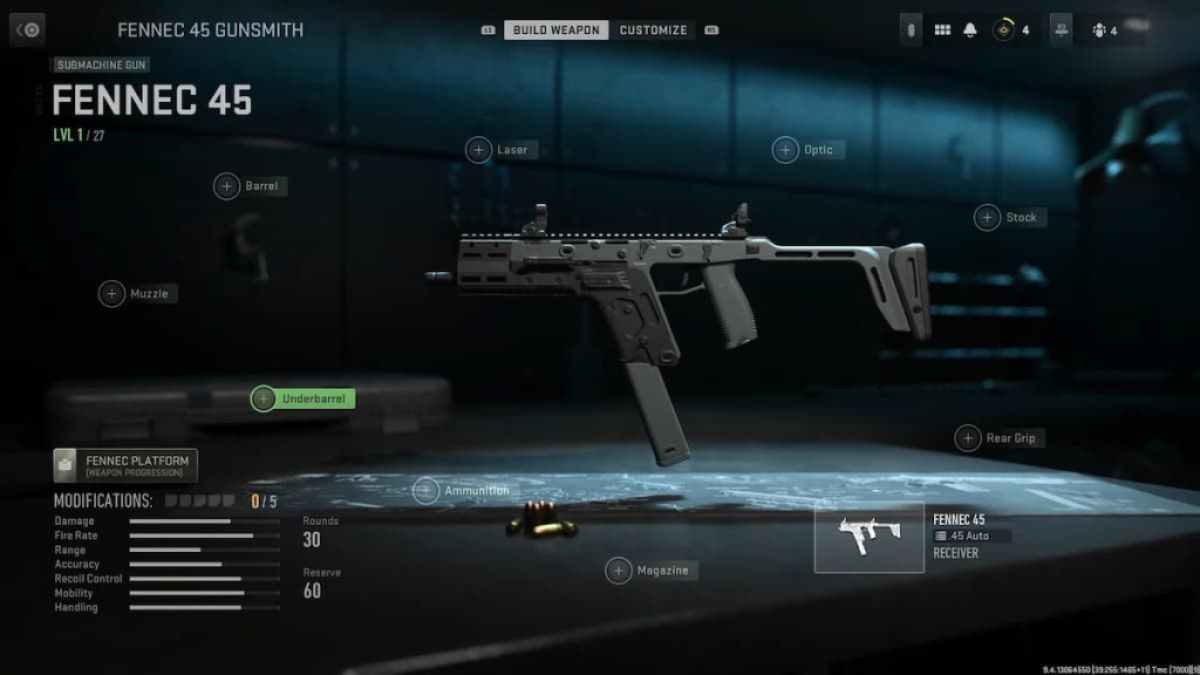 The Fennec 45 is one of the quickest killing machines in Modern Warfare 2. Its horizontal and vertical recoil is much more stable than any other SMGs, and with the proper attachments, you can drop 30 eliminations easily in every match. The Fennec 45 unlocks when you reach level 38, so we recommend doing that quickly. This weapon has 27 levels of progression, and you'll need to unlock Weapon Tuning to reach its full potential. Here are the best attachments to use for the Fennec 45.
Laser: EXF Solarflare
Optics: Cronen Mini Red Dot
Stock: Agile Assault-7 Stock
Rear Grip: Fennec Stippled Grip
Underbarrel: Operator Foregrip
What the Fennec 45 lacks in Range, it makes up for with Fire Rate and Mobility. However, adding an Optic makes it function better than other SMGs in close-to-mid-range fights. The Barrel and Muzzle is optional since Stock, Rear Grip, and an Underbarrel are the best attachments for the Fennec 45.
Modern Warfare 2 Best Fennec 45 Loadout
Equipping five attachments to your weapon does not complete a loadout. This only gives you a class build for the gun. You also need to select a Secondary weapon, with Lethal, Tactical, Perks, Field Upgrade and Killstreaks. Here's the best Fennec 45 loadout to use in Modern Warfare 2.
Primary: Fennec 45
Secondary: TAQ-56 AR
Tactical: Shock Stick
Lethal: Proximity Mine
Perk Package

Basic Perks: Overkill and Double Time

Bonus Perk: Fast Hands
Ultimate Perk: High Alert

Field Upgrade: DDOS or Dead Silence or Battle Rage
Having trouble logging in to Modern Warfare 2? Check out How to fix MW2 'keeps crashing on PC, PS5, & Xbox' issue on Pro Game Guides.