In Call of Duty Warzone 2, players get to acquire Custom Loadouts through various methods, and you'll need to know the best guns to use on the Al Mazrah map. The STB 556 is an Assault Rifle, and it's exceptionally effective in Warzone 2. This versatile weapon takes down enemies swiftly, whether you are engaging in close quarters combat or spraying down an opponent at mid range. Here are the best attachments and loadout for the STB 556 in Warzone 2. 
Best STB 556 attachments for Warzone 2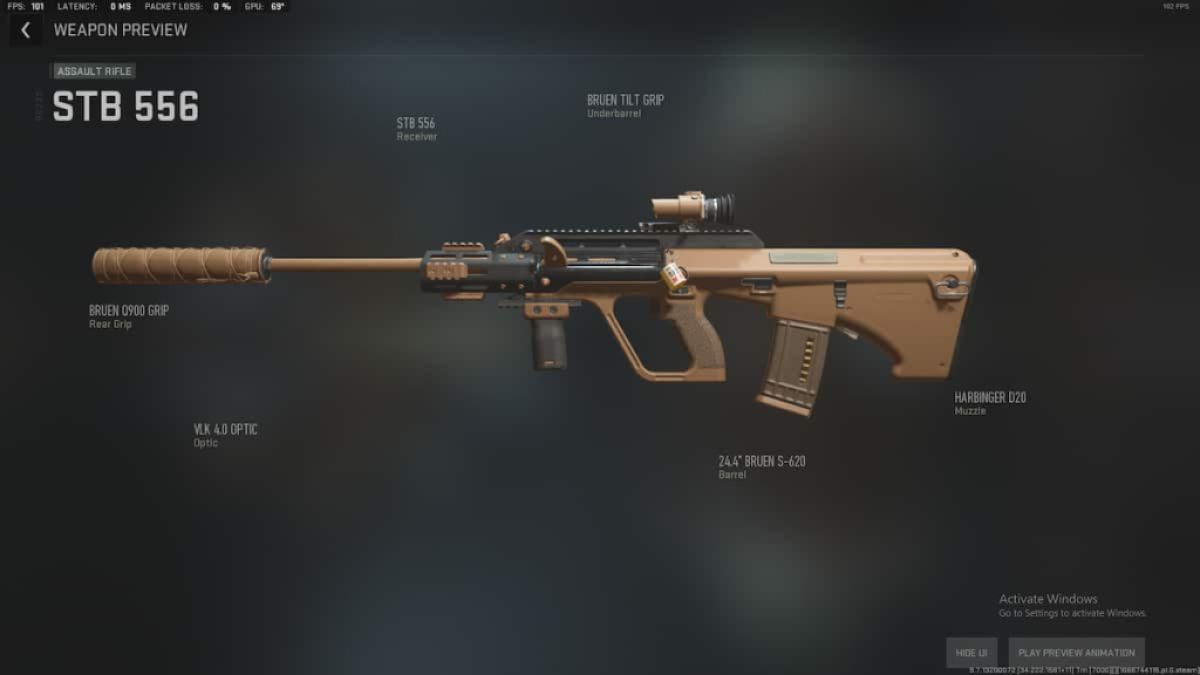 The STB 556 gets unlocked when players reach account level 41. This weapon belongs to the Bruen Bullpup Platform and is one of the best Assault Rifles to use in MW2 and Warzone 2. Make sure to level up both the MX9 and HCR 56 to unlock all attachments in the Bruen Bullpup Platform. The STB 556 is overpowered at close range combat and does decent at mid range. However, you can equip a few attachments to build a class setup that's viable at mid and even long range. Players must have the Weapon Tuning feature unlocked for this gun, as the following class setup requires you to tune the attachments.
Receiver: STB 556 Receiver
Muzzle: Harbinger D20

Tune the Muzzle for maximum Aim Down Sight speed, and Aim Idle Stability

Barrel: 24.4" Bruen S-620

Tune the Barrel for maximum Aim Down Sight speed, and Recoil Steadiness

Optic: VLK 4.0 Optic

Tune the Optic for maximum Aim Down Sight speed, and Far eye position

Underbarrel: Bruen Tilt Grip

Tune the Underbarrel for maximum Aim Down Sight speed, and HIP Recoil Control

Rear Grip: Bruen Q900 Grip

Tune the Rear Grip for maximum Sprint to Fire speed, and Recoil Steadiness
Best equipment and Perks to use for STB 556 in Warzone 2
After equipping five different attachments, players need to choose Lethal and Tactical equipment, as well as select Perks for this Custom Loadout. Here are the best equipment and Perks to use for the STB 556 AR.
Lethal: Stim
Tactical: Drill Charge
Perks: Weapon Specialist
To acquire this Custom Loadout in Warzone 2, players can spend $5,000 at a Shop (Buy Station). Similarly, you can also infiltrate Strongholds and defeat AI combatants to get the loadout. There are also Black Sites and Loadout Drops, but these spots are highly contested by opponents. We recommend purchasing this loadout from the Shop, although be careful as enemies often camp these spots.
Having trouble logging in to Modern Warfare 2? Check out How to fix MW2 'keeps crashing on PC, PS5, & Xbox' issue on Pro Game Guides.