In Call of Duty Modern Warfare 2, players will unlock weapons from a wide range of categories, and these guns can be equipped with various attachments to make a class and loadout. The STB 556 is an Assault Rifle you'll unlock later in the game, and it is one of the best weapons for close to mid-range combat. The AR category in Modern Warfare 2 has several weapons, but not all are equally efficient, and this is where the STB 556 stands out. Here's the best loadout and class setup for the STB 556 Assault Rifle in Call of Duty Modern Warfare 2.
Modern Warfare 2 best STB 556 class build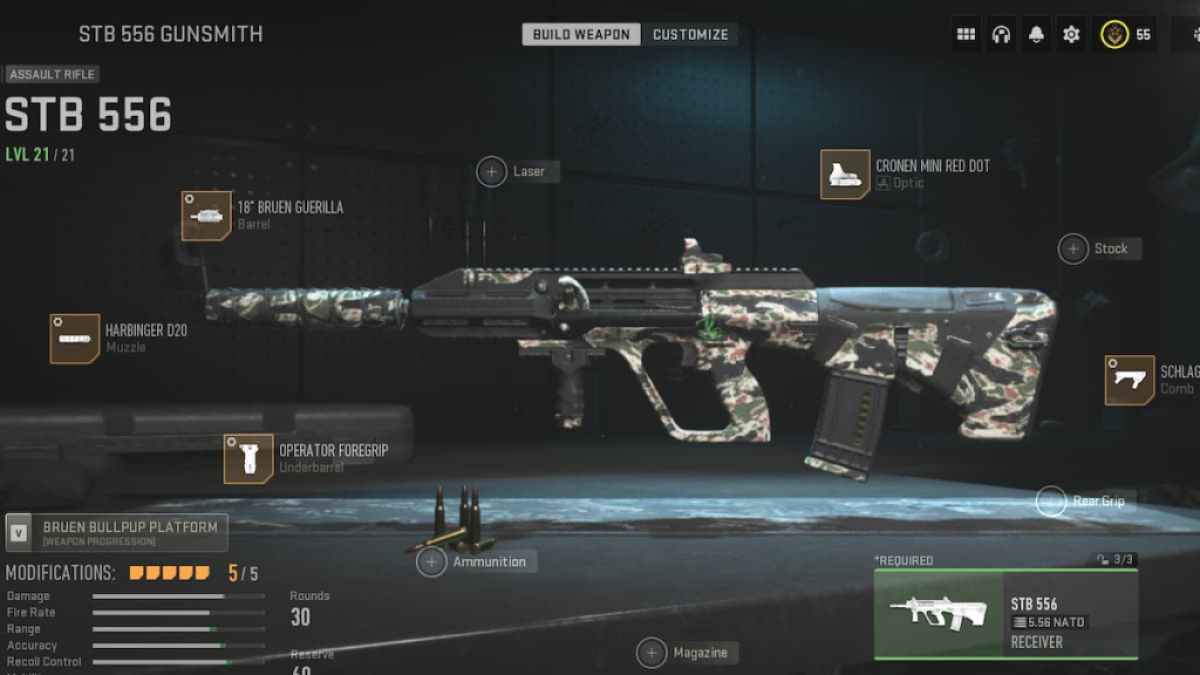 The STB 556 belongs to the Bruen Bullpup Weapon Platform, and this gun is unlocked once players reach account level 41. It's safe to assume that players will have several attachments unlocked by the time they unlock this weapon. The STB 556 has 21 levels of progression, and we recommend leveling it up quickly to unlock its Weapon Tuning. Leveling up the STB 556 to level 11 and 13 will also unlock the MX9 SMG and HCR 56 LMG, respectively.
Barrel: 18" Bruen Guerilla
Muzzle: Harbinger D20
Optic: Cronen Mini Pro or DF 105 Reflex Sight
Underbarrel: Bruen Tilt Grip
Comb: Schlager TTF3 Riser
The above attachments are meant to improve Damage, Range, Accuracy, and Recoil Control while compensating for Mobility and Handling. The STB 556 is a fast-firing AR, which means you need good Recoil Control to get a smooth spray transfer over distance. Players can also switch out the Optic to equip the Bruen Q900 Rear Grip, which improves Handling while slightly decreasing Recoil Control.
Modern Warfare 2 best TAQ-V loadout
Once you have equipped all five attachments to the STB 556, you'll need to build a proper loadout by selecting equipment. For instance, you need to choose a Secondary weapon. Similarly, you must equip proper Perks, Lethal, Tactical, Field Upgrades, and even Killstreaks. The STB 556 is an auto-firing Assault Rifle, so it's best to carry an SMG or an LMG as the Secondary weapon.
Primary: STB 556
Secondary: Fennec 45 or Sakin MG38
Tactical: Stim
Lethal: Drill Charge
Perk Package

Basic Perks: Overkill and Double Time

Bonus Perk: Spotter
Ultimate Perk: Ghost

Field Upgrade: Dead Silence or Battle Rage or DDOS
Wondering what else is coming to Modern Warfare 2? Check out All 6v6 Modes in Modern Warfare 2 and How to get the Oni Operator in Modern Warfare 2 on Pro Game Guides.