Call of Duty Warzone 2's DMZ mode allows players to explore the open-world of Al Mazrah and complete various missions across the map. While contracts and Faction Missions are great for earning cash valuables, the ultimate task that puts your survival and combat skills to test is securing the Weapon Case.
Where to find the Weapon Case in DMZ
Only one Weapon Case spawns in a match of DMZ. The area where it's located is marked on all players' tac map by a yellow briefcase icon as shown in the image above. When you enter this highlighted zone, you'll see that it's more secure than the other regions on the map. AQ Soldiers here are many in numbers, heavily armored, and even carry weapons like RPG-7.
How to defeat the Juggernaut in DMZ
At the center of the Weapon Case zone, you'll encounter a Juggernaut. This A.I. is extremely powerful and very difficult to kill. Before engaing the Juggernaut, it's best to first take out any AQ combatants that are nearby or dropping from the helicopters. To take out the main boss, you'll have to keep one thing in mind: don't let it see you for more than even half a second. The moment it starts shooting his minigun at you, you'll get instantly downed.
The best way to combat the Juggernaut is by spreading out and shooting it from every angle, from cover of course. If it's engaging the first player in the team, the second and third players should shoot it from the back. Furthermore, use explosives like Frag Grenade and Semtex as much as you can. We managed to pick up a RPG from one of the dead AQ Soldiers and shot lots of launcher rounds at the Juggernaut. Alternatively, players have managed to instantly kill the Juggernaut by running it over with a vehicle, preferably an armored LTV.
Related: All Legion Faction Missions in DMZ
How to successfully extract with the Weapon Case in DMZ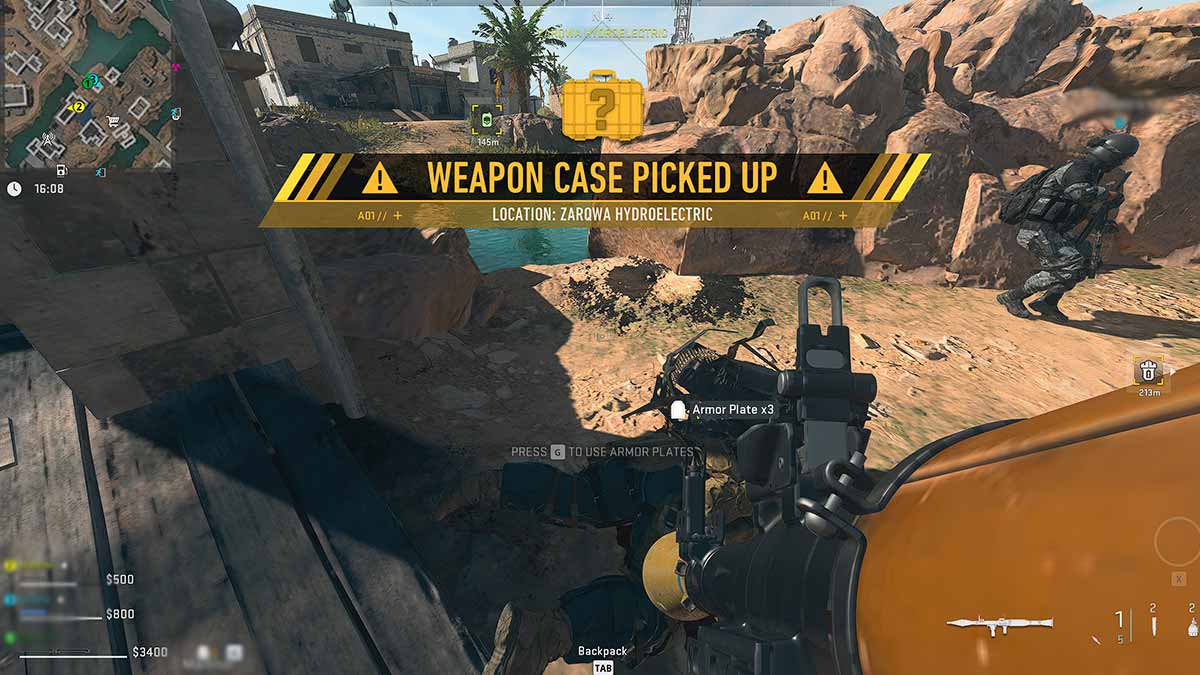 Once you've managed to kill the Juggernaut after spending all your ammo, it'll drop dead on the ground and leave some valuable items for your team to grab. The most important item will be the Weapon Case that you should add to your backpack. Now comes an even greater challenge and the most difficult part of attempting this objective, extraction.
Now that you've collected the Weapon Case, your squad is marked on the map, and all the real players in the game will be able to see you until you extract. Therefore, you should waste no time and head straight to your nearest Exfil point, preferably using a vehicle. Stay in cover while the extraction chopper arrives and fend off enemy players and AQ soldiers. Extract successfully to get some cool rewards and loads of XP.
Rewards for extracting with the Weapon Case in DMZ
You will receive a total of seven rewards for exfiltrating with the Weapon Case in seven different matches:
"Caution Tape" Bluerpint for RPK LMG
"Biohazard" Weapon Sticker
"Jungle Incognito" Helicopter Skin
"Gas Gas Gas" Weapon Charm
"Weapon Crate" Calling Card
"Weapon Crate" Emblem
"Biohazard" Operator Skin for Konig
Stay tuned to Pro Game Guides for more Call of Duty: Modern Warfare 2 and Warzone 2 content. In the meantime, head over to our article on Best Quickscoping Loadouts in CoD Warzone 2.