The Whitley Light Machine Gun was added to Call of Duty: Warzone with the Season 2 content drop. The LMG features a high damage output, great control, and a decent fire rate. Here's a guide to the best Whitley attachments and class in Warzone Pacific.
Best Whitley Loadout Warzone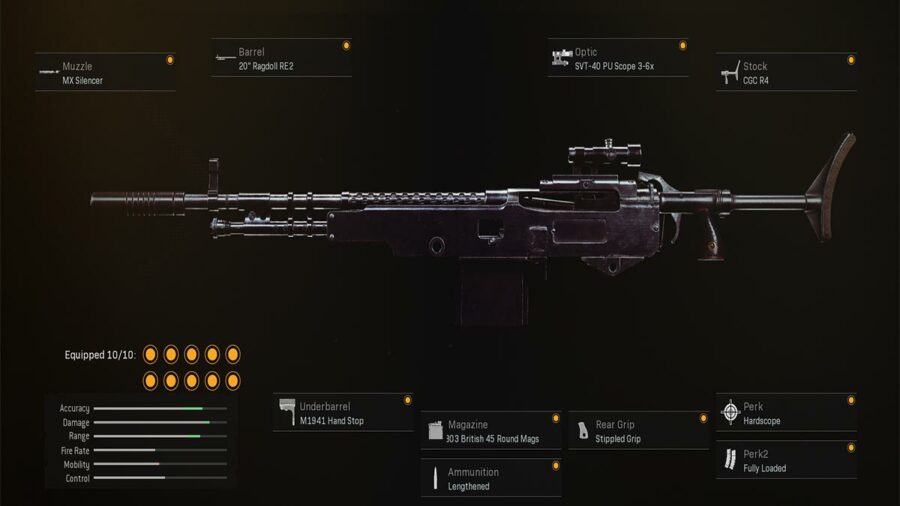 Muzzle: MX Silencer
Barrel: 20" Ragdoll RE2
Optic: SVT-40 PU Scope 3-6x
Stock: CGC R4
Underbarrel: m1941 Hand Stop
Magazine: .303 British 45 Round Mags
Ammo Type: Lengthened
Rear Grip: Stippled Grip
Perk 1: Hardscope
Perk 2: Fully Loaded
This is the best Whitley build that you can pair with a mobile close-range Submachine Gun. The attachments used here boost the gun's damage range, bullet velocity, fire rate, and accuracy—all of which are essential for a consistent, long-range weapon.
Related: Best KG M40 Loadout and Class in Call of Duty: Warzone
The 20" Ragdoll barrel provides sufficient recoil control. However, you may swap it for the 28" Gracey Mk. 9 for an even better control. We recommend using the former option, as it improves the range and bullet velocity, as well. You can also try out other magazine variants like the .30-06 120 Round Boxes for more ammo.
Furthermore, the Stippled Grip and Hardscope perk is a perfect combination. While the grip controls the initial firing recoil, Hardscope gives the weapon an almost non-existent recoil during sustained aiming-down-sight (ADS).
Best Whitley Class Setup Warzone
Primary Weapon - Whitley LMG
Lethal - Throwing Knife
Tactical - Stim
Perk 1 - Cold Blooded
Perk 2 - Overkill
Perk 3 - Amped
Stay tuned to Pro Game Guides for more Call of Duty content. In the meantime, head over to our article on – How to unlock the Whitley and KG M40 in Call of Duty: Vanguard and Warzone.