In Call of Duty Modern Warfare 2 Campaign, players must complete various missions: Violence and Timing. This mission occurs when the AQ kidnaps Laswell, and Captain Price decides to get her back. You'll play this mission as Gaz, providing air support for Farah's team. You can unlock a couple of trophies/achievements in this mission. Here's how to reach Price using the first vehicle in the Violence and Timing mission in Modern Warfare 2.
CoD Modern Warfare 2 Keeping This One achievement guide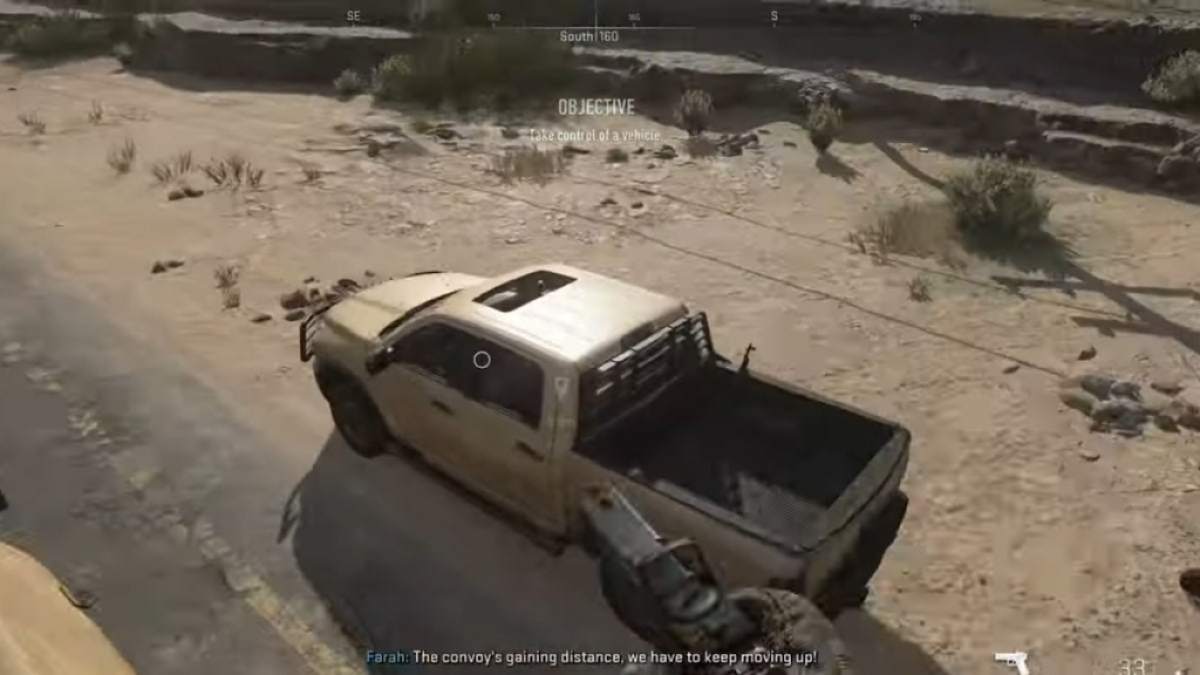 During the mission, you'll reach a checkpoint where Gaz hangs upside down from a rope from Nikolai's plane. You'll have to eliminate a few enemies while stuck to the rope until Nikolai finally finds a place to drop Gaz safely. Gaz cuts the rope from a helicopter and lands on a Cargo Truck. Players can check on their right side to immediately spot a Pickup Truck with an open back. The Keeping This One achievement is unlocked if players use the first vehicle they hijack to reach Captain Price. Check the image above to see how the Pickup Truck looks in-game.
Related: When does Modern Warfare 2 beta end?
Naturally, the Pickup Truck you see on the right after landing from the helicopter is the best choice to complete this achievement. The other part of this achievement requires players to change five different vehicles and drive them. The Violence and Timing mission has these alternative achievements which players can complete in different runs. The car chase continues for a while, and you will even reach a blockade. Make sure to lean in and out of the vehicle to shoot the opponents ahead and clear the path. The Keeping This one achievement in Modern Warfare 2 unlocks as soon as you reach Price with the same hijacked vehicle.
Wondering what are the Safe Codes in MW2 Campaign? Check out All Modern Warfare 2 Safe Codes and Locations on Pro Game Guides.