Unlocking different camos and completing Weapon Mastery in Call of Duty Modern Warfare 2 can be a long grind. While getting the Gold or Platinum camo can take days, there are a few camos you can unlock within a few sessions. The Pine camo in the Solid Color category is one of them, and it's one of the best skins if you prefer a minimalistic design on your weapon. Here's how players can unlock the Pine camo in Call of Duty Modern Warfare 2.
How to get the Pine Solid color camo in MW2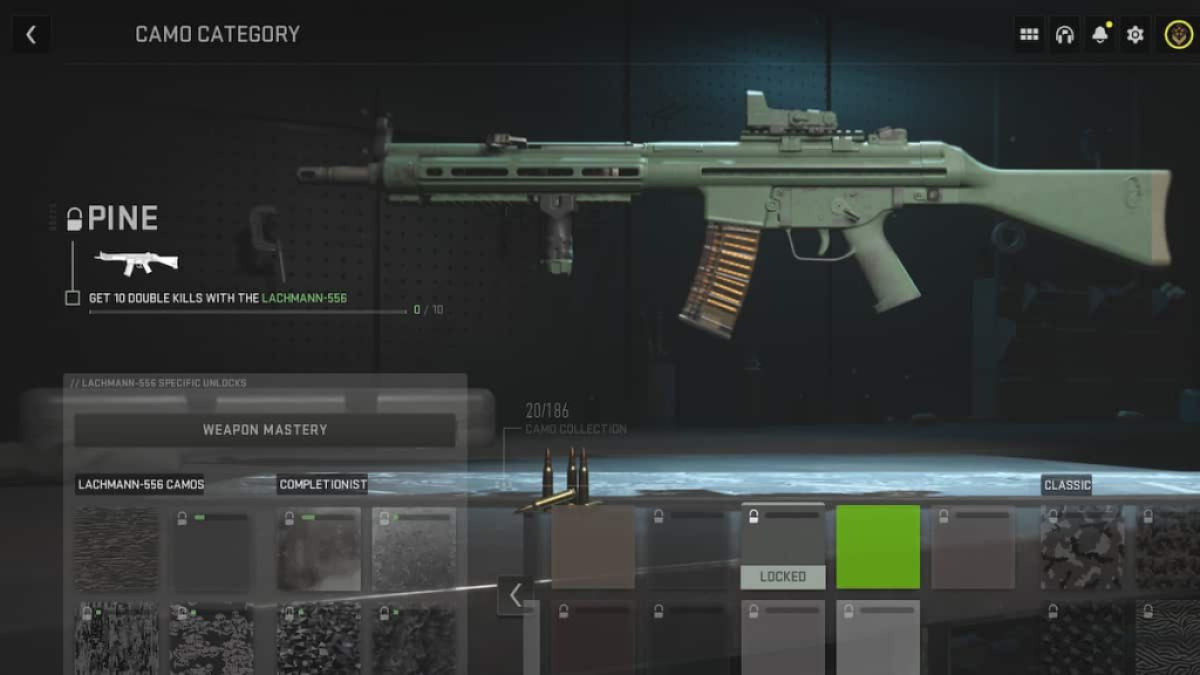 The Pine camo is a dark green Solid Color design, and unlocking this can take a while. Firstly, players need to reach account level 16 and unlock the Lachmann-762. Once that's done, level up the Lachmann-762 to level 13 to unlock the Lachmann 556 Assault Rifle. The Pine camo is related to the Lachmann 556, and progressing up this weapon to level eight unlocks the challenge in the Solid Color category.
Players will have a bunch of attachments unlocked by reaching level 8 with the Lachmann 556. Equip it on the weapon before starting the Pine camo grind. To unlock the Pine camo, you simply need to get 10 double kills with the Lachmann 556. Double kills aren't as easy as they sound, and will require a lot of patience. Eliminating two players at once or within a span of a few seconds counts as a double kill. You will see a quick pop-up on the screen saying double kill after successfully executing it.
We recommend playing game modes like Hardpoint, Domination, Kills Confirmed, and Team Deathmatch to maximize your chances of getting double kills with the Lachmann 556. Make sure to assault into areas swarming with enemies. Camping off-angles at multiple choke points is another good strategy to get double kills without much hassle quickly.
Wondering what else is coming to Modern Warfare 2? Check out All 6v6 Modes in Modern Warfare 2 and How to get the Oni Operator in Modern Warfare 2 on Pro Game Guides.