Call of Duty Modern Warfare 2 is finally here, and players who pre-purchased different versions of the game will get many rewards from day one. Modern Warfare 2 Vault Edition is the complete package featuring several popular Operator skins and weapons. Naturally, players are wondering if purchasing this version is a good idea. Here's why purchasing the Vault Edition for Modern Warfare 2 is the best way to start the game.
What are the rewards for Modern Warfare 2 Vault Edition?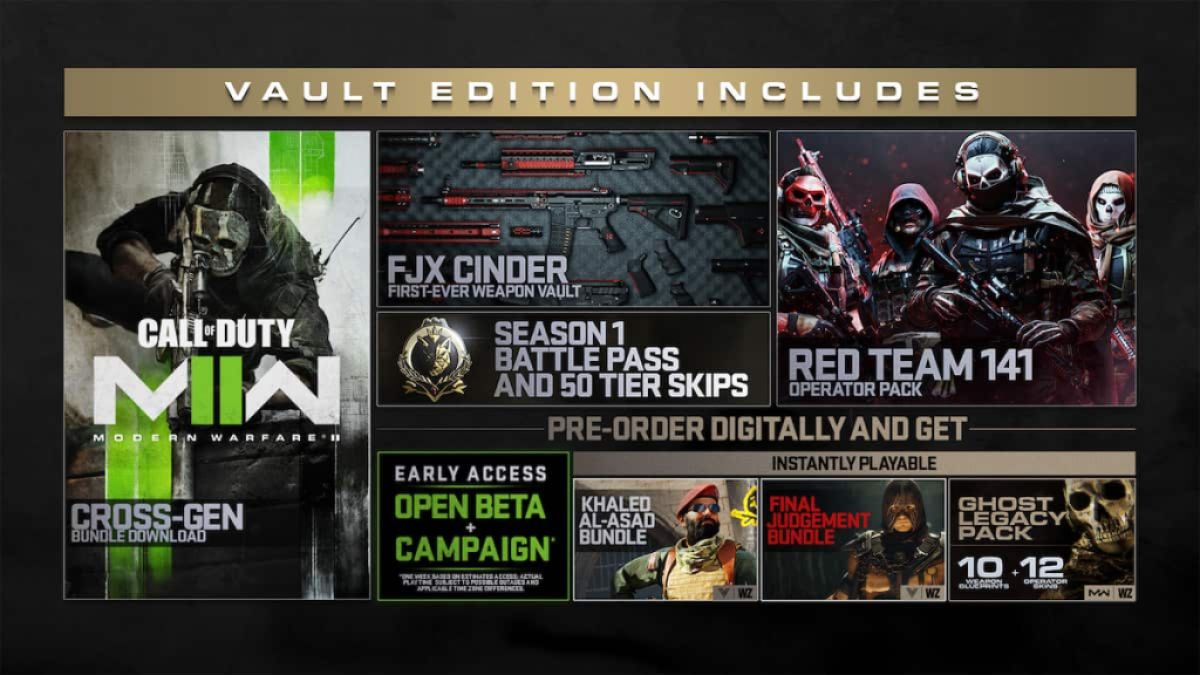 Modern Warfare 2 Vault Edition costs around $99.99, and it comes with remarkable rewards for players to enjoy. This is the highest tier version of MW2, and it features the Red Team 141 Operators Pack, FJX Cinder Weapon Vault, One Season Battle Pass and 50 Tier Skips, Ghost Legacy Pack, and In-Game Store Bonus. Besides all the iconic Operators, the FJX Cinder Weapon Vault is the best reward players can expect from the Vault Edition. Players will get some of the coolest weapon Blueprints for popular guns like M4, FSS Hurricane, M16, and others.
Related: How to fix NIAMEY-LEE error in MW2
The FJX Cinder attachments are ready for immediate use, and you can equip the iconic red and black skin variants for them. Similarly, iconic Operators like Captain Price, Soap, Ghost, and Farah are synonymous with the CoD franchise, and you'll be getting them from day one with the Vault Edition. The Red Team 141 Pack features these four Operators, ready to drop on the map and wreak havoc. Vault Edition owners will also get the current Season Battle Pass with 50 Tier Skips. Players will still get the Battle Pass and 50 Tier Skips if they buy this edition after Season One.
You'll also get the Ghost Legacy Pack featuring 20+ free items for Modern Warfare (2019) and Warzone. This pack also has Ghost Operator skins like Classic Ghost, Reckoner, Jawbone, Dark Vision, and more. Similarly, you'll get 10 Assault Rifle Weapon Blueprints like The Wages of Sin, Oscar Mike, Kingly Splendor, K2, and others. Players will also get 10 Hours of Double XP Tokens and 10 Hours of Double Weapon XP Tokens to use from the start in Modern Warfare 2. Considering all the rewards, the Vault Edition for Call of Duty Modern Warfare 2 is totally worth it.
Wondering how third-person mode works in Modern Warfare 2? Check out CoD Modern Warfare 2 Third-Person Mode, explained, right here on Pro Game Guides.