Looting is key in Call of Duty: Warzone's DMZ game mode. Finding better weapons, gear, and high-tier loot will make the experience worthwhile and ready you up for the next match. In addition to looting restricted areas, safes, and locked stashes, you can secure supply drops to earn valuable items.
Eye in the Sky DMZ Mission Guide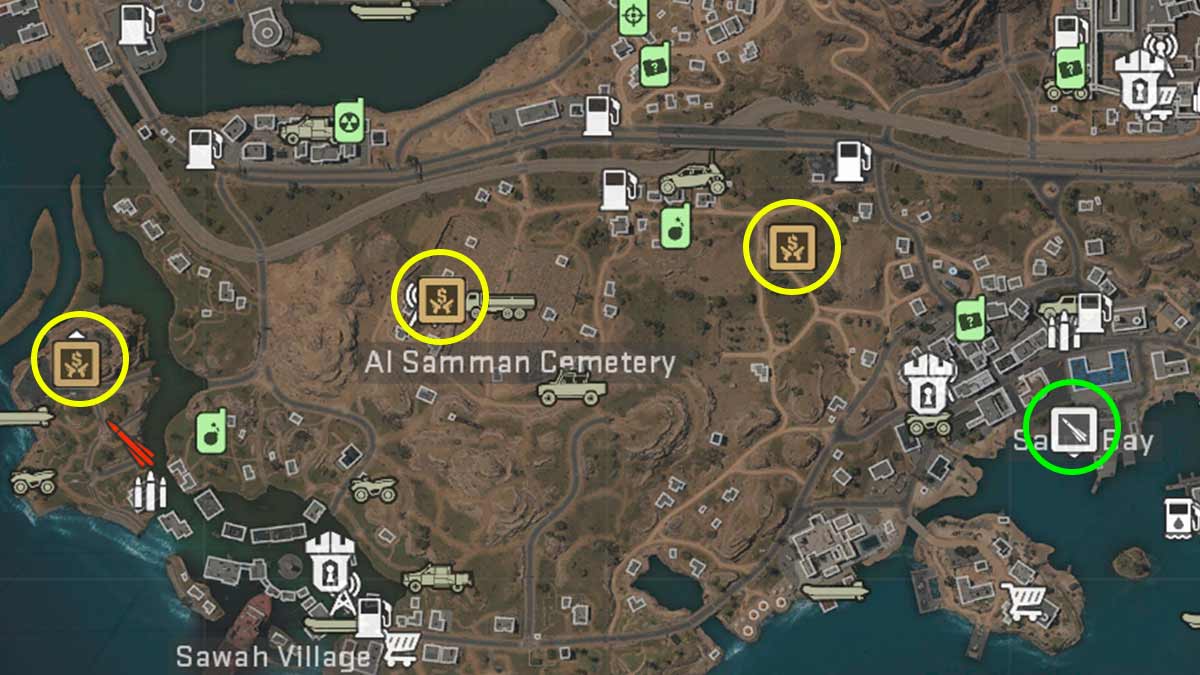 The Eye in the Sky mission for Tier 4 Black Mous Faction tasks you with looting five airplane supply drops in one deployment. There are three types of airplane supply drops that appear on the map in a DMZ match:
Set Supply Drops: These supply drops are dropped in every match when the countdown timer hits 10 minutes. An airplane passes over Al Mazrah, dropping three supply drops in its path. You can track these supply drops via the yellow box icon on your tac map.
SAM Supply Drops: After you've captured a SAM Site, it will shoot down any airplane that passes over it. Said aircraft will explode and release a supply drop for anyone to loot (marked by the green circle in the image above).
Commander Helo Supply Drop: Boss Chopper is a commander in DMZ besides the Chemist and Juggernaut. It may spawn at a random location and is marked by a white skull icon. You can shoot it down and loot the supply drop that it releases on crash.
Related: Where to find Al-Qatala Planning Diagrams and Photos in Warzone 2 DMZ
Remember that any supply drop is marked for all the players in the game, hence, beware while looting them as the enemy may ambush you. The Eye in the Sky mission can be easily completed by first looting a few SAM Supply Drops and then the Set Supply Drops when they're dropped later during the match.
Stay tuned to Pro Game Guides for more Call of Duty: Modern Warfare 2 and Warzone 2 content. In the meantime, head over to our article on How to extract with the final exfil in Warzone 2 DMZ.