Moonlight Cookie is a Legendary Magic Cookie released in Cookie Run: Kingdom's Invitation from the Slumbering Moon update. Upon release, Legendary Cookies can be obtained for free within the event period, as long as you play actively. Here's how to attempt to get Moonlight Cookie for free and how you can get her if you missed out on the event.
How to get Moonlight Shards for Moonlight Cookie's event gacha in CRK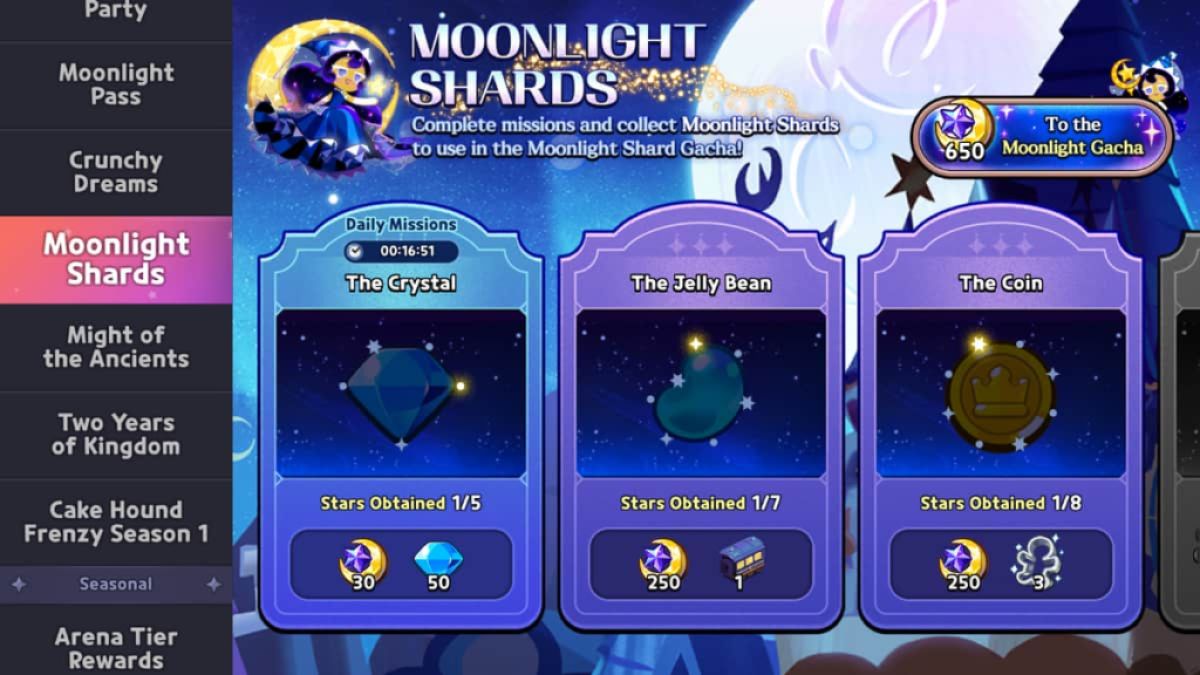 Moonlight Cookie's limited event gacha runs from January 19, 2023, to March 7, 2023. Head to the event menu and select Moonlight Shards to open the event page, where you'll find a series of CRK-themed constellations.
Each constellation can be formed with a certain number of stars, which determines how many tasks you need to complete to form it. Click on each constellation to view the list of tasks that can be done until the event ends—except for The Crystal, which consists of tasks that reset daily.
We highly recommend prioritizing The Crystal tasks to make the most of the daily rewards. Meanwhile, you need to complete some constellations as prerequisites to unlocking more, so don't wait until the last minute to begin working on the tasks. You can farm Moonlight Shards by completing each task, while completing constellations will merit you even more Moonlight Shards plus other rewards, including Dream-themed Decor.
How does the Moonlight Gacha work in CRK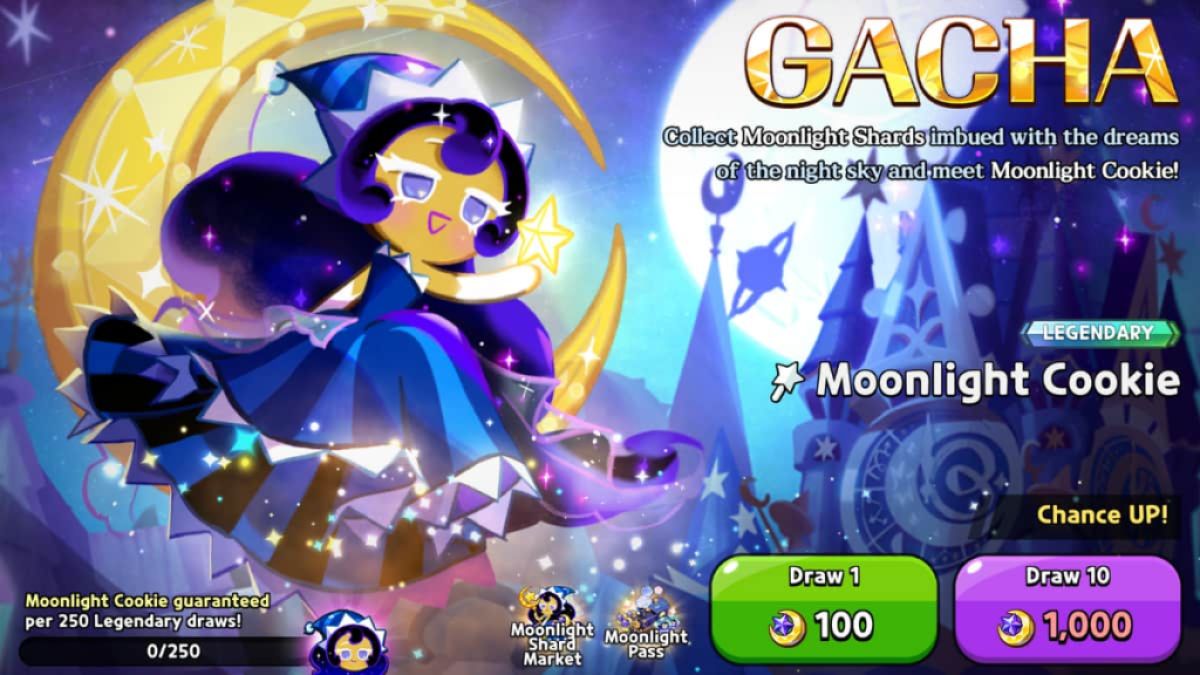 In the Moonlight Gacha, you can draw once using 100 Moonlight Shards. Moonlight Cookie is the only Legendary Cookie in the lineup, with a rate-up of 0.301 percent. However, you can also get all other Epic, Rare, and Common Cookies. Considering how it's completely free (as long as you play actively), it's extremely worth the effort to farm Moonlight Shards.
The Moonlight Gacha offers a generous pity system. You're guaranteed a Moonlight Cookie every 250 draws. Given the length of the event, you'll have enough time to draw a few copies to Promote this Legendary Cookie.
How to get Moonlight Cookie after her event ends
Moonlight Cookie can be drawn on both the Regular and Feature Cookie gachas using Crystals or Cookie Cutters. She's a permanent addition to both banners, so you can try to get her at any time, albeit not for free. She also won't be on rate-up and will share draw rates with other Legendary Cookies, such as Black Pearl Cookie and Frost Queen Cookie.
For more on this beautiful Cookie, check out our guide on the Best Moonlight Cookie Toppings build in Cookie Run Kingdom here on Pro Game Guides.