Weapon usage in Counter-Strike is highly situational. In some scenarios, you might need one specific weapon more than another, which means no weapon is useless. On top of this, weapons usually get rebalanced and tweaked by developers, so it's always good to double-check.
In Global Offensive, everyone knew what the best weapons were to use, but how about Counter-Strike 2? Are all the weapons still the same? If not, which one is the best to use? I've made a list of all the top weapons in CS2 below.
Best weapons in CS2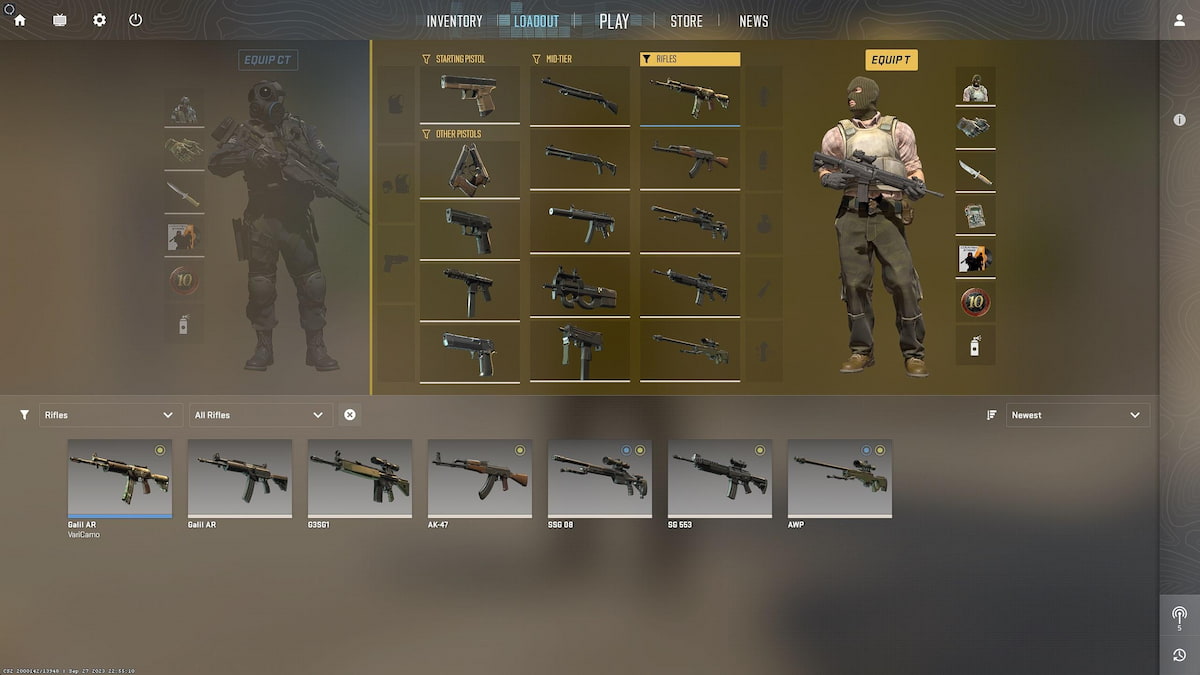 If you've played CS:GO, then the weapons work almost identically as the previous version, besides all the aesthetic changes brought to you with Counter-Strike 2.
| | |
| --- | --- |
| Tier | Weapon |
| S | AK-47, AWP, M4A4, M4A1-S |
| A | AUG, Desert Eagle, FAMAS, Galil, P90, SCAR-20, SG553, TEC-9 |
| B | G3SG1, Glock-18, MAC-10, MAG-7, MP7, MP5-SD, P250, USP-S, UMP-45 |
| C | CZ75, Five-SeveN, Negev, SSG-08, XM1014, P2000, Nova |
| D | Dual Berettas, M249, PP-Bizon, R8 Revolver, Sawed-Off |
Related: Best CS2 Surf Servers
S-tier weapons in CS2
The top of the line and the main weapons you should be focusing on mastering.
AWP
The AWP continues to be the bread and butter for the Counter-Strike community, as it delivers a heavy 115-damage fatal hit chest and above to the enemy, rewarding you with $100 per kill while costing $4,750.
AK-47
The AK-47, belonging to the T side, is still everyone's favorite automatic rifle in CS2, with it delivering 36 damage per shot to the enemy team, costing $2,700, and giving you $300 per kill. Compared to its counterparts, the M4A4 and M4A1-S, the AK, although harder to use with the recoil, does slightly more damage when hit with a headshot.
M4A1-S
M4A1-S is the main CT side silenced AR, $300 per kill and costing $2,900, dealing 38 damage per shot, with the only caveat being its lower headshot multiplier as compared to the AK-47, albeit also easier to control with the easier recoil pattern.
M4A4
The M4A4 is the unsilenced counterpart of the M4A1-S, with $300 per kill and a cost of $3,100, dealing 33 damage per shot with a harder spray pattern to learn and similar headshot multiplication as the AK-47.
A-tier weapons in CS2
Very powerful weapons, which you should definitely pick up if seen on the ground or buy if you're running an eco-round.
Desert Eagle
The Desert Eagle is a secondary firearm with as much damage as a primary, costing $700 with a reward of $300 per kill, dealing 53 damage per shot. It is undeniably one of the best secondaries and hardest firearms to master in CS2.
TEC-9
TEC-9 is an exclusive T-side weapon you should be picking up as soon as possible if seen while playing the CT-side. This semi-automatic weapon deals 33 damage per shot, and with a cost of $500 and $300 per kill, it is great for rushing corners and bombsites.
P90
If you've heard of the phrase "spray and pray", P90 is a good example of it. Although it costs $2,350, which is a lot, it gives out $300 per kill and 26 damage per shot. With 50 bullets in the magazine, you can keep on shooting for a very long time.
SCAR-20
The SCAR-20 is a scoped AR and an endgame weapon. With a hefty cost of $5,000, it deals 80 damage, and while it gives you $300 per reward, you should only buy it if you have too much money to spare at the end of a side-change.
FAMAS
The FAMAS is a very decent AR with the ability to shoot both burst and fully automatic. The rifle delivers 30 damage per round down the barrel with a reward of $300 per kill, as it costs $2,050 to buy, making it a very economical purchase during a force-buy round.
B-tier weapons in CS2
B-tier weapons include the ones you should definitely buy if you don't have sufficient economy built and your team decides to force-buy during a round.
USP-S
The USP-S is the silenced CT-side secondary firearm you start a round off with, and while it may not look like much, this weapon delivers 35 damage per round, more than the T-side counterpart, giving you $300 per round and costing only $200.
Glock-18
The Glock-18 is the T-side default secondary firearm with either single or burst-fire modes, dealing 30 damage per round (slightly less than the USP-S) while giving you $300 per kill and costing only $200.
MAC-10
MAC-10 is a T-side exclusive you should definitely pick up while playing on the CT-side, as it delivers 29 damage per shot very quickly, giving you $600 per kill and costing a mere $1,050.
UMP-45
The UMP-45 deals the highest damage than all SMGs in CS2, with 35 damage per round, giving you $600 per kill and costing $1,200. The only downside it has is there are only 25 rounds in the magazine, so you will need to pick your shots.
C-tier weapons in CS2
Nova
In my opinion, Nova is arguably the best eco force-buy weapon to use in CS2, if you're a good shot. It's a shotgun dealing 26 damage per round, as it rewards you with a whopping $900 per kill while only costing $1,050 to buy. If you manage to get a good corner defense with the Nova, you're never worrying about your economy again.
Five-SeveN
Five-SeveN is a CT-side exclusive secondary firearm, costing $500 and giving you $300 per kill. This secondary gives you some of the highest armor penetration of all the secondary weapons you can buy, with a decent 20-sized magazine.
Negev
Negev is an LMG costing $1,700 and giving you $300 per kill while dealing 35 damage per round as it fires down its 150-round magazine at enemies, making it good for crowd control.
D-tier weapons in CS2
M249
M249 is the second of the only two LMGs in CS2. Since it costs $5,200, gives you $300 per kill, and only deals 32 damage per round with its 100-round magazine, this LMG is something I wouldn't recommend buying unless you find it next to absolutely nothing.
R8 Revolver
The R8 Revolver was introduced quite late to Global Offensive if we compare it to the rest of the weapons in Counter-Strike, and it was a broken weapon when it was first released. Now, the R8 Revolver is a bit of a clunky secondary firearm, taking way too long to shoot and being very hard to master. If you do master it, however, you end up dealing 86 damage per round while getting $300 per kill, paying only $600 to purchase the weapon in the first place.
As I mentioned at the start of this, Counter-Strike gameplay is quite situational, and you'll quickly realize every weapon has its own use, meaning you should never shy away from using a specific weapon if you have to.
For more on CS2, be sure to check out Best CS2 Cases To Open and How to show FPS in CS2 here on Pro Game Guides.