Our Destiny 2 How-to Get the Outbreak (Prime) Perfected will walk you through all of the quest steps involved in obtaining this Exotic Pulse Rifle! This is an old school exotic that was called the Outbreak Prime, but has been updated and brought back to the game in the form of the Outbreak Perfected!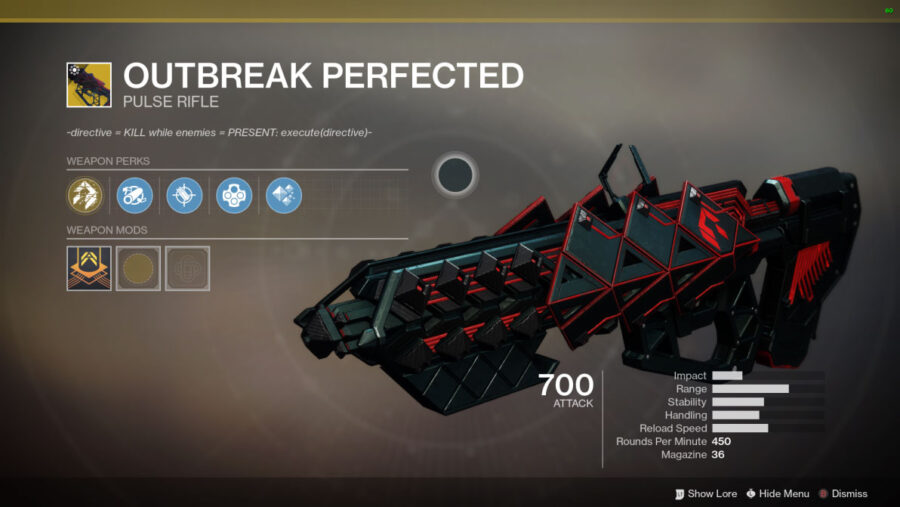 -directive = KILL while enemies = PRESENT: executive(directive)-
Outbreak Perfected Perks
The Corruption Spreads
This weapon creates SIVA nanite swarms on rapid hits and precision kills.
Parasitism
This weapon does more damage to enemies based on the number of SIVA nanites that attach to them.
Outlaw
Precision kills greatly decrease reload time.
Outbreak Perfected Ornaments
Here's a look at the ornaments you can attach to give it a bit of customization. Credit to TheTeawrew on Twitter.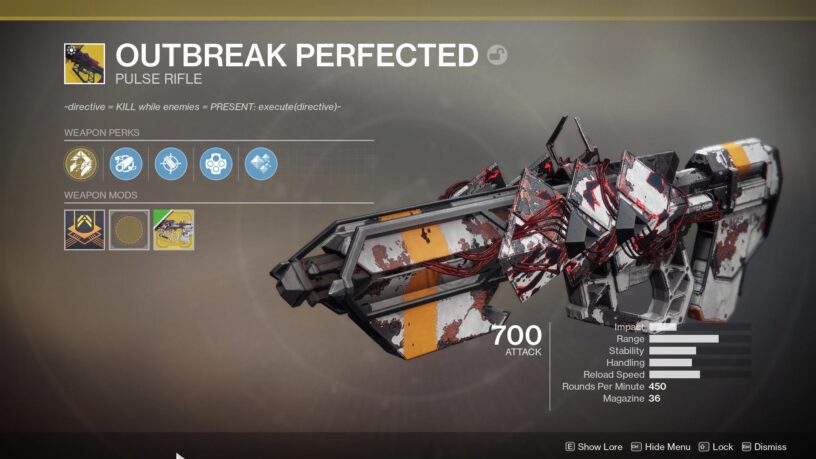 Outbreak Perfected Lore
The Captain stands with his primary hands braced on a command table. He stares down at a static holoprojection as though it might reveal some new secret. Nearby, the Hunter combs through scout reports. The Warlock taps rapidly at a datapad, running simulation after simulation. No one speaks.

There is a deafening boom. The holoprojection flickers; the whole Skiff tilts seventy degrees off-kilter. The Captain holds tight to the table, reaching out with a secondary arm to snatch the Hunter as he goes toppling by. The Warlock is not a concern; she has Blinked her way to a secure handhold

The Captain calls to his crew, speaking Eliksni too fast for the Hunter or the Warlock to follow. Someone calls back. The Skiff tilts nauseously, then stabilizes.

"Eramis?" the Warlock asks.

The Captain nodes. Letting go of the Hunter, he disappears through an access hatch to consult with his crew.

"I don't like this," the Hunter says lowly. "We should be there with him."

The Warlock chews on her lower lip. She doesn't like it either, but they've argued endlessly with their Captain and gained no ground. "We have to trust him," she says finally. "This is what he wants."

"Trust him to die?" the Hunter hisses. "Let's break down how stupid this is: not only does he wants to infiltrate the Tower without us, he's planning to wear Devils colors to interrupt a Devils heist to reclaim SIVA. And instead of leaning on us, his good Guardian friends, he's banking on some stranger--"

"Not a stranger," the Warlock cuts in.

"Find! Not a stranger, but definitely not a friend!" The Hunter grits his teeth. "We should do it. We need to do it. Let's just go; let's go now. We can cut them off." He conjures his Ghost with a twist of his wrist, readying for transmat.

"We have to trust him," the Warlock repeats, reaching out to grasp the Hunter's forearm. "I think he's right when he says it doesn't mean anything if we do it. Guardians do extraordinary things all the time. And he needs more allies..."

The Captain reenters their little ad-hoc war room. They draw up guiltily. The Hunter hides his Ghost.

"All well?" he asks, looking between them.

"Eia, Mithrax," the Warlock murmurs. "We're all good."

The Hunter says nothing.

"We walk this hardship-path with joyful hearts. Be brave."
Outbreak Perfected Catalyst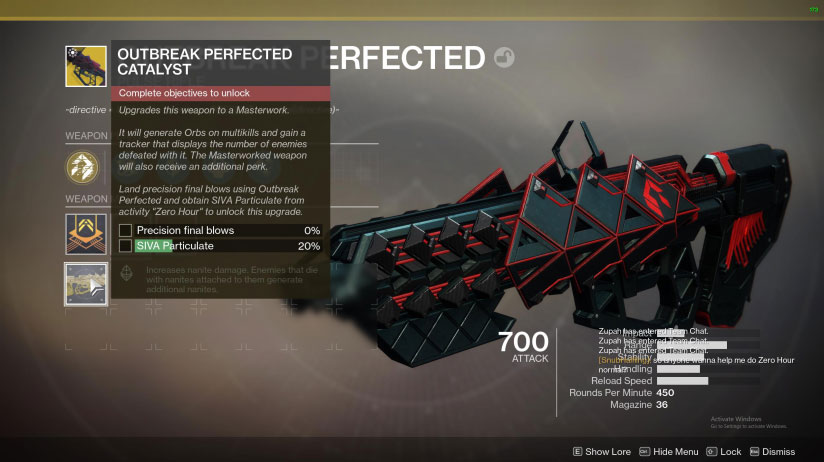 Credit to AyyitsChevy on Twitter for the image.
Upgrades this weapon to a Masterwork.

It will generate Orbs on multikills and gain a tracker that displays the number of enemies defeated with it. The Masterworked weapon will also receive an additional perk.

Land precision final blows using Outbreak Perfected and Obtain SIVA Particulate from activity "Zero Hour" to unlock this upgrade.
Outbreak Perfected Pulse Rifle Quest Steps
You'll have to do a bit of traveling around and groundwork to obtain the weapon, but it will be worth it!
Pre-Requisite: Let Mithrax Live in the Enemy of My Enemy Quest on Titan
There's some confusion on this part, but as far as we can tell you will need to have let Mithrax live during the Enemy of My Enemy Quest for the door to be unlocked when you start the Heroic Bad Neighbors mission. If you are having issues, check out this thread on Reddit for more information.
Step #1: Go to Titan - Start the Heroic Bad Neighbors Daily Heroic
Once you start the Heroic you will head in and after the room with the Shrieker you will walk into a room on the right and find a Fallen device (images from Reddit user I_HATE-inconsistencY).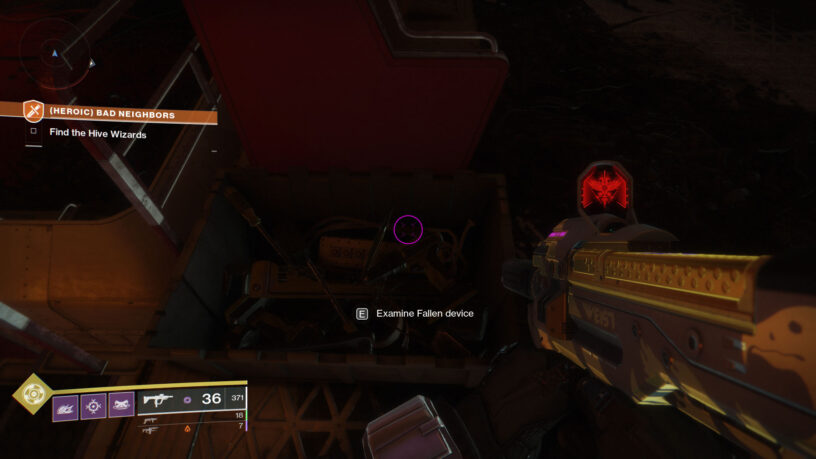 Once you do that you will receive the Fallen Transponder: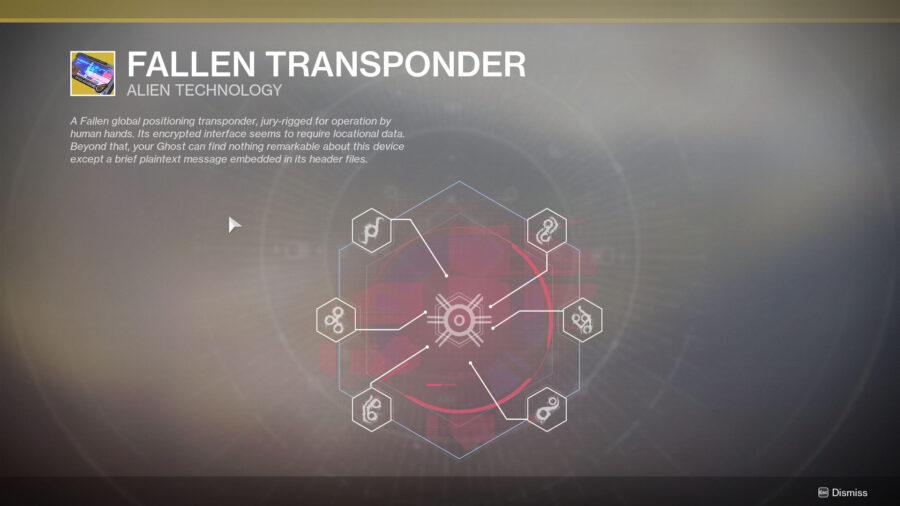 A Fallen global positioning transponder, jury-rigged for operation by human hands. Its encrypted interface seems to require locational data. Beyond that, your Ghost can find nothing remarkable about this device except a brief plaintext messaged embedded in its header files.
Step #2 - Locate Six Fallen Transponder Nodes in Various Lost Sectors
You will need to go to six different Lost Sectors to track down the nodes required. It will be much easier to follow by checking out this video displaying where each and every node is in each of these locations:
Node 1 - The Drain, EDZ
Node 2 - Whispered Falls, EDZ
Node 3 - The Atrium, EDZ
Node 4 - Widow's Walk, EDZ
Node 5 - The Carrion Pit, Nessus
Node 6 - The Rift, Nessus
Six Node Locations Video
Step #3 - Go to the Farm
Head to the basement below the barn and to the left you'll find a storm cellar you can enter into. Look for Mithrax down in the dark and talk to him to start the Zero Hour: Rendezvous with Mithrax mission. It is a 690 power level timed mission (20 minutes) that is in the ruins of the old tower.
Step #4 - Complete the Zero Hour Mission
Now you'll need to hustle a bit, because you are only going to have 20 minutes to complete this mission to obtain the new weapon.
Outbreak Perfected Final Mission Video
Volume can spike a bit on this video, so be warned!
Once you complete the mission, you are immediately given the Outbreak Perfected Pulse Rifle Exotic!