Diablo 4 is a pretty traditional Diablo experience. Many of the general gameplay rules from previous Diablo games still apply here. However, Diablo 4 does introduce quite a few new items to the mix, including some new stats. One of these new stats is called Lucky Hit Chance, and it functions like nothing else in the game or previous Diablo games. To call it odd would be an understatement, but after I fully understood how it works, I think it's an interesting addition. So, if you're here to understand the Lucky Hit Chance stat, then you've come to the right place. Let me break it down for you.
How does Lucky Hit Chance work in Diablo IV?
For clarity's sake, Lucky Hit Chance is effectively a glorified Critical Hit, with some additions added to the mix. The key difference is that Lucky Hit does nothing on its own, and there aren't many ways to improve the chances of a Lucky Hit occurring. When a Lucky Hit does occur, nothing happens inherently. You don't get any increased damage. Instead, Lucky Hit relies upon effects, passives, and skills that state in their description that they have some sort of Lucky Hit mechanic. What do I mean by a mechanic? Well, your skills have a built-in Lucky Hit Chance. Each skill has a different value to take note of. Let's look at the Rogue's Twisting Blade Skill, as an example:
Notice that Twisting Blades has a base Lucky Hit Chance of 33%. This means you have a 33% chance, per use of Twisting Blades, to land a Lucky Hit. As mentioned, this means nothing on its own. It is likely you won't even notice a Lucky Hit occurring if you have nothing that makes use of this stat. What can make use of a Lucky Hit? Another example: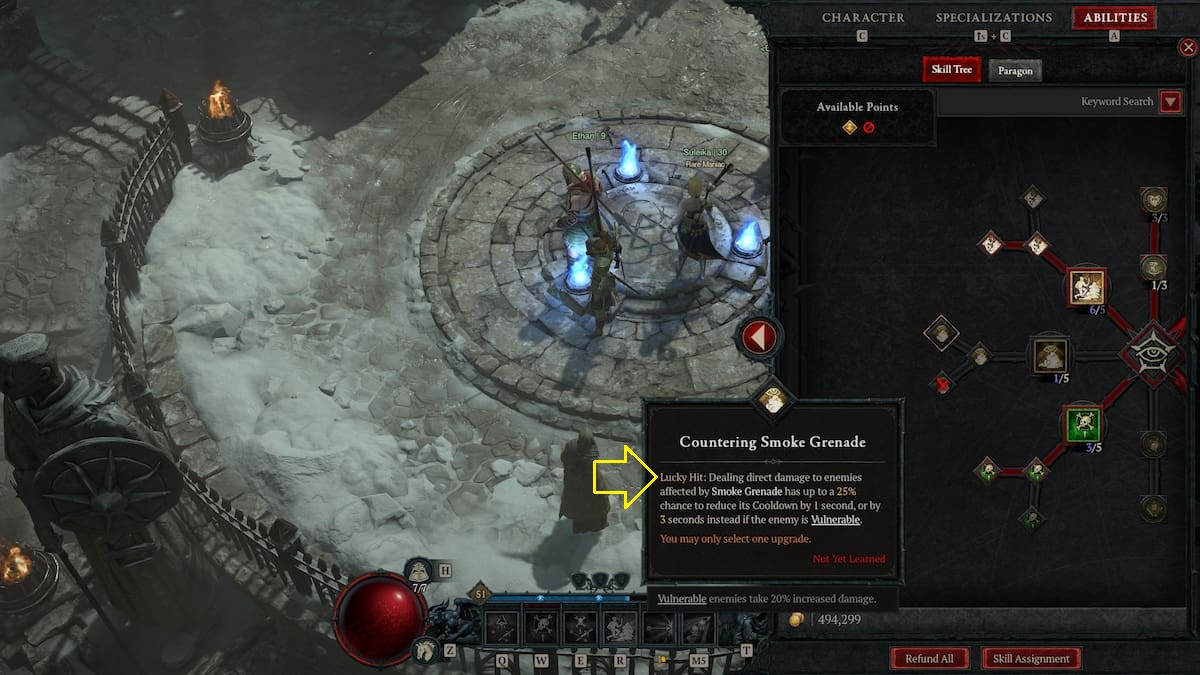 Notice here that Countering Smoke Grenade, a node of the Rogue's Smoke Grenade skill, has a Lucky Hit modifier attached to it. Landing a Lucky Hit with Twisting Blades, has a 25% chance to trigger the Countering Smoke Grenade effect so long as the enemy is affected by Smoke Grenade. The 25% comes directly from the node. It does not relate to Lucky Hit in any way.
So, as you can see, Lucky Hit Chance, as a stat, is not difficult to understand. However, there are many effects and passives that make use of it, so keep that in mind when building your character. Lucky Hit is definitely a weird stat, but one you can take full advantage of if you think about it.
Find this guide on Diablo 4 insightful and looking for more? Check out our guide on How to fix 'your request has timed out' error code 300008 in Diablo 4 right here on Pro Game Guides.