There are six playable classes at launch in Diablo Immortal. Fans of the series will likely be familiar with the choices, Barbarian, Crusader, Demon Hunter, Monk, Necromancer, and Wizard, as not much has changed from past Diablo games.
All Classes in Diablo Immortal
Barbarian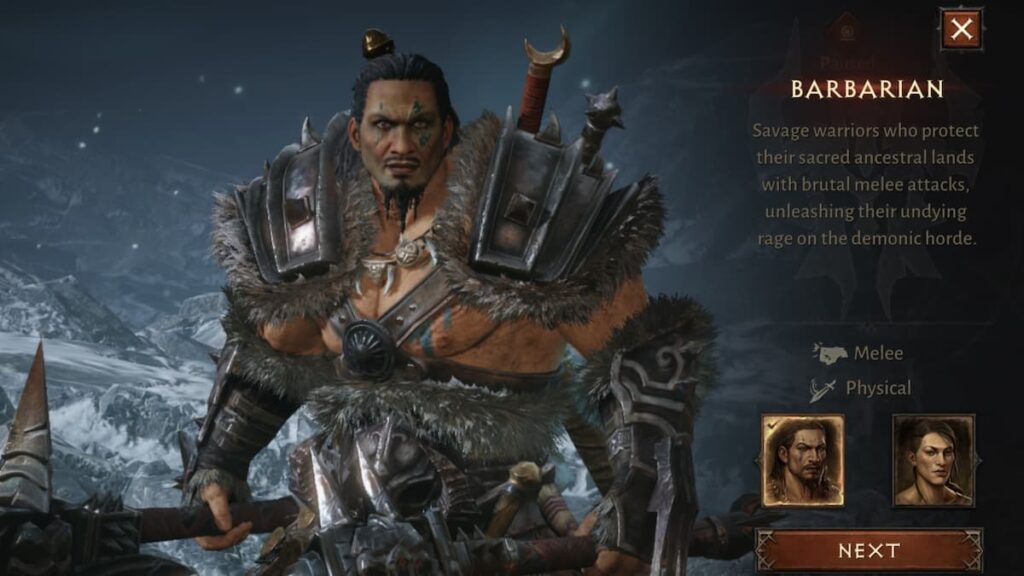 How to play Barbarian
The Barbarian class is for players that like to get up close and personal with enemies. Barbarians rely heavily on Melee and Physical damage in combat and can do some serious damage and tanking.
Some Useful Barbarian Abilities
Whirlwind - Players hit all enemies around continuously while moving.
Chained Spear - Players can throw a spear that will pull enemies closer, giving them the opportunity to do heavy melee damage.
Hammer of the Ancients - Summons a large hammer that strikes the ground nearby, damaging enemies.
Crusader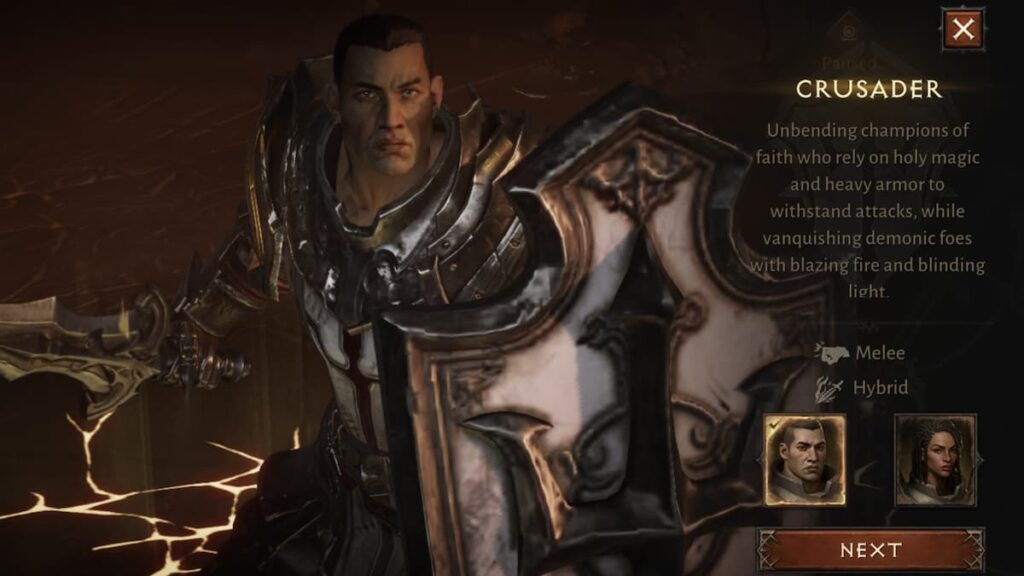 How to play Crusader
Crusaders are pretty tanky and can take a lot of damage in battle. They aren't all health, however, and as one of the best PvE classes in Diablo Immortal, the Crusader can really deal damage to enemies on the field with their sword and shield combo. Their main damage type revolves around Melee attacks but they have the ability to deal damage in many ways.
Some Useful Crusader Abilities
Judgment - Deals damage and slows enemies in a given radius.
Spinning Shield - Throws their shield, inflicting damage to all enemies surrounding the character in a given radius.
Conjuration of Light - A beam of light is projected, giving protection to the player and surrounding allies.
Demon Hunter
How to play Demon Hunter
The Demon Hunter class relies on both Ranged and Physical attacks. This class can hold its own as far as DPS goes, and its versatility makes it a useful class to main.
Some Useful Demon Hunter Abilities
Knockback Shot - Shoots a bolt that deals damage to enemies and also applies knockback.
Daring Swing - Moves the player to another point in the area. Damage enemies as you move to the next location.
Rain of Vengence - Arrows rain down from the sky, dealing tons of damage to enemies in the radius of the attack.
Monk
How to play Monk
Monks play a very up close and personal Melee style. This class can deal massive amounts of Physical damage to enemies and has more agility and speed than other Melee classes like Barbarians.
Some Useful Monk Abilities
Cyclone Strike - Makes a Cyclone that pulls enemies closer to the player and deals heavy damage.
Wave of Light - Damages enemies in a given area using light.
Seven-Sided Strike - The player zips from enemy to enemy, dealing damage to each one.
Necromancer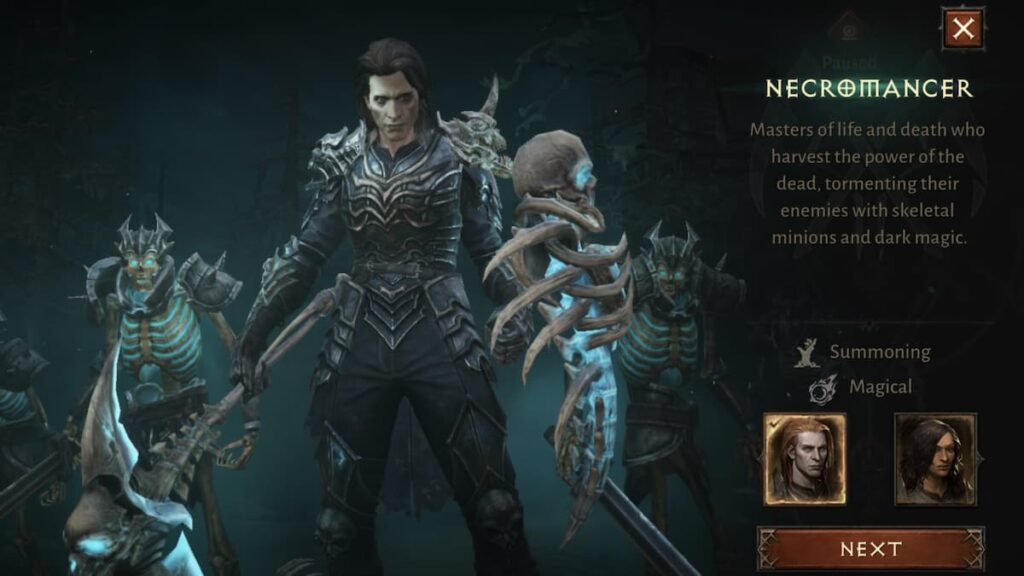 How to play Necromancer
Necromancers are Magic characters that focus heavily on Summoning in combat. Necromancers Magic abilities are centered on undead and skeletal attacks.
Some Useful Necromancer Abilities
Skeletal Mage - Summons a Skeletal MAge to fight alongside the player.
Corpse Explosion - Causes all corpses in the selected area to explode.
Command Golem - Summons a Golem that deals damage to enemies in combat.
Wizard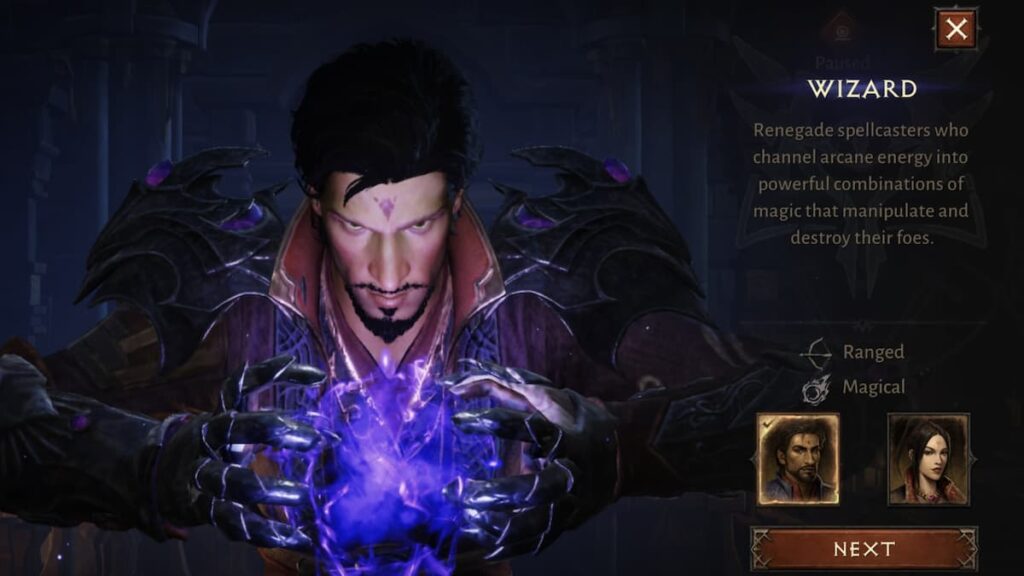 How to play Wizard
Wizards are Ranged and Magical characters. This is a staple class in most RPGs and Diablo Immortal doesn't reinvent the wheel with its Magic-wielders.
Some Useful Wizard Abilities
Scorch - Launches a trail of flames across the ground, damaging enemies in its path.
Lightning Nova - Shoots balls of lightning in a radius around the player, damaging enemies that are hit.
Meteor - Crashes a giant meteor that hits the ground, dealing massive amounts of damage to enemies caught in its way.
Interested in Diablo Immortal and want to read more? Check out Is Diablo Immortal pay to win? on Pro Game Guides!