In Disco Elysium, your brain is a game mechanic. Rather than traditional skills, you have psychological skills like Empathy and Drama. In several situations, your ability to understand and convince others is worth more than brute strength. In Disco Elysium, your thoughts are not only present, but they are also actively boosting your stats and giving you unique abilities. Here's how the Thought Cabinet works in Disco Elysium.
How to use the Thought Cabinet in Disco Elysium
What are Thoughts in Disco Elysium?
Thoughts are stat bonuses that must be internalized over time. Once the internalization process starts, you have to wait a specified amount of in-game time before you receive the complete effect of the Thought. While the Thought is in progress, you may receive either positive or negative stat effects, although these will disappear once the Thought is fully internalized.
For example, if you choose to internalize the Jamrock Shuffle Thought, you will temporarily receive -1 to the Esprit de Corps skill. Once complete, however, Jamrock Shuffle allows you to find better loot in locked containers. You can view all Thoughts by pressing T or by opening the head-shaped Thought Cabinet icon on your UI bar.
Related: Disco Elysium taught me how to live
How do you internalize a Thought in Disco Elysium?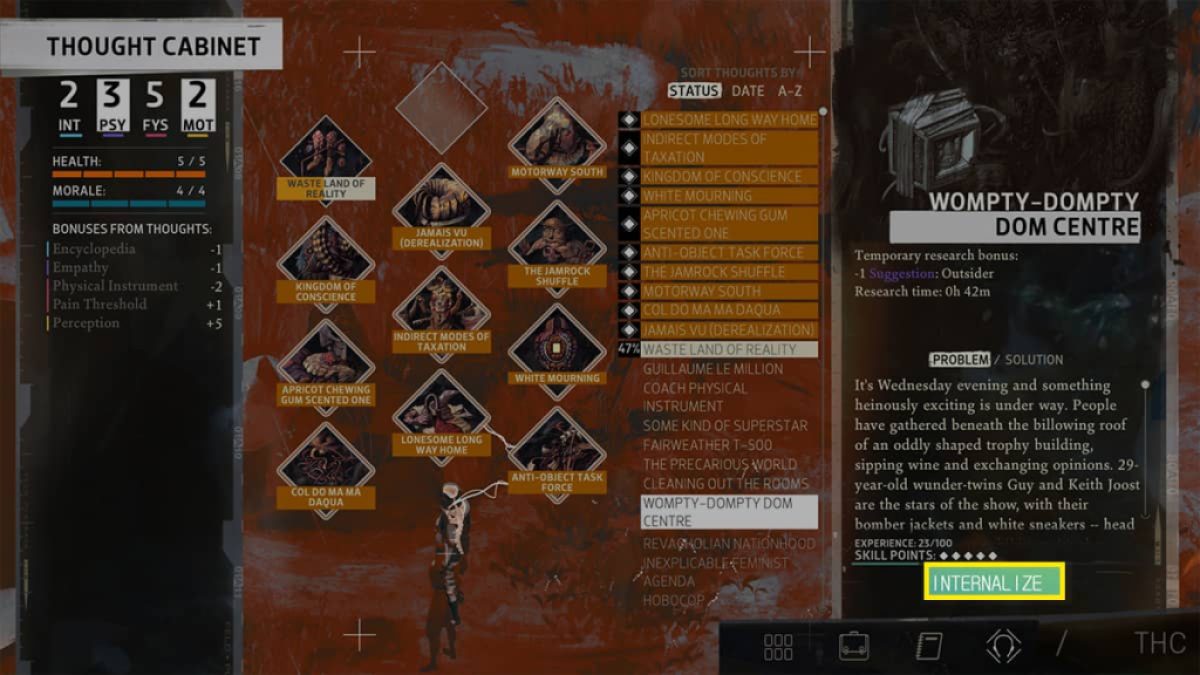 To internalize a Thought, you must have an open slot in the Thought Cabinet. If you'd like to purchase an open slot, you can spend a Skill Point that is typically used for leveling up skills. Next, select the Thought you'd like to internalize. Make sure to view the temporary research bonus underneath the name of the Thought, so you can check how it will impact your gameplay. Once you've committed to a Thought, select Internalize. Now, the Thought will begin internalizing over a set period of time. To check how much time is left, select the Thought name in the Thought Cabinet, and you should see the remaining time underneath the temporary research bonus.
How do you get Thoughts in Disco Elysium?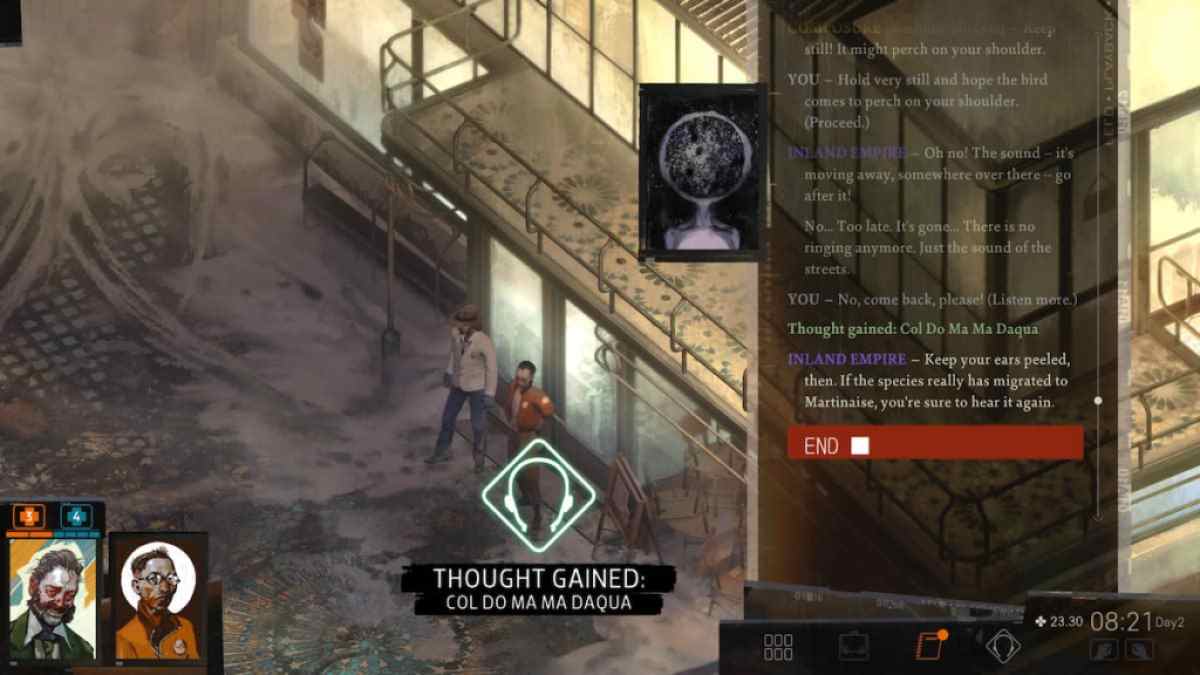 You can gain Thoughts by wandering around and speaking to people. Most Thoughts are received in conversation, although some are triggered by certain points in the environment. Try talking to characters and stating confident, outlandish opinions. You may just gain a Thought to pursue that odd philosophy. Occasionally, you can receive Thoughts from crucial story moments. These Thoughts may grant information on Harry's past, so make sure to internalize these when they appear.
For more Disco Elysium guides, come check out 11 Best Games Similar to Disco Elysium here on Pro Game Guides.