Along with unlocking Belle and Beast in the Enchanted Adventure update, you will also want to check out the new Star Path for Disney Dreamlight Valley, themed with all things Halloween. Get ready for the spooky season and claim as many of these spooktastic rewards as you can by completing Star Path duties and earning candy points. Here's everything included in the Haunted Holiday Star Path and how you can start earning them today!
All Disney Dreamlight Valley Haunted Holiday Star Path Rewards
As usual, the Star Path is filled with 7 pages of fantastic rewards for decorating the valley, dressing up your character, designing your own fashion, and more. With the Enchanted Adventure update, we have a Halloween-themed Star Path just in time for the Fall season.
To have all rewards and Duties available to you, you must upgrade to the Premium version by spending 2,500 Moonstones. Moonstones cost real money and can be purchased under the Moonstone tab of the Premium Shop.
Here's everything you can claim from the path:
Page One:

Moonstones x100 - 10 Candy
Ghostly Pattern Motif - 10 Candy
Key Necklace Motif - 10 Candy
Colorful Jester Makeup - 15 Candy
Halloween Town Archway - 30 Candy
Haunted Painting - 30 Candy
Pirate Parrot Companion - 50 Candy

Page Two:

Moonstones x200 - 20 Candy
Halloween Motif - 10 Candy
Broom Motif - 10 Candy
Crystal Ball Motif - 10 Candy
Haunting Wallpaper - 20 Candy
Ghastly Backpack - 35 Candy
Cortes Chest - 35 Candy

Page Three:

Moonstone x250 - 25 Candy
Bird Motif - 10 Candy
Stitches Motif - 10 Candy
Creepy Crawlers Makeup - 15 Candy
Haunted Tonics - 30 Candy
Winifred's Wig - 30 Candy
Scalawag's Dinghy - 35 Candy

Page Four:

Moonstones x350 - 35 Candy
Broom Motif - 10 Candy
Pirate Crossbones Motif - 10 Candy
Haunted Painting - 10 Candy
Pirate's Treasure Trove - 35 Candy
Haunted Pipe Organ - 30 Candy
Pumpkin King Costume - 30 Candy

Page Five:

Moonstones x400 - 40 Candy
Ghost Dog Motif - 10 Candy
Vacuum Motif - 10 Candy
Haunting Painting - 10 Candy
Mary's Updo - 30 Candy
Trick-Or-Treat Stitch - 50 Candy
Skellington's Hill - 40 Candy

Page Six:

Moonstones x610 - 60 Candy
Compass Motif - 10 Candy
Nightmare Before Christmas Motif - 10 Candy
Haunting Painting - 10 Candy
Oogie Boogie Outfit - 30 Candy
Frightful Fountain - 30 Candy
Pirate Donald - 50 Candy

Page Seven:

Moonstones x 90 - 10 Candy
How to unlock Haunted Holiday Star Path Rewards in Disney Dreamlight Valley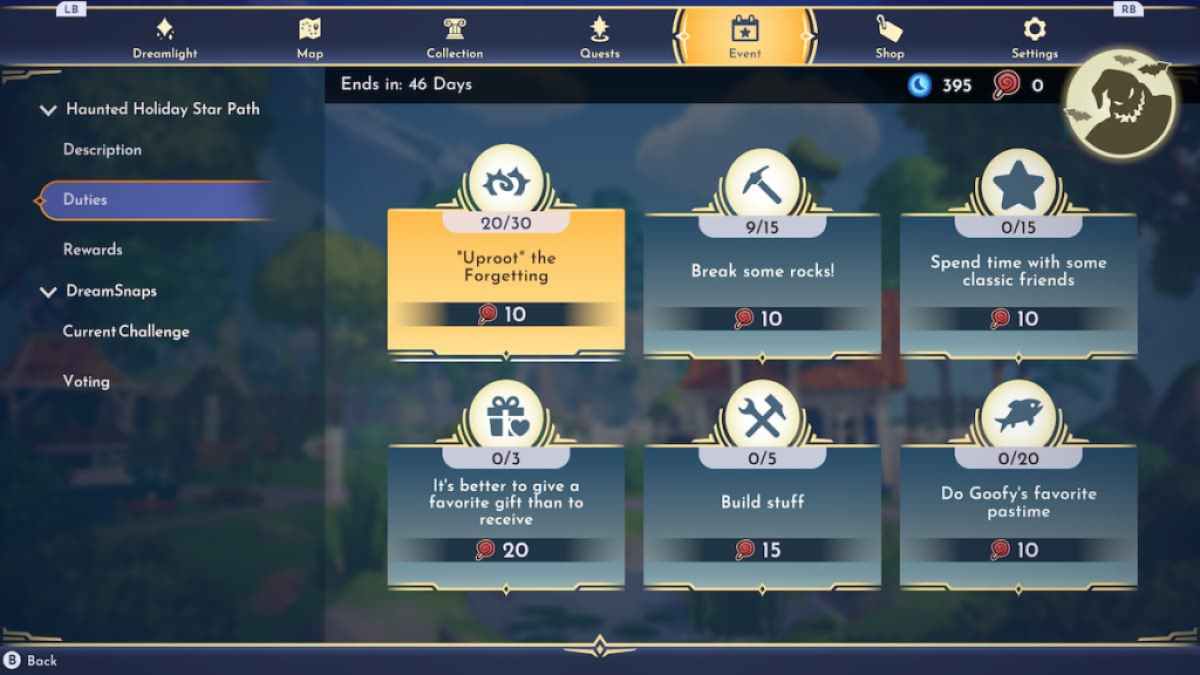 To start earning your Haunted Holiday rewards, you're going to need to complete Star Path tasks, located in the Duties tab on the left side of the menu. These duties are very much like the Dreamlight Tasks. They are random activities that continue to cycle out as you complete them and reward you with the points you need to claim your Star Path rewards. Here are some of the tasks you may see pop up for Star Path Duties:
Related: Disney Dreamlight Valley Codes
All Disney Dreamlight Valley Haunted Holiday Star Path Duties
Add to your riches
Bond with your animal companions
Break some rocks
Build Stuff
Catch a rainbow-y fish
Catch a fish popular in Arendelle

Catch a Fish whose named rhymes with 'harp'
Catch a white fish in a chilly biome
Catch a fish whose name rhymes with 'dream'
Chat with a book-loving beauty
Chat with the king of the jungle
Chat with a pint-sized space ranger
Chat with a woman from the willow
Chat with the village's best deal-maker
Collect some shoreline shellfish
Craft a potion to boost your mining abilities
Complete Dreamlight Duties
Cross some items off your regal to-do-list

Cook meals that would never make the cut at Chez Remy
Dig for special crystals underground
Do Goofy's favorite pastime
Do some very fine dining
Eat an almost perfect meal
Engage in Scrooge McDuck's favorite hobby
Fish for something small in size and name
Fish for something with claws
Flatter a sea witch with her favorite things
Gather what's needed to make Anna's favorite treat
Give a sea witch her favorite thing 
Get some very valuable rocks 

Get some especially shiny rocks
Give an exceptionally unexceptional villager a favorite gift 
Give different villagers a sugar rush 
Give a very grouchy lion his favorite gift 
Give a tiny chef his favorite gift
Give the valley's finest loot player his favorite gift 
Increase your coin "collection" 
It's better to give a gift than to receive 
Impress a wizard with something he loves 
Harvest Olaf's nose 
Harvest something sweet 
Hang out with a villager who says, "WAKKK!" 

Harvest this iron-rich leafy green
Make perfectly mediocre meals 
Make conversation with a very speedy princess 
Make small talk with an ice queen 
Make small talk 
Mine for a lime-green gem
Mine for an orange gem
Mine something green and shiny 
Mine blue stones with a watery name
Pick the fruits that put Snow White to sleep 
Pick red flowers that grow only in the Peaceful Meadow 
Pick some blooms the color of a citrus fruit 

Spend some time with someone on the villainous side 
Spend time with a pint-sized sheriff 
Spend time with a very hairy prince
Spend time with classic friends 
Spend time with the sorcerer's apprentice
Spend time with a legendary villager of the wind and sea
Serve up some delicious orders
Stuff your face with second-class meals 
Take a picture of a sea witch's house
"Uproot" the Forgetting
Work a shift at the restaurant 
Whip up some of your finest chef creations 
The Haunted Holiday Star Path will only be around for a limited time, usually around a month. Be sure to complete your duties and start claiming your rewards before it's too late!
Looking for more Pro Game Guides Disney Dreamlight Valley content? Check out our guides on Disney Dreamlight Valley Belle Friendship Level 10 Quest Guide – The Chronicles of The Ancients or How to enter DreamSnaps challenge in Disney Dreamlight Valley!