In Disney Dreamlight Valley, players get to prepare various recipes by collecting different ingredients from all of the biomes. The Sour Snow Cone is one of these recipes, and it's categorized as a three-star dessert that requires one special ingredient. Some of the ingredients you find in the valley are unique and can be unlocked by completing certain quests. Here's how to make the Sour Snow Cones recipe in Disney Dreamlight Valley.
What ingredients are needed for Sour Snow Cones recipe in Disney Dreamlight Valley?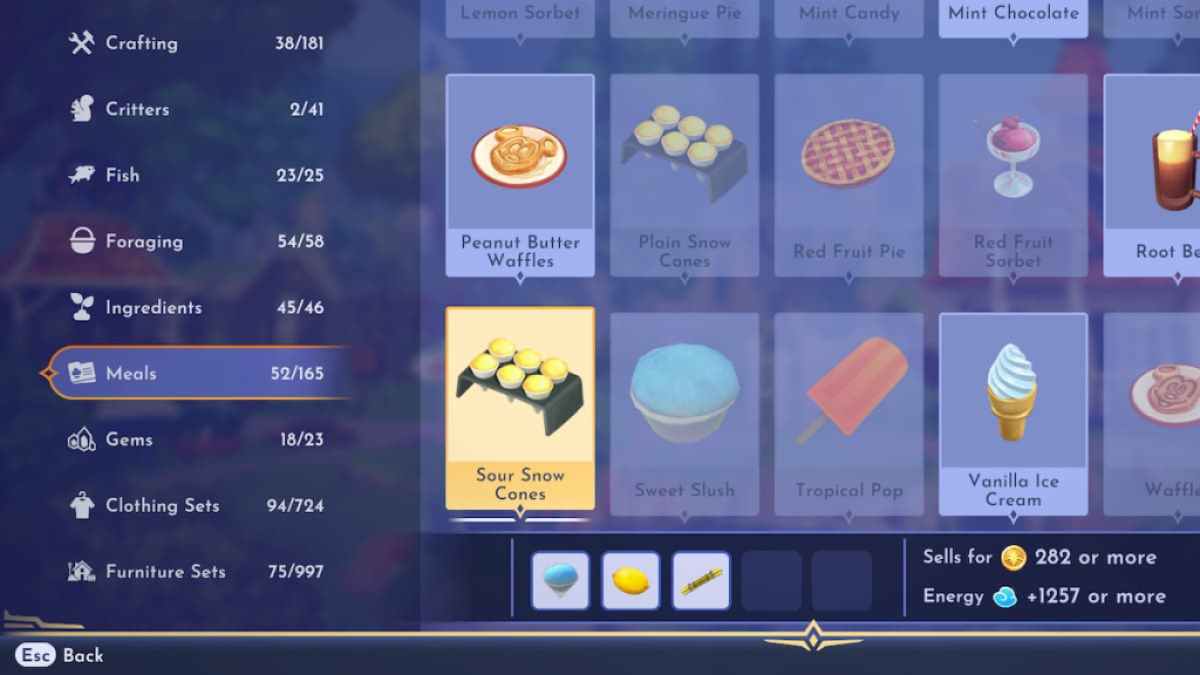 Snow Sour Cones is a three-star recipe that requires only three ingredients. You'll need one piece of Lemon, one piece of Sugarcane, and one part of Slush Ice. Of all the ingredients for this recipe, Slush Ice is the trickiest to come by as you need to progress in Chez Remy's questline to unlock this ingredient. You also need Forest of Valor and Dazzle Beach unlocked to collect the ingredients for this recipe.
One Lemon: Can be harvested from bushes at the Forest of Valor

Look for bushes with yellow colored Lemons

One Sugarcane: Can be purchased from Goofy's Stall at Dazzle Beach for 29 Star Coins

Can also purchase Sugarcane seeds for 5 Star Coins

One Slush Ice: Can be purchased from Chez Remy's Pantry, after completing The Unknown Flavor quest.
Related: Are Disney Dreamlight Valley servers down? How to check
Players can consume Snow Sour Cones to replenish 1,257 Energy. You can also sell this meal for 282 Star Coins. We recommend consuming the meal to recharge your energy while completing quests. If you don't want to use it, gift the Snow Sour Cones recipe to a companion to improve your Friendship Levels with the character.
Want to read more about Disney Dreamlight Valley? If so, check out How to get a Walleye in Disney Dreamlight Valley on Pro Game Guides.