There's a thrill to playing games that are fresh and new, and there is comfort in playing old favorites. Disney Dreamlight Valley manages to evoke both of these feelings at the same time by refreshing the life simulation genre while also letting Disney fans spend time with all of their favorite characters, new and old. It's duality is something that Gameloft clearly focused on while designing the game—and to great effect.
Disney Dreamlight Valley will remain in an Early Access stage until it's full free-to-play release next year. We'll look at Disney Dreamlight Valley's content, performance, and monetization model to help you decide if it's worth paying to get into the game early ahead of its full release.
Disney Dreamlight Valley's content
There are currently 17 Disney characters available to greet and befriend in Disney Dreamlight Valley. To do so, you can complete well-scripted questlines that stay on character and are full of old Disney puns and jokes. Or, you can bring the characters along with you while you complete tasks like fishing and gardening.
Every part of the game is customizable, allowing you to make your Dreamlight Valley feel like your very own. There are over 900 furniture options, 150 cooking recipes, 100 items and ingredients to find and collect, and 700 items of clothing to mix and match on your avatar. If you're a collector, this game has more than enough for you to catalogue, and this is only the beginning. Disney Dreamlight Valley intends to be a game that is continuously expanding. With access to Disney's library of properties, the developer could add to the game for years.
Related: How to unlock new Biomes in Disney Dreamlight Valley
Disney Dreamlight Valley's performance
Gameloft certainly challenged themselves with Disney Dreamlight Valley. The developer is known primarily for mobile games and has had a prior relationship with Disney for other mobile titles such as Disney Magic Kingdoms. Disney Dreamlight Valley, however, is available on any platform but mobile. It's still available on the go via Nintendo's Switch. Although, from community posts and playing the game ourselves, it's clear that the most bugs and performance issues were found on the Switch version of the game. The developer has been very quick to provide updates and bug fixes in the first few days of Early Access' launch.
There are some general performance issues as well that we hope will be addressed in the Early Access period. Loading times in the beginning of the game, before you've done much to customize Dreamlight Valley, were quite long. Even jumping into a menu or looking in the inventory made the game pause for a few seconds, long enough to make it feel as if it were stuttering. Further optimization, or even fun Disney facts displayed on the screen during loading times, would go a long way toward making the game more polished.
Disney Dreamlight Valley's monetization
The decision to allow players to purchase early access to a free-to-play title is...something. That said, the standard price of $30 dollars for access to the title seems reasonable, especially when you consider that your purchase includes 8000 Moonstones (premium currency) to use for cosmetics now or later on. The Deluxe and Ultimate Founder's Pack tiers include more Moonstones and unique cosmetics, but you'll have to decide if those cosmetics are worth the extra $20 or $40.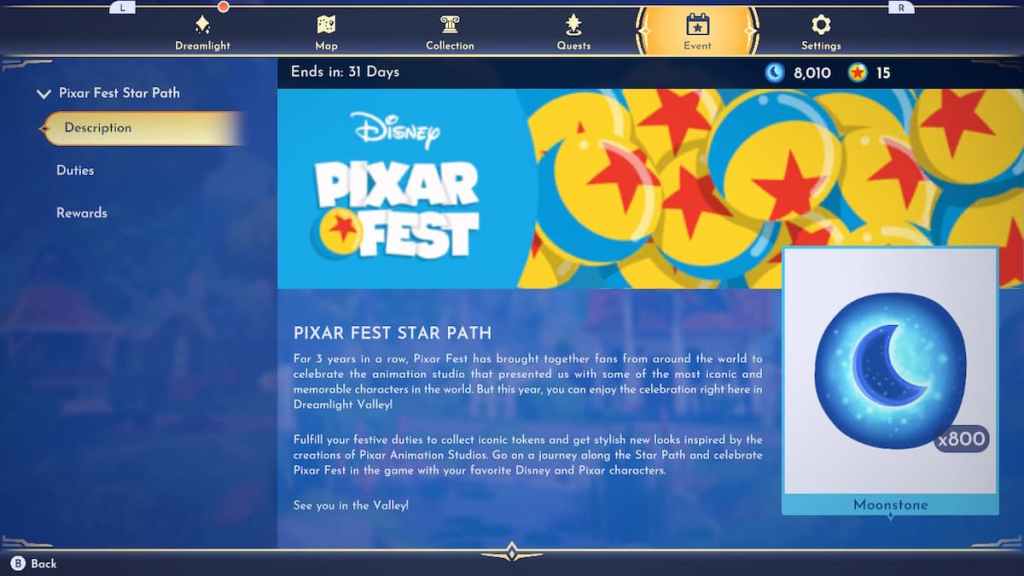 Currently, the only purchasable thing in the Early Access period is a premium option for the Star Path, a pass that rewards players with unique cosmetics in exchange for completing tasks in the game. Purchasing the premium option for 2500 Moonstones unlocks 16 more cosmetics and gives you a "rebate" of Moonstones for completing the pass. It also unlocks more tasks to help you complete the pass faster.
Though it shares a similar monetization model, unlike most mobile titles, Disney Dreamlight Valley does not pelt you with advertisements or special packages. There's not even a way to access an in-game shop to purchase more Moonstones. There is no requirement to spend your Founder's Pack Moonstones to replenish energy to play the game and complete tasks. If it stays this way, the game could be very "free-to-play-friendly," as long as you don't mind limiting your cosmetic purchases. This could also easily be changed between the Early Access period and it's full release. It also remains unclear whether major updates to the game will cost money in the future, even after the free-to play release.
Lastly, Disney Dreamlight Valley does include cloud saves, allowing you to play on multiple consoles if you choose. However, during the Early Access period, you'll need to purchase a Founder's Pack for each device you intend to play on. The only exception to this is the Xbox version, which you can get for free as part of Xbox's Game Pass. It's difficult to recommend paying for the Founder's pack twice for this feature because you'll be able to download the game to as many platforms as you need for free after the Early Access period is over sometime next year.
Final thoughts on Disney Dreamlight Valley
While the Early Access version does need some optimization, particularly on the Nintendo Switch, it feels like a full and complete game. If you're a fan of the life-sim genre, it's full of relaxing activities and customization options. If you're a Disney fan, you won't be disappointed by the amount of content present in the game and on the way. The dialogue in the game stays very true to it's characters and is full of fun callbacks to your favorite movies. It's monetization model is a bit odd, but as the game stands right now, at the very least, it doesn't feel predatory. You'll have to decide if access to more cosmetics is worth paying the additional cost for, but the standard price of $30 dollars seems acceptable for access to a novel take on the life-sim genre, loads of allusions to fan favorites, and promises of continuing additions to the game.
Decided to head into Dreamlight Valley? Before you go, check out Best ways to develop Friendships in Disney Dreamlight Valley and Disney Dreamlight Valley – How to get Star Coins quickly here at Pro Game Guides.