The International Compendium for Dota 2 started its Fantasy event on September 30th. Since then, players have scrambled to pull their Player Cards together to draft the ultimate fantasy teams for The International 10.
But if you're not familiar with the Compendium Fantasy Draft that's taken place over the last few years, you might need some help figuring out what's going on. Take a look at Pro Game Guides' The International Compendium Fantasy Guide 2021 below:
How to Play Dota 2 TI Fantasy
For each of the ten days of competition at TI10, there's a chance to draft a fantasy team and earn Compendium Points. With these points, you can purchase The International 2021-themed Legacy Sets for your favorite heroes.
You'll have to draft a team for each of the ten days. To do this, you'll need to use your Player Cards. Player Cards can be obtained by boosters which you can craft or purchase in the Player Cards section. There are three rarities of Player Card: Gold, Silver, and Bronze. Bronze is the basic card that allows you to draft that player and earn points. If you have Gold or Silver cards, any points that the player makes in fantasy will be increased as per the card.
To draft for a day, select an empty spot, and scroll through your list of cards to find the player you want to draft. Make sure the player is in the right position. Only Cores can be put in Core position, Mids in Mid, etc.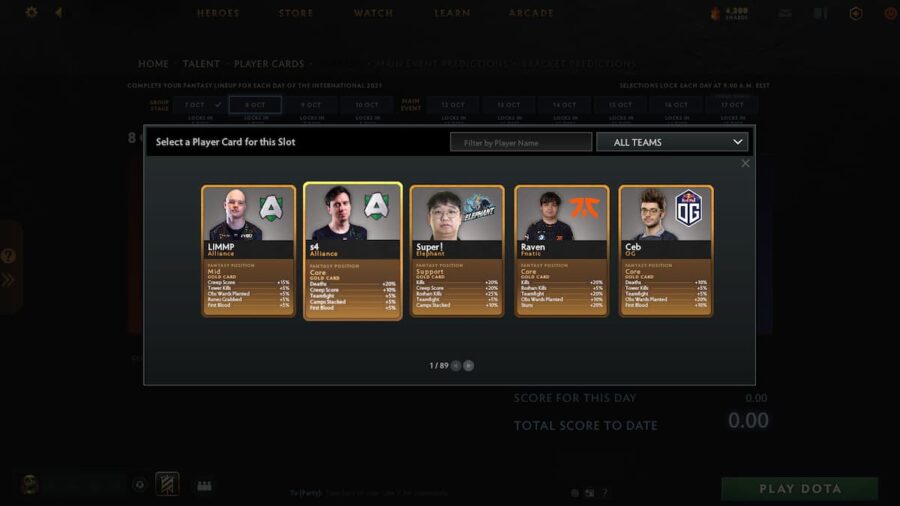 Once you've selected all your player cards for that day, you're ready to earn Compendium Points. The results of the games and the performance of the players will dictate how well you score.
Remember! Even though you can draft all your player cards on a particular day, that player may not be necessarily playing. If they're not playing that day, you'll earn no points. So make sure you check the match schedule of each day. The days don't lock until 24 hours before each date. So feel free to mess around and change your lineup up until then.
Dota 2 International Compendium Fantasy Tips
Here's a few tips and tricks for the perfect Dota 2 fantasy draft:
For Cores and Supports, prioritize one position and hard supports over offlaners and position fours. This is because the points that one position and hard supports earn from fantasy are almost always higher. Offline, in general, will not often earn you great fantasy points.
The best stat boosts you can have on the Gold and Silver player card are Kills and Teamfights.
For Cores and Mids, Deaths isn't a bad stat. Despite looking fantastic, GPM and Creep Score do not give as many points as you'd expect, as it's always a fractional amount.
For Supports, look for improved Roshan Kills and Tower Kills. Camps Stacked and Wards Placed are also great.
Try to stack lineups with winning teams, rather than single players from one team. Pick the team most likely to have a great day rather than a few standout players.
Keep your eyes on the schedule! If a team gets eliminated, you need to change your lineup quickly. If a team is playing multiple games a day, they'll earn more points by default.
With those pointers, you should be able not only to earn some points but possibly end up on the worldwide rankings!
If opening Player Card packs has given you the card Game itch, then check out the New Hearthstone Duels game mode releasing with next expansion!