Cunning movement and quick wit is the key to getting wins in Fall Guys Sweet Thieves. In this limited-time mode, players are put into an arena and split into teams of Guardians and Thieves. The rules are simple—Thieves try to steal candy and bring it back to their base while Guardians chase them down to put them in jail. While the premise might be simple, beginners and newer players might find a win to be as elusive as those pesky thieves. In this guide, we'll talk about a few key tips, tricks, and strategies to help both Guardians and Thieves win matches in Fall Guys Sweet Thieves.
Fall Guys Sweet Thieves - How to win as Guardians and Thieves
How to win as Guardians in Fall Guys Sweet Thieves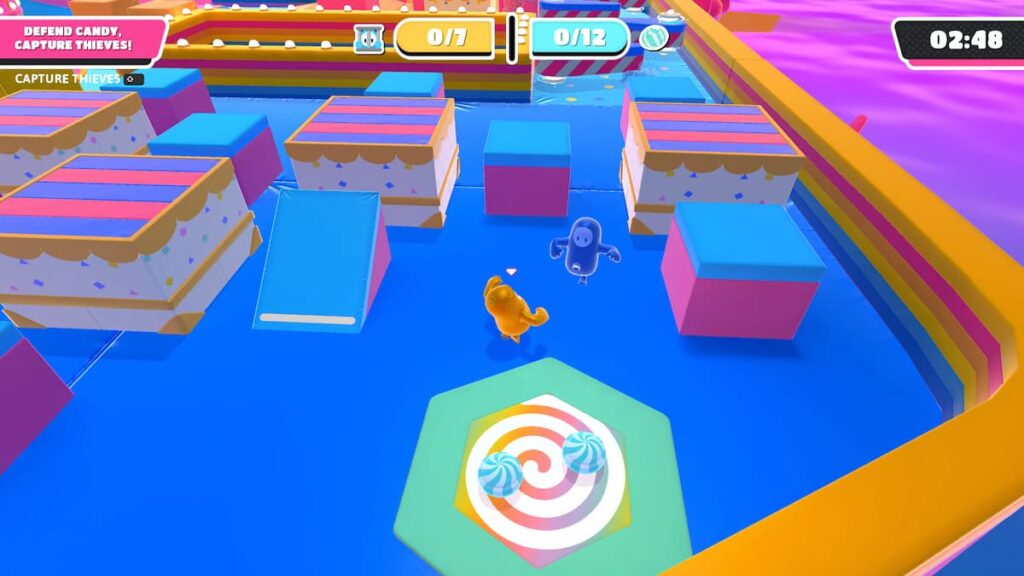 Guard the Jailbreak
Making sure the Thieves don't hit the Jailbreak to free captured thieves is crucial for the Guards to secure a win. Early in the game, make sure at least one player is diligently guarding the Jailbreak. When four Thieves have been caught, make sure the Jailbreak is being guarded by at least three Guardians.
Take advantage of the Jailbreak timer
The Jailbreak button in the middle of the map has a cooldown of 30 seconds, and Guardians can use this function to their advantage by denying Thieves a Jailbreak option. When one or two thieves have been caught, hit the Jailbreak to release them. Doing so ensures that the Thieves won't be able to use a Jailbreak in the next 30 seconds.
Related: How to climb in Fall Guys, explained
Keep close to candy spawns
The candy is what the Thieves are after, and they can always be found near the candy spawns. As a Guardian, hover over the candy spawns to catch unsuspecting Thieves as they try to grab a candy.
Keep moving
A moving Guardian is hard to pass by for Thieves. Alongside guarding the Jailbreak and candy spawns, always keep moving to make it as difficult for the Thieves as possible.
Use the grab button
The grab button (Shift on PC / R2 on PlayStation / RT on Xbox) is how you catch Thieves when you are near them. Make it a habit to use this button while running after a Thief to ensure you successfully catch them.
How to win as Thieves in Fall Guys Sweet Thieves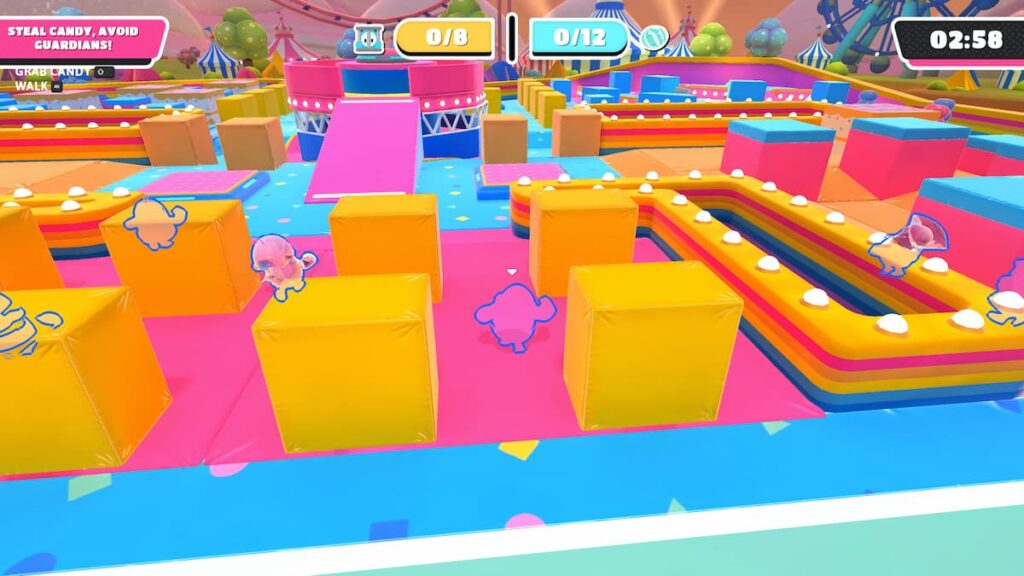 Get comfortable with parkour
Learning to parkour around the map is an absolute game-changer and will enhance your gameplay drastically. When trying to get from one point to the other, try jumping from block to block. Since the Guardians will mostly be occupied trying to catch Thieves on the ground, you can quickly move about by doing a bit of parkour. Use the ramp to the Jailbreak as a platform to jump onto adjacent blocks.
Go invisible only when required
Don't make the mistake of constantly walking to stay invisible. This will not only make you move slow, it also makes your contribution to the team much lower. Move fast when there are no Guardians around you, and only walk and become invisible when running from a Guardian.
Be aware of the Jailbreak timer
The Jailbreak in the middle of the map has a 30-second cooldown. Therefore, if you see only one or two teammates caught in the Jail, do not rush to hit the Jailbreak because you cannot hit it again for another 30 seconds. Instead, wait until at least three or four teammates are caught, then go for the Jailbreak button.
Throw the candy
Throwing the candy is a simply mechanic that can make successfully stealing candies a breeze. When running with a candy, jump-dive and release the candy to throw it. When near the candy basket, simply throw the candy, and the funnel shape of the basket will make sure the candy falls through.
Rush the candy with teammates and pass it
Work with your teammates to maximize your win potential. If you see a teammate near the scoring basket, throw the candy toward them so that they can drop it in the basket.
Looking to learn how long is left in the season in Fall Guys? Check out All Fall Guys Season Start and End Dates, here on Pro Game Guides.